Hundreds in Henderson take advantage of rebate program
December 15, 2013 - 5:58 pm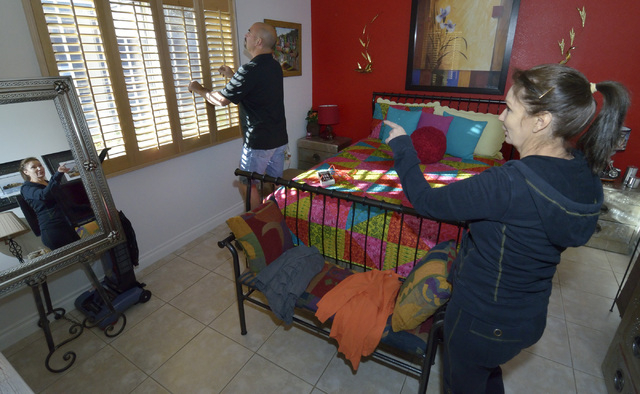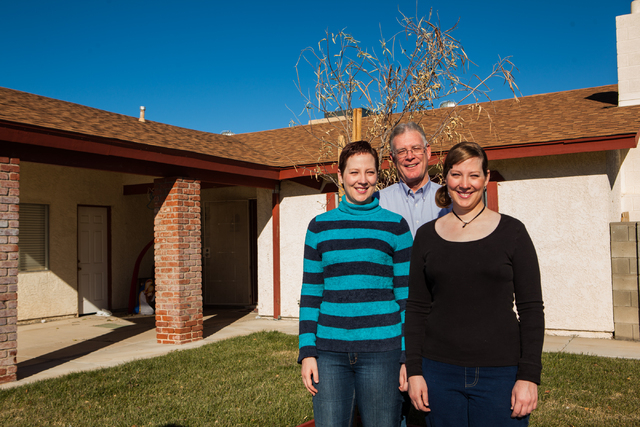 The city of Henderson recently partnered with EnergyFit Nevada to promote energy efficiency in targeted communities.
Henderson Mayor Andy Hafen said one of the city's goals "is to be more sustainable, and so this fits right in with that goal."
EnergyFit Nevada is a nonprofit organization that helps residents perform whole-house energy assessments and complete energy-efficient home improvements.
Tom Piechota, chairman of Henderson's Citizens Advisory Committee, explained the committee's "Energy Efficiency in the Community" project to the City Council in November, when the council authorized the partnership with EnergyFit Nevada.
Piechota, vice president for research and economic development at the University of Nevada, Las Vegas, said the council has instructed the committee in recent years to focus on the issue of sustainability. The committee has taken on various projects, primarily centered around recycling, in the past.
"Sustainability is something that everyone defines so differently," Piechota said during a recent interview.
He said the committee's 15 members brainstormed extensively about the topic, and the issue of energy kept coming up. By focusing on energy efficiency, he said, the committee is addressing something that regularly hits residents in their pocketbooks.
"People always wanted to have something that citizens could associate or connect with in dollars and cents, and this is one of those issues," Piechota said.
Residents pay a lot of money for electricity, he explained, "and when you use less, you pay less."
The energy efficiency project involves identifying neighborhoods with the greatest potential for benefit and conducting outreach in those neighborhoods through April to inform residents about available opportunities.
Piechota told the council his committee has identified three neighborhoods for the pilot project:
■ Fox Ridge Estates
■ The Bluffs
■ Warm Springs Reserve
The committee looked for neighborhoods with homes that were built from the late 1960s through the 1990s and that ranged in size from 1,500 to 3,000 square feet.
Piechota said homes built before the late 1960s require expensive upgrades, and owners would have to wait too long to see a return on their investment.
The committee also looked for neighborhoods where homeowners have disposable income and would be more willing to pay for retrofits. In addition, it targeted areas with existing homeowners associations that could help with outreach and communication.
The first step for homeowners is to schedule a home energy assessment by visiting www.EnergyFitNevada.org or calling 702-734-2000.
"That's really what establishes the baseline of how your house is performing," said Lauren Boitel, programs director for EnergyFit Nevada.
The EnergyFit program is sponsored by the Nevada State Office of Energy and has a network of licensed contractors with specialized training in building science. The program is available to any homeowner in Nevada.
An assessment costs $199 for a home under 3,000 square feet, although Piechota recently used a Groupon to reduce the cost of his assessment to $99.
The assessment includes:
■ Ventilation and air leakage inspection.
■ Insulation inspection.
■ Air conditioning and heating systems inspection.
■ Hot water systems inspection.
■ Appliance and lighting inspection.
■ Utility bill analysis.
■ Instrumented tests on combustion appliances.
■ A thorough energy assessment report.
An assessment typically takes three to four hours and requires access to the entire house, including the garage.
"Anything in your house that uses energy could be wasting energy," Boitel said.
After the assessment, she said, the homeowner decides what recommended upgrades to complete.
EnergyFit is offering a $2,000 instant rebate through the end of February. Its standard rebate is $1,000.
"A homeowner can do any measure as long as it adds up to a 20 percent energy savings," Boitel said.
The homeowner is required to pay $1,000 in matching funds. Boitel said homeowners also may stack any rebates available through utility companies.
She said the average cost of upgrades in the EnergyFit program is about $3,500 before rebates are applied.
Since the program's inception in 2009, Boitel said, 817 homes have been upgraded, resulting in an average annual homeowner savings of $927.
She said upgrades that make a house more efficient also can increase its value, make the residence more comfortable, and improve the quality of the air inside the house.
"That's another message that we really try to drive home, that it's a healthier home," Boitel said.
She said one homeowner in Northern Nevada wondered why her house always needed dusting. After having an assessment, she learned that 70 percent of the ductwork in her attic was not connected, causing dust and debris from the attic to be blown into the rest of the house.
Boitel said the partnership with Henderson is the first of its kind for the organization.
"I think it's just really impressive the leadership they've shown," she said.
Hafen, who has praised the EnergyFit program at council meetings, said he has had assessments done on his two homes in Henderson. The first was done about two years ago on a 1979 home he and his wife own with their twin daughters.
After the assessment, they installed a new air conditioner, changed lights, and added insulation and caulking.
"I think our payback will probably be within five to seven years," Hafen said.
He estimated that his twin daughters, who live in the home, have been saving $60 to $100 a month on their utility bills, "not to mention that they were much more comfortable, too."
"They can actually have a more comfortable temperature in their home for a lower-cost utility bill," Hafen said.
After an assessment about a year ago on the 1996 house he shares with his wife, the couple decided the recommended improvements "didn't make financial sense."
"The payback would just take too long," the mayor said.
Contact reporter Carri Geer Thevenot at cgeer@reviewjournal.com or 702-384-8710.