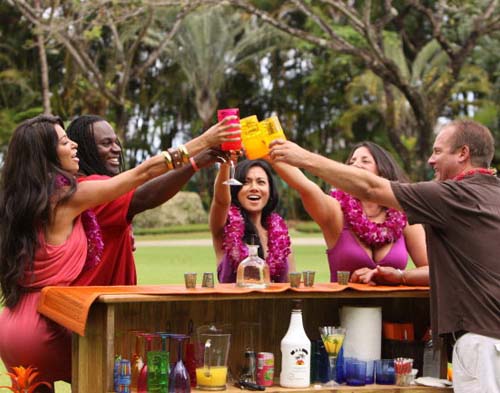 Joe Basso thought it was a joke.
The 1989 Chaparral High grad has been in Los Angeles trying to make it as an actor since the mid-1990s, and the voice on the other end of the phone wanted to put him on TV based solely on where and when he went to high school.
"I didn't think she was serious," Basso says of the out-of-the-blue call. "And then she started mentioning some people that I went to high school with, and I said, 'Wow, this is serious.'"
"This" turned out to be "High School Reunion" (10 p.m. today, TV Land), the eight-episode reality series that flew Basso and a core group of eight of his classmates to a palatial estate in Hawaii.
Through new arrivals, including those looking to confront a bully, an old flame or a secret crush, the two-week reunion gradually grew to include 14 members of the Chaparral class of '89, as well as two party crashers from Valley High, all living under the same roof.
The result is like "The Real World" — gay slurs, racial epithets, shirtless, passed-out-on-the-floor drunkenness — meets "The Breakfast Club" — each cast member comes with a label (nerd, jock, delinquent, etc.) — with just a dash of "The Big Chill" — minus the dead guy and the Motown soundtrack.
"This is the hardest show in the world to cast," says "Reunion" creator Mike Fleiss, who's responsible for TV shows ranging from "The Bachelor" to the ill-fated "Who Wants to Marry a Multi-Millionaire?" "I mean, I've done so many shows, dozens and dozens of shows, and this is by far the hardest to cast."
The process began with Fleiss' team scouring yearbooks from across the country, then talking to as many people as possible from those schools as they searched for story lines — friendships, rivalries, relationships — to create what Fleiss calls "this spider web of a narrative."
It helped that many of the people they reached out to remember high school as though it were yesterday.
"Most people we come into contact with haven't really transcended high school life at all," Fleiss says. "They're still right back where they were. They still feel the same way about each other, and they're still competitive with the same people. That's why the show works."
Filming "Reunion" certainly was like being back at Chaparral for makeup artist Lissette Waugh.
"You know, girls make certain accusations or certain judgments," says Waugh, who's identified onscreen as "The Hot Girl." "You get put into that stereotype right away. You get put right back into high school again, which was funny."
Waugh and Elena "The Popular Girl" Machin represent "The Summer Girls," the Chaparral clique that's presented as being so popular they even looked down on the cheerleaders.
Early on in the show, their classmates' insecurities are laid bare and tears are shed when — in moments sure to strain the pausing capabilities of even the most advanced DVRs — Waugh and Machin turn up in revealing swimsuits looking better than they did 20 years ago.
And Machin certainly doesn't help matters by rubbing it in.
"Since high school, I've lost some weight," she taunts. "And I think that Lori "The Party Girl" Da Silva found it."
But Waugh, who found herself being judged right away based on her good looks, didn't fly all the way to Hawaii to show off. She was looking for a chance to get to know classmates she never made time for at Chaparral.
"I knew that when I was in high school, you get into your cliques, and you only speak to the people within your clique. You don't really talk to anybody else," she says, admitting that going in, she only knew four members of the cast, and two of them went to Valley. "So I was happy that people were there that I didn't know, because that was my opportunity to get to know them and make new friends."
It was a two-decade friendship that brought Treda "The Class Sweetheart" Ealy and her husband, Tracey "The Jock" Ealy, to Hawaii in "Reunion's" fourth episode.
When the Ealys' daughter was born with cerebral palsy, Tracey was away playing minor league baseball, so their best friend, Antanus "The Ladies Man" Pullum, helped the family as much as he could. The Ealys resisted calls to participate in the show until the producers came up with a way the Ealys could surprise Pullum and repay him for his kindness.
"It was just wonderful just reconnecting with everybody that I hadn't seen in years," says Treda Ealy, a dealer at Flamingo Las Vegas.
Friendships, though, weren't a priority for everyone. Many of the participants, including Basso, "The Football Star," came to Hawaii looking for love.
"I told the producers before I even went," he says, "that I'm going there with an open mind and an open heart."
And the "Reunion" staff was only too happy to provide intimate, romantic dates away from the house.
"It just turned into a love fest," says Fleiss, who was caught by surprise despite his many years on "The Bachelor." "Everybody was hooking up and falling in love and getting engaged. One couple even got married."
The three onscreen proposals during the reunion should give the cast members more excuses to get together. Not that they need them. After going as many as 20 years without talking to each other, the "Reunion" alums seem to have forged a tight bond.
"It's amazing that we all now call each other. We talk to each other. We celebrate birthdays together," Treda Ealy says. "It's great."
"I talk to all of them, and I truly, truly did make friends there," Waugh says. "And I really enjoy every one of them. … I sincerely do talk to them all the time. At least once a week."
And Basso says the experience just reinforced how special their years at Chaparral really were.
"You always hear from your parents, 'These are the best times of your life.' And you're like, 'Yeah, yeah, yeah. Right.' Until years pass, and you know what? Those were the best times. For me, it was something I look back on and cherish."
Christopher Lawrence's Life on the Couch column appears on Sundays. E-mail him at clawrence@ reviewjournal.com.
"HIGH SCHOOL REUNION"
WHEN: 10 p.m. today
WHERE: TV Land, COX Cable 41
The class of TV Land's "High School Reunion"
Chaparral High
• Tracy Barkhuff: "The Teacher's Pet"
• Joe Basso: "The Football Star"
• Lori Da Silva: "The Party Girl"
• Tracey Ealy: "The Jock"
• Treda Ealy: "The Class Sweetheart"
• Jodi Jorjorian: "The Cheerleader"
• Mark Kasel: "The Secret Admirer"
• Eric Lowell: "The Gay Guy"
• Elena Machin: "The Popular Girl"
• John Mikolainis: "The Troublemaker"
• Antanus Pullum: "The Ladies Man"
• Rachelle Ramirez-Smith: "The Late Bloomer"
• Cyndi Stueben: "The Nerd"
• Lissette Waugh: "The Hot Girl"
Valley High
• Marcel Chevalier: "The Prankster"
• Justin Taggart: "The Delinquent"