Inquiry looks at falling part in fatal crash at air races
September 24, 2011 - 12:59 am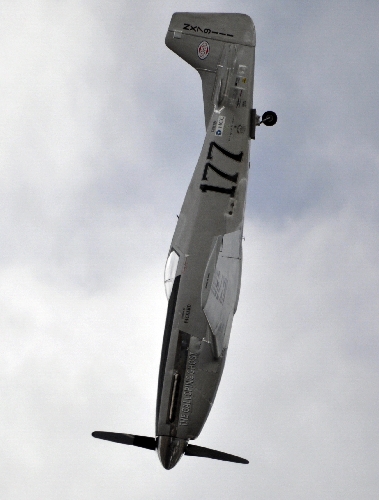 Federal investigators are looking at evidence that something fell off a modified World War II-era racing aircraft as it climbed, rolled and crashed nose-first into spectators, killing 11 during air races in Reno last week, according to a preliminary report released Friday.
The one-week National Transportation Safety Board summary of evidence collected after the Sept. 16 crash at Reno-Stead Airport puts the number of injured at 74, 66 of them seriously.
The report made no conclusions, and noted that investigators are trying to extract clues from an onboard data box and camera equipment thought to be from the plane. A final report with findings could take more than a year.
Pilot Jimmy Leeward, 74, of Ocala, Fla., was among the 11 people killed in the crash during the National Championship Air Races. Leeward was a veteran movie stunt pilot and air racer who spoke earlier about modifications he made to squeeze more speed from his P-51 Mustang fighter plane in a bid for a first-place finish.
The NTSB cited photo and video evidence that a piece fell off the aircraft after Leeward completed several laps and made a steep left turn toward the home pylon and grandstand. The plane banked suddenly left, then right, turned away from the race course and pitched into a steep nose-high climb, the report said.
"Witnesses reported, and photographic evidence indicates, that a piece of the airframe separated during these maneuvers," the NTSB said.
The plane then rolled and plunged nose-first into a box seat area in front of the center of the grandstands.
A piece of the aircraft tail was found not quite a mile away from the crash site, NTSB investigators said. Photos showed a tail part, known as an elevator trim tab, missing as the plane went out of control.
Leeward's crew provided to investigators the ground station telemetry data they had gathered, including engine readings and global positioning satellite system information.
The damaged onboard data box was recovered in the wreckage and sent to an NTSB laboratory with what the report called "pieces of a camera housing and multiple detached memory cards from the airplane's onboard camera."
Investigators were looking at whether Leeward's health was a factor, safety board member Mark Rosekind said Monday.
Veteran fliers said it's likely that Leeward lost consciousness because of intense gravitational forces during his 400-plus mph climb and never had a chance to steer out of his death dive.
"He's unconscious," said Ernie Christensen, a retired rear admiral and former commander of the Navy's Top Gun fighter school .
Christensen said the P-51 hit the ground at full throttle, indicating that Leeward wasn't in control.
"The power was up, and that's an indication he was not in control of the airplane when it hit," he said.
The impact horrified thousands of spectators in the grandstands, and left a crater on the tarmac about 3 feet deep and 6 feet across. It propelled chairs, body parts, blue and red box seat bunting and wreckage over more than two acres. There was no fire.
Rescuers conducted a triage to assess the injured on the tarmac and took the most seriously hurt to area hospitals where 11 victims remained hospitalized in acute care Friday. Two were moved Thursday to a Reno rehabilitation hospital.
At Renown Regional Medical Center in Reno, two people were in critical condition, and six were in fair condition, hospital spokesman Dan Davis said. He said one air crash patient from Renown was moved in fair condition to the hospital's rehabilitation center.
The other was transferred from St. Mary's Regional Medical Center in Reno, where three people were in serious condition Friday and one patient who had been listed in serious condition had been discharged, hospital spokeswoman Jamii Uboldi said.
NTSB investigations are notably thorough and usually take more than a year to reach findings of fact and recommendations.
In the interim, the board makes public information that investigators have gathered before shifting to an analysis of what went wrong and why.