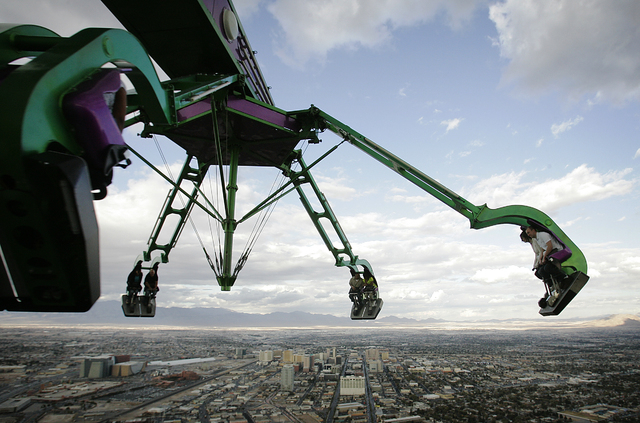 There are a lot of thrilling experiences to be had in Las Vegas, but only one of them made CNN's list of 50 ways to be a daredevil.
It's The Stratosphere Tower's Insanity ride. You know, the one that swings and spins you 64 feet over the edge of the tower 900 feet off the ground.
The Stratosphere Hotel website describes the ride as follows: You'll be propelled up to an angle of 70 degrees, which will tilt your body into one position — straight down! If you're brave enough to keep your eyes open you'll be rewarded with a breathtaking view of historic downtown Las Vegas.
Yeah, that qualifies as thrilling.
The Insanity ride costs just $15, but you do have to pay to get up there first, which is an additional $18.
The CNN list of 50 includes experiences from around the world and six others that can be experienced around the United States including flying in a jet fighter, kayaking over a waterfall, hang gliding, dog sled racing, ice climbing and going to a rodeo.