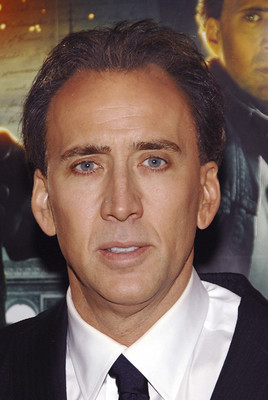 KTNV, Channel 13, news anchor Tricia Kean proved unflappable Saturday when gusting winds threatened to blow her wedding tent into another county.
After the wind delayed her wedding ceremony for almost an hour, with guests pitching in by holding down tent stakes, Kean spotted a couple of meteorologists, one current and one former, at the reception.
"You're fired," Kean said, playfully chastising KVVU, Channel 5, weatherman Darren Peck and Bob Jeswald, a former meteorologist at Kean's station.
When the wind calmed for a few minutes, Mayor Oscar Goodman took credit, telling the crowd that he had more pull than the combined power of weathermen and a rabbi.
Kean and her husband, Rick Helgott. incorporated some vintage Vegas touches, including a Tina Turner impersonator who sang "Simply the Best" while they danced.
Former colleague Christina Brown, an MSNBC anchor and correspondent and the host of NBC's "Early Today" show, caught the bouquet. Also there was Laura Peterson, a former CBS network news correspondent.
The bride and groom left Sunday for Kona, Hawaii.
THE BACK STORY
Hell apparently hath no fury like Paris Hilton.
Here's the back story on why her new boyfriend, rocker Benji Madden, had his celebrity hosting deal canceled Saturday at Privé Nightclub at Planet Hollywood Resort.
Madden, the guitarist for Good Charlotte, had agreed "not to make appearances on the evening prior," according to a Privé spokeswoman.
Instead, Madden and Hilton showed up Friday at Pure Nightclub at Caesars Palace.
Hilton was fuming, we hear, because of a dispute involving her cousin and Privé two weeks ago.
Privé agreed to throw a birthday party for Hilton's cousin, Brook Brinson, but the deal "was contingent on Paris and Nicky attending," said Greg Jarmolowich, a managing partner at Privé. When the Hiltons didn't show, the rooms for Brinson and her friends were canceled, he said.
Hilton was the celebrity host at Pure Management Group's LAX Nightclub at Luxor on Saturday. Madden accompanied her.
SIGHTINGS
Actor Nicolas Cage, making the rounds over the weekend. He checked out ghostbar (Palms), The Bank nightclub (Bellagio) and Lance Burton's magic show at Monte Carlo. It was his fifth time at Burton's show in recent years. Cage played a Las Vegas magician in "Next," which came out last year. He plays poker icon Amarillo Slim in an upcoming film. … Pamela Anderson's soon-to-be-ex, Rick Salomon, hanging out with Rachel Sterling, who was headlining the Pussycat Dolls lounge on Saturday at Caesars Palace. … Andre Agassi and Steffi Graf, dining at the bar at N9NE Steakhouse (Palms) on Saturday with another couple. … Singer Taylor Dayne, singing and dancing with friends to her hit "Tell It To My Heart" Saturday at The Bank nightclub (Bellagio). … At Poetry nightclub (Forum Shops at Caesars) on Saturday: Rappers Flo Rida and Rick Ross, and the cast from new movie, "Step Up 2." … Danny Bonaduce, at George Wallace's show (Flamingo) on Friday. … Las Vegas' Ne-Yo, on the town at Body English (Hard Rock Hotel), Poetry nightclub (Forum Shops at Caesars) and Tryst (Wynn). … At Privé nightclub (Planet Hollywood Resort) on Saturday: Venetian headliner Wayne Brady, actress Shar Jackson and Salomon.
THE PUNCH LINE
"Never let Jane Fonda make a toast." — From David Letterman's Top Ten Martha Stewart and Emeril Lagasse Dinner Party Tips.
Norm Clarke can be reached at 383-0244 or norm@reviewjournal.com. Find additional sightings and more online at www.normclarke.com.