Labor leaders back Bilbray despite concerns about Obamacare
April 22, 2014 - 10:17 am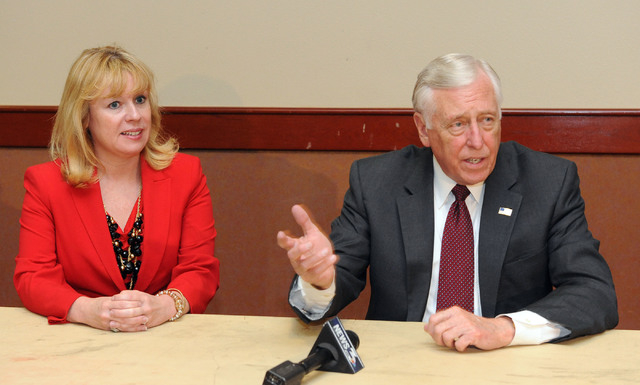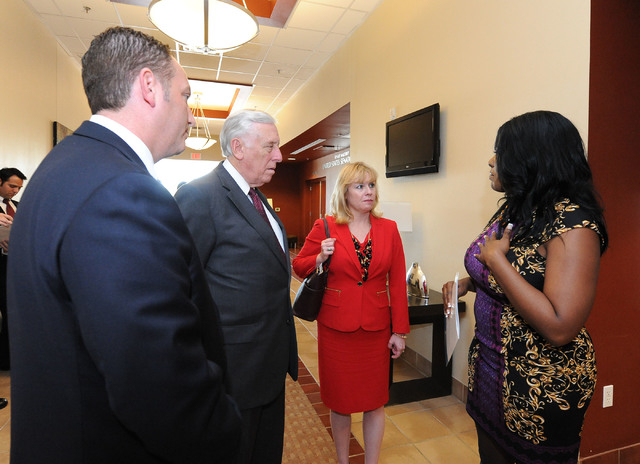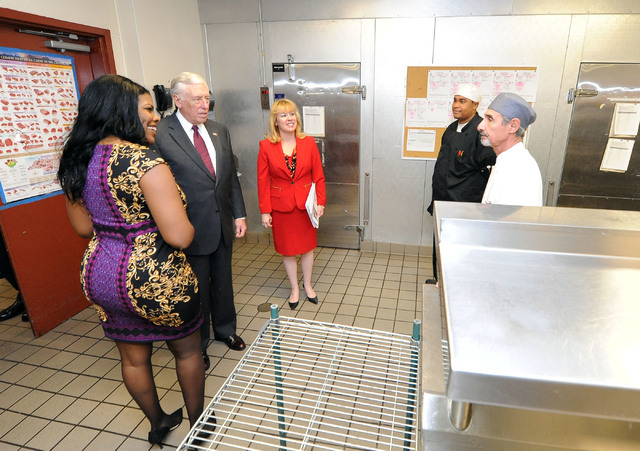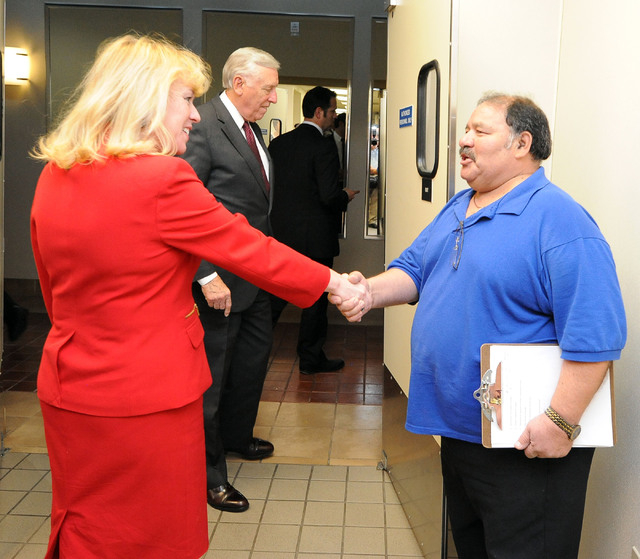 Despite frustration with Obamacare, two dozen labor leaders who met with congressional candidate Erin Bilbray on Monday vowed to back her and other Democratic candidates on Nov. 4 to counter an expected robust GOP turnout.
"I heard incredible support in that room," Bilbray said in a news conference after the private meeting at the Culinary Training Academy with Rep. Steny Hoyer of Maryland, the House Democratic whip, who recruited Bilbray to run.
A couple of labor leaders confirmed the positive tenor of the hourlong luncheon meeting and said they want to see Bilbray, a political consultant, replace U.S. Rep. Joe Heck, R-Nev., who is seeking a third term in the 3rd Congressional District.
"Joe's got to go," said William Stanley, head of the International Union of Elevator Constructors.
Bilbray said, "It sounds like a good campaign slogan."
Still, top union leaders have threatened to sit out the 2014 election unless the administration and Congress tweak President Barack Obama's health care insurance law because they say it treats their nonprofit plans unfairly.
GOP voters are fired up by their continuing opposition to Obamacare, which mandates Nevadans and other Americans buy policies or pay fines. The goal of the Affordable Health Care Act is to bring down overall costs by requiring coverage of some 30 million uninsured Americans, but Republicans have objected to forcing people to buy a product.
In February, D. Taylor of UNITE HERE, which represents 265,000 members in casino, hotel, restaurant and laundry services nationwide, and Danny Thompson of the AFL-CIO argued that the health care law has subjected union plans to new taxes and mandates without giving them benefits and subsidies available to companies that offer private coverage to workers. That's mainly because the private union plans are reached during collective bargaining.
Taylor has said the easiest fix would be for the federal government to deem nonprofit union plans "qualified health plans for the purposes of receiving subsidies and participating in the exchanges" run by the states.
The two top labor leaders didn't attend Monday's meeting. Their public threats could be a way to increase political pressure on the White House and Congress to act before November. Union members who attended Bilbray's meeting said they still plan to support her and campaign for Democratic candidates despite unhappiness with Obamacare.
Bilbray said she supports unions who want the law amended, saying in response to a reporter's question that she would like to "work with labor so that's changed." At the same time, she defended Obamacare, saying that despite a flawed rollout, it is helping provide health coverage to more Americans as planned. She said Congress needs to fix some parts of the law, but both she and Hoyer denounced Republicans who have tried dozens of times to repeal the law.
"If there's a crack in the wall, you fix the crack, you don't burn down the house," Bilbray said.
Hoyer dismissed GOP repeated efforts to repeal the law. "This is an obsession," he said, adding that electing Democrats like Bilbray will help prevent Republicans from getting rid of the law or changing it to ill effect.
Stanley of the elevator union gave an example of the law's unfairness to unions. He said under Obamacare, union workers in Nevada must pay an extra $60 per family member a year — a total of $300 for him — to support the law.
"It's the belly button tax that's giving us heartburn," Stanley said, using the union nickname for the extra charge "It's just an added cost of our plan. I'm being asked to pay for something that I don't get any benefit from."
Asked whether he planned to sit out the election because of the issue, Stanley said, "It's certainly not my mindset."
James Halsey of the International Brotherhood of Electrical Workers, agreed that unions still support Obamacare. Its goal is to cover 30 million uninsured Americans. But he said union members are more upset about the government shutdown, blaming the GOP when it temporarily halted construction projects, including at McCarran International Airport.
"That's a major issue for us," Halsey said, adding Nevada's construction industry was devastated by the recession and has yet to fully revive. "It's coming back, but not to the level it was."
Contact reporter Laura Myers at lmyers@reviewjournal.com or 702-387-2919. Follow @lmyerslvrj on Twitter.