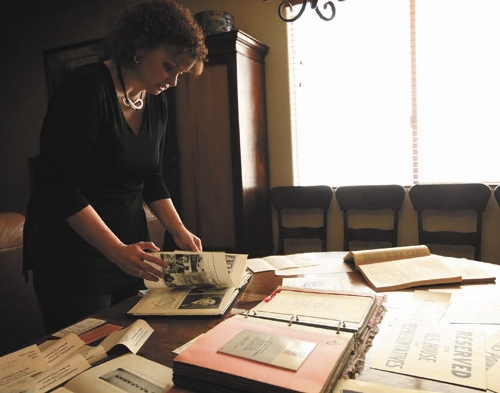 WASHINGTON — Cyndie Stewart was 16, a Californian transplanted to Washington, D.C., in January 1984. She wore newly bought winter clothes and a case of the jitters on her first day as a page for the U.S. House.
"I remember the nervousness at the pit of my stomach," she said. "I remember realizing I completely wore the wrong shoes because my feet were going to be very sore."
Now married and living in Las Vegas, Cyndie Stewart Buchanan is lamenting the decision by U.S. House leaders to scrap the use of student pages, who have been Capitol fixtures since 1827.
Butterflies long gone, the owner of Diamond Digital, a video surveillance company, said her six months on Capitol Hill was a defining part of her life, giving her a confidence that carried her into a business career.
Justin Blau was a more recent page, working over three weeks in the summer of 2008. Now a college student at Washington University in St. Louis, the Meadows School graduate said exposure to the inner workings of Congress helped him decide to pursue another field.
"It was an eye-opening experience for me," said Blau, who was selected by Rep. Shelley Berkley, D-Nev.
Blau said the job included sitting through three hours of discussion over declaring National Corvette Day, a numbing experience he wrote about in his entrance essay to college, where he is studying finance and English composition.
"I was very politically oriented before going into the page program," he said.
And at the end? "Much more politically frustrated than when I went in."
Former pages are taking stock of their experiences in the wake of the decision by House Speaker John Boehner, R-Ohio, and Democratic leader Nancy Pelosi of California.
The leaders said ending the program will save $5 million annually. Consultants said the per student cost was between $69,000 and $80,000 per year, more than the priciest boarding schools and most universities.
"I wondered how long it would be before they had to revamp the program or do away with it," Buchanan said. "From the experience I had, it is a real disappointment they are getting rid of it, but they have to make cuts where they can."
The Senate runs its own page program. Senate Majority Leader Harry Reid of Nevada has no plans to change it, a spokesman said.
Buchanan was an honors student and the daughter of the youth minister at First Baptist Church in Modesto, Calif., when local Congressman Tony Coehlo was scouting page applicants.
It was late 1983, just months after two House members, Republican Dan Crane of Illinois and Democrat Gerry Studds of Massachusetts, were censured for having had sex with pages. So prospective pages were put under a microscope for character and maturity.
When Buchanan and her classmates showed up at the Capitol in January 1984, pages were in the spotlight. Time magazine spoke with them and took their pictures for a big feature.
"I remember being acutely aware of Time magazine interviewing us," she said. "And I remember the feeling of awe walking onto the House floor and just knowing I have to turn on and be aware and be on point at all times."
In a routine that has not much changed over the years, the pages lived in a dorm two blocks from the Capitol and went to school on the top floor of the Library of Congress from 6 a.m. to 9 a.m. each day.
Then they would report to "work," as House messengers and go-fers. They were on duty each day for as long as the House was in session.
"One time I was asked to make an emergency run, and I ran out one of the side doors and ran smack into Tip O'Neill," Buchanan said. "It knocked me down. That was completely my fault."
The House speaker, she added, was gracious with the teenagers.
Eventually, Buchanan became the overseer of the pages who served the Democrats' side of the House floor. Congressmen would push a buzzer next to their seats, which would flash a light on a board by the page desk in the front corner of the chamber.
"I would send somebody down to see what they needed," Buchanan said. "But obviously that was before text messaging and cellphones and everything."
House leaders said the messengers were no longer needed at a time when smartphones are ubiquitous and documents are delivered as email attachments.
Blau served in the techno-age and saw firsthand the diminished need for pages.
"They didn't need us there," he said. "It was for our benefit much more than for anybody on the Hill."
Contact Stephens Washington Bureau Chief Steve Tetreault at stetreault@stephensmedia.com or 202-783-1760.