Las Vegas Boy Scouts make some noise at Mountain Man Rendezvous
February 8, 2014 - 9:49 pm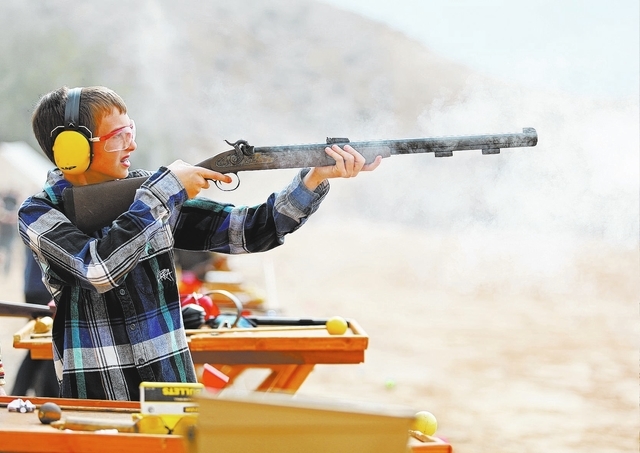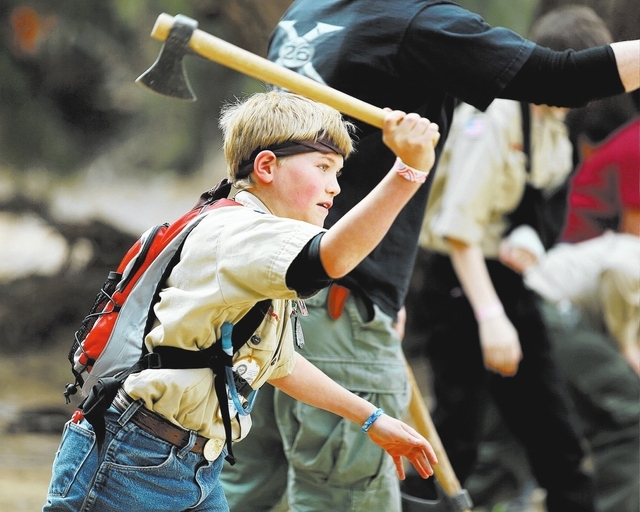 A fireworks-and-rotten-egg smell permeated the air as dozens of Boy Scouts lined up to shoot black powder rifles at small metal targets Saturday.
The Scouts gleefully held the firearms between their knees and poured gun­powder down the barrels that were pointed away for safety. They placed a small piece of cloth and a lead ball in each opening and shoved it down with a couple of rods.
After an echoing boom, the gun kicked back and a cloud of smoke came pouring out. If they hit the mark, they heard a distinct ping.
And if they hit the target two more times, the Scouts qualified for the next round: skeet shooting with black powder shotguns.
More than 2,000 Scouts and 300 volunteers and parents from the Southwest took to the Moapa River Indian Reservation north of Las Vegas for the 31st annual Mountain Man Rendezvous.
This year, Scouts 11 years and older were allowed to participate in the weekend events.
"This is more of a fun thing, compared to sitting around working on merit badges," said one parent, who was nervous about being identified because he works in law enforcement.
Scout leaders brought about 6,000 lead balls and 26 pounds of gunpowder to use at 30 shooting stations. Many of the young boys tried to go through the line to shoot two or three times.
"They always get disappointed when we shut it down," said 41-year-old Jairold Winsor, a Scout leader for Troop 589.
Winsor's troop ran the shooting area. Each person had a dedicated instructor on basic safety techniques watching over them.
"They get to do things every boy wants to do: throw knives, shoot guns, run around and get dirty," said 27-year-old Spencer Swan, scoutmaster for Troop 576. "What 12-year-old doesn't want to shoot a gun?"
Most of the Scouts arrived Friday night and set up camp. Row of tents and cars decorated the reservation Saturday as the boys ran around among 23 activities.
There were target ranges for archery and spears, and boys lined up to try to throw tomahawks and crack bullwhips.
There were stations to learn to make rope, build a fire with a flint or turn stones into arrowheads.
Each boy was given a Boy Scouts talisman the first night of the event, and each activity they tried paid a bead to add to their necklace.
Many Scouts tried the Muddy River Run competition, racing through each activity as quickly as possible and scoring as much as possible.
There was an assortment of carnival foods, such as turkey legs and fried peanut butter and jelly.
Scouts who knew safety rules and had their "Totin' Chip" permit to carry tools eagerly purchased colorful pocket knives to show off to their friends.
While the young ones mostly dressed in Scout uniforms or custom troop T-shirts, many of the older participants dressed in period clothing.
The event is loosely based on the rendezvous held each year by 19th century trappers, who would meet to trade animal furs and beaver pelts, party and hold competitions.
"We really try to get the boys and the leaders to get into the history," said Linda Hinze, a teacher from Las Vegas.
She was at a booth set up with treasures from the 18th and 19th centuries, such as a Civil War bullet found on a farm in Gettysburg, a key battlefield from the Civil War, and beads commemorating the explorers Lewis and Clark.
"We get good questions from the boys," Hinze said.
Contact reporter Wesley Juhl at wjuhl@reviewjournal.com and 702-383-0381. Follow him on Twitter @WesJuhl.