Man charged with attempted murder in Interstate 15 shooting
November 16, 2012 - 3:23 pm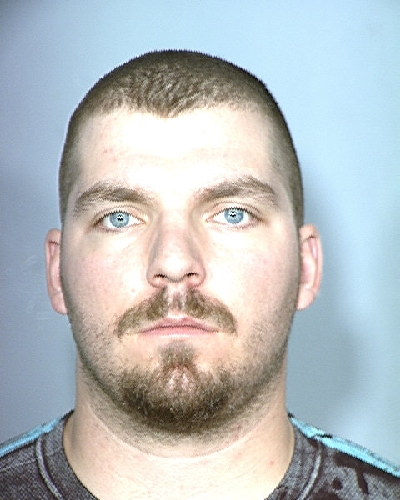 A weird, random freeway shooting near Valley of Fire this week wasn't really random, police said Friday.
It was a murder plot that didn't work.
"I have no idea what's going on," said Amy Bessey, the victim's ex-wife, one suspect's sister and the other suspect's mom. "I wish I did."
She stopped talking after that, saying her attorney told her to.
It went down like this, according to interviews and a police report:
Robert Bessey, 49, was heading south on Interstate 15 Wednesday morning when he passed a gold Chevrolet SUV on the side of the road.
The SUV sped up and got behind him.
He heard a loud pop.
Glass shattered.
The base of his neck hurt.
He pulled over near mile marker 70, about five miles south of the Valley of Fire exit, as the SUV sped away.
Bessey was bleeding. He dialed 911.
He was taken to University Medical Center, where doctors removed a bullet from his neck. He was released and went home.
It turns out, police charged, that Bessey's adopted son, Michael Bessey, 21, and Michael's uncle, Robert Pearson, 39, were the two men in the SUV.
Pearson, who goes by Rick, has a criminal history in Southern Nevada dating to 1997, records show.
He was on parole at the time of the shooting. His last conviction came in February when he pleaded guilty to grand larceny-auto. A judge sentenced him to prison for a one- to five-year term.
Michael Bessey, recently released from the Army, told police that Robert Bessey had a history of abusing him and his mother.
Robert Bessey couldn't be reached for comment Friday.
Amy, 42, and Robert Bessey were recently divorced.
Police figured out what happened partly because Robert Bessey recognized the gold SUV as one he had seen at his ex-wife's house. Police say it belonged to Pearson's girlfriend.
An employee at a Chevron store in Moapa, two blocks away from Robert Bessey's house and just north of where the shooting occurred, saw a gold Chevrolet SUV parked there about 3:20 a.m. that day.
Two guys riding in the SUV shopped there and left. Video showed the two guys were Pearson and Michael Bessey, the police report said.
Michael Bessey was arrested and booked into the Clark County Detention Center facing two charges: attempted murder and battery with a deadly weapon.
Pearson remained at large Friday night.
Police said he is white, about 5 feet, 6 inches tall, with blue eyes and a shaved head.
Amy Bessey wouldn't comment on the relationship between her ex-husband and her son.
Contact reporter Richard Lake at rlake@reviewjournal.com or 702-383-0307.