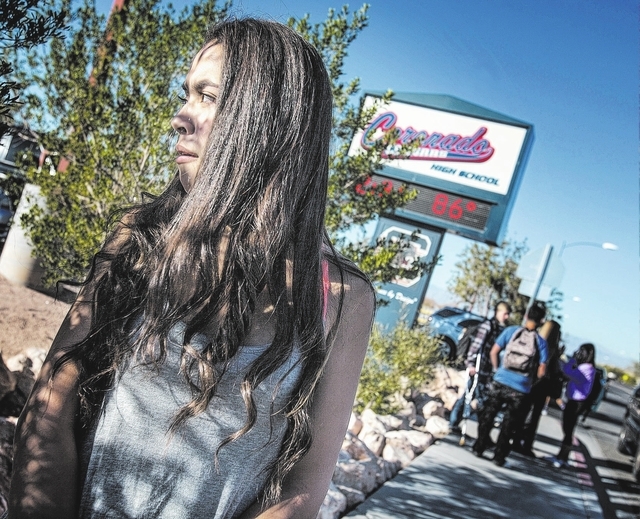 Mere weeks before a case of tuberculosis alarmed the Coronado High School community and spurred health officials to call for testing of those who may have been exposed, the Clark County School District dropped its requirement that all employees be tested for the infectious and potentially lethal disease.
The policy for all 39,000 district employees, including those at the Henderson high school, was that new employees be tested for tuberculosis and existing employees be tested every five years, at district cost. The tests usually cost between $10 and $20 each.
But the School Board unanimously voted to do away with mandatory tuberculosis testing on Oct. 10, during the same time that the Southern Nevada Health District was testing 200 people in the aftermath of two tuberculosis deaths involving Summerlin Hospital Medical Center.
School district spokeswoman Melinda Malone on Wednesday confirmed the policy change at the Oct. 10 meeting and said it was done on advice from the health district.
On Wednesday, health district investigators arrived at Coronado — the state's second-largest school with a little more than 3,000 students — to determine which students and staff had come into "close, prolonged contact" with the infected individual.
Officials aren't naming the person testing positive for tuberculosis or identifying whether the person is a staff member or student. But students have said the person is another student who has not returned to school for three weeks.
Tuberculosis is caused by a bacteria that usually attacks the lungs and is regarded by the U.S. Centers for Disease Control and Prevention as "one of the world's deadliest diseases," with 9,945 new U.S. cases in 2012.
Nevada consistently ranks among the top 20 states for its rate of TB cases, reporting about 100 newly diagnosed cases a year, according to the Nevada Division of Public and Behavioral Health.
Clark County usually accounts for more than 80 percent of new cases each year, making its TB case rate of 3.4 per 100,000 people higher than the 3.2 national average.
But the school district's screening process was abandoned for good reason, according to Jennifer Sizemore, spokeswoman for the health district. She confirmed that the health district advised the school district to drop its mandatory tuberculosis screening for employees, as also was recently proposed to other professions.
"You don't find many cases that way, if any," she said, calling it an ineffective use of resources.
When someone has tuberculosis and is contagious, they're sick. The rare cases of tuberculosis found through screening are usually latent, meaning the person is infected but their body is able to fight the bacteria and keep it from growing, Sizemore said. They aren't sick and can't spread tuberculosis to others.
The Coronado student was visibly ill, according to sophomore Chandler Young, who said she took biology with the student who tested positive for TB.
Like everyone else in her biology class, Young received a letter Wednesday telling her that her close contact with the infected individual meant she should be tested. It's unclear how many students and school staff received similar letters Wednesday. The health district wouldn't release the figure because of the investigation.
During the last case involving a school in 2007, a student at another Henderson school — Green Valley High School — also tested positive for TB. The health district tested about 250 students thought to be at risk of infection at that school, which had about 2,800 students at the time.
At Coronado, tests will be done from Tuesday to Thursday for free.
But Young's father wanted her to be tested Wednesday at a local clinic.
"He doesn't want me to wait a week," a worried Young said.
Other students said Wednesday they're going to get tested whether they receive the letter or not, said friends junior Tyler Knickmeyer and freshman Danny Miller.
A lot of kids want to get tested, they both said.
Freshmen Kenzie Hoopes and Lauren Vermes were individually plucked from class and handed the letter Wednesday. Their friend Sydney Shaw received nothing.
"Still, my mom wants me to get tested," Shaw said.
Contact reporter Trevon Milliard at tmilliard@reviewjournal.com or 702-383-0279.