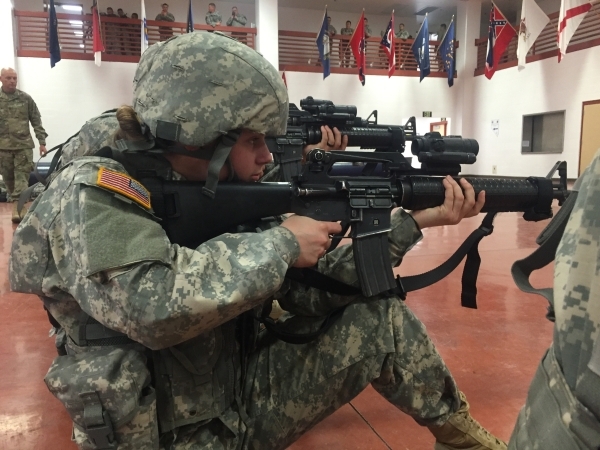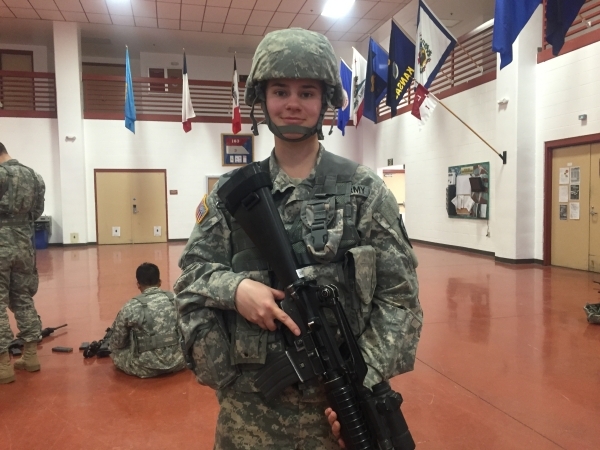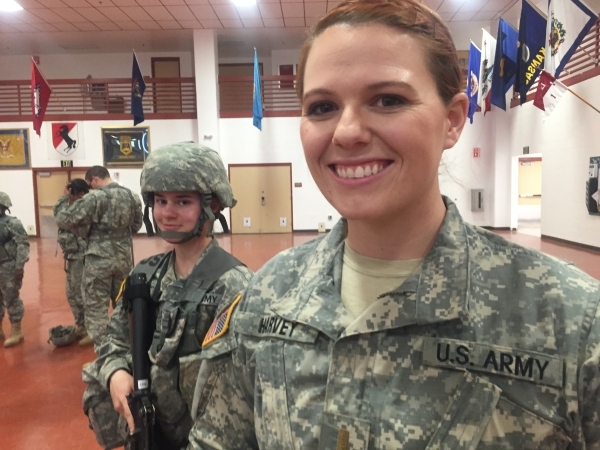 Just two weeks after 250 soldiers from a Nevada Army National Guard supply brigade mobilized to support combat operations in the Middle East, two more waves of citizen-soldiers from a Nevada signal battalion are training for deployments to Kuwait and the Horn of Africa, the Las Vegas Review-Journal has learned.
"We are fortunate to have trained soldiers ready at all times. That is really one of the big advantages and why we have been deployed more than most other states," 2nd Lt. Allison Harvey said Thursday.
While she spoke, a marksmanship instructor barked orders at her platoon from the 422nd Expeditionary Signal Battalion on how to maintain their hand-eye coordination while they held rifles in various firing positions.
"Back to the kneeling position. Quickly," he shouted as he strode across the polished floor at the Clark County Armory. "Look at what you're doing. You're not going to have the talking ability that you have right now when you're stressed. Your eyes go where your hands go. Do one thing at a time."
On the second floor of the armory at the north end of the Las Vegas Valley, another group of soldiers trained on urban operations where they learned how to clear rooms and take down enemy combatants in hostage situations "in order to stay alive in a combat zone," Harvey said.
About 40 Nevada soldiers from the battalion plus 10 from Arizona will mobilize Feb. 4 for deployment to the Horn of Africa.
Then in April another 120 soldiers, including Harvey's platoon, will deploy first to Texas for more training and then to Kuwait to handle communications in support of troops in high-risk areas where military operations are underway to fight Islamic State militants in the region.
"Our central mission is to engineer and network different operations. We set up individual networks and satellite communications throughout the area of operations," said Harvey, who works for the Nevada Health Department immunization program in her civilian life.
On Jan. 4, Gov. Brian Sandoval sent more than 250 soldiers from the 17th Sustainment Brigade to coordinate supply operations for U.S. forces in the Middle East. It is the largest deployment for the Nevada National Guard since 2010 when the 1st Squadron, 221st Cavalry sent about 450 Nevada soldiers to Afghanistan with 280 Guard soldiers from other states.
Another 35 Guard soldiers from the 137th Military Police Detachment mobilized Nov. 24 in North Las Vegas for a yearlong deployment in Afghanistan; and 30 MPs from Nevada's 72nd Military Police Company have been in Kabul, Afghanistan, since the summer to provide security for military leaders at Resolute Support Mission headquarters.
Like many soldiers at the armory Thursday, Pfc. Noah Mertz, 19, of Pahrump, said he is "really excited" about his first overseas mission.
Staff Sgt. Kenneth Falconer, 32, of Minden, has deployed three times to Afghanistan and once to Iraq. He said he stands ready to begin the April tour "to engage enemies of the United States."
"I have had plenty of chances to leave the Army. Someone has got to do it," he said. "I know what I'm doing and can pass on my experience to Private Mertz."
Contact Keith Rogers at krogers@reviewjournal.com or 702-383-0308. Find him on Twitter: @KeithRogers2