Activists try, try again to end Creech Air Force Base
March 24, 2016 - 10:13 pm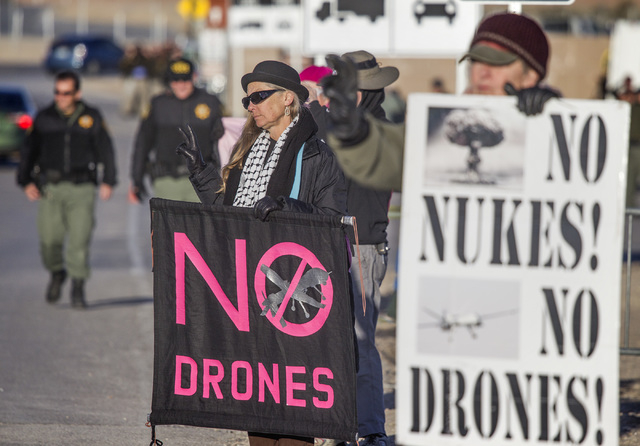 The peace activists participating in the coming week's nonviolent protest call their vigil near Indian Springs "Shut Down Creech 2016," but they're probably aiming high.
Members of Veterans for Peace, Nevada Desert Experience, Voices for Creative Nonviolence and the CODEPINK group are gathering for the event at Creech Air Force Base, which is home to a major military command center for remotely piloted aircraft better known as drones.
A nonviolent resistance is scheduled for April 1 at the gates of the military facility. In past years, protests associated with the Nevada Desert Experience have generated national media attention at Creech and the Nevada National Security Site.
FAMILY FEUD: An ugly breach-of-contract lawsuit filed by Brian Becker and sister Kimberly Becker Riggs against their father Ernest Becker IV and other family members is now surfacing in District Court.
Becker IV, the lawsuit filed by attorney Christ Sullivan alleges, since 2008 has suffered from "deteriorating health and mental capacity" and has been displaying erratic behavior that has put the family business interests at risk.
The allegations get uglier from there.
HISTORICALLY PRESERVED: Las Vegas is notorious for burying its past, but the Las Vegas Historic Preservation Commission works to change that. It has approved Historic Preservation and Archaeology Month 2016 with an emphasis on honoring the 50th anniversary of the National Historic Preservation Act. Look for the commission, chaired by local historian and longtime television newsman Bob Stoldal, to make an appearance before the City Council in May.
EMAIL SAVINGS: The Clark County Election Department has a cost-cutting plan that could save an estimated $1.5 million — but only if you participate. Go to the Election Department page of the clarkcountynv.gov website and hit the "Choose Email for Your Sample Ballot" notice.
REGISTERED VOTERS: While we're on the subject of elections, as of Thursday morning there were 849,430 registered voters in Clark County: 372,037 Democrats, 265,765 Republicans, 164,590 nonpartisans and 47,038 others.
By comparison, at last tally Washoe County had registered 91,389 Republicans, 85,687 Democrats, 42,638 nonpartisans and 15,696 others for a total of 235,410, according the registrar's website.
TOUR DE SUMMERLIN: If you're tired of politics, this may be something more your speed. It's the 15th annual Tour de Summerlin bicycle ride set for April 16 with proceeds to benefit Candlelighters Childhood Cancer Foundation of Nevada. And you don't have to wear one of those cycling outfits if you don't want to. For information and registration, go to tourdesummerlin.com.
ON THE BOULEVARD: After reading a recent column on my classic Vegas comedy dream team, which includes Jerry Lewis, Marty Allen and Don Rickles, local Joe Balett says I neglected to mention Shecky Greene. He's so right. Any others I left off the hit list? … Speaking of Allen, the guy is scheduled to perform a little standup at his 94th birthday celebration Saturday. The fact he can still stand up is worth a round of applause. … Is Steve Wynn asked more questions about his $1.7 billion Wynn Boston Harbor casino project or his role as adviser to GOP presidential front-runner Donald Trump? Wynn has set the groundbreaking for the Massachusetts casino for July.
BOULEVARD II: Looks like some notorious names from the local topless racket are planning a comeback now that they've paid their societal debts. They certainly have the connections to do the job. Where they go, can law enforcement be far behind?
Have an item for Bard of the Boulevard? Email comments and contributions to jsmith@reviewjournal.com or call 702-383-0295. On Twitter: @jlnevadasmith.