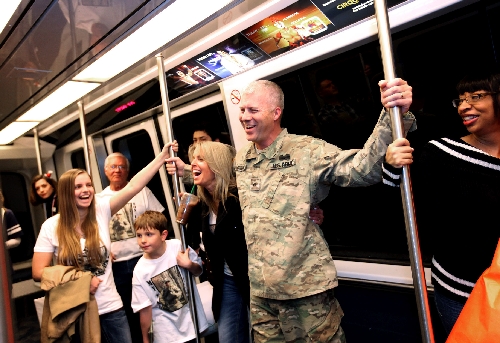 Local Army Reserve soldiers had just unpacked their duffel bags from Afghanistan in mid-December when military planners were drawing up a report for Congress that predicts the nation's citizen-soldiers probably will have to shoulder more deployments to offset a drawdown in the regular Army.
"We are no longer weekend warriors," Lt. Col. Victor Ingram, commander of the Army Reserve's North Las Vegas-based Delta Company, 405th Civil Affairs Battalion, said in a Jan. 11 interview. "The active-duty Army knows they can't fight without you."
He was reacting to the Army's reduction-in-force forecast contained in the Jan. 3 report by the Congressional Research Service.
The report was released about three weeks after his company, known as the Vegas Desert Rats, returned from nine months of combat in which its members received five Purple Hearts and 18 Army Commendation medals and survived 320 firefights and indirect fire incidents in some of Afghanistan's most volatile provinces.
"As a soldier we answer the call no matter when that call comes," said Ingram, 45, a prior-service Marine and soldier who served two combat tours in Iraq before leading 32 soldiers last year in Afghanistan.
"To go and serve as a leader in a combat zone, there is no better honor," he said.
But with that came the mixed emotion of bitterness he felt for having to temporarily leave his job again as a gaming agent with the Nevada Gaming Control Board.
"There is give and take, and at times there is more take. And that's where we're headed," he said.
"You try to have a parallel career. It's like dueling interests. Your loyalty to your civilian employer and loyalty to the Army are constantly in question," Ingram said.
"When there's a promotion opportunity, you're never there to compete for it. And when you are there, they wonder how long will it be before you leave again. It takes a lot out of you emotionally."
REPORT STRESSES NEED FOR RESERVES
The 35-page report by ground forces specialist Andrew Feickert – "Army Drawdown and Restructuring: Background Issues for Congress" – said that to meet looming budget cutbacks, the Army is faced with downsizing active-duty manpower from 570,000 to 490,000 soldiers by 2017, a savings of roughly $8 billion a year.
If the "fiscal cliff," or automatic budget cuts, occur under the sequestration law to reduce the nation's $16 trillion deficit, the Army will be forced to cut an additional 80,000 to 100,000 active-duty and reserve soldiers over and above the planned 80,000 reduction.
That means the reserve component – the National Guard and Army Reserve – would be used to "buy time to increase the size of the active component," said Army Chief of Staff Gen. Raymond T. Odierno, who is quoted in the report.
Nevada Army Reserve Ambassador Ashley Hall, a retired Army brigadier general, noted that the more than 205,000 Army Reserve soldiers augment the regular ranks with economic efficiency.
"We are 20 percent of the force but only 6 percent of the budget," he said, reflecting on discussions at a Dec. 3 gathering of Army Reserve leaders at Fort Belvoir, Va.
"With the drawdown in active forces, we're going to be more dependent on reserve forces," he said, adding, "We all know going in when we sign up that we've got to be ready to do what we got to do."
There were approximately 3,200 soldiers in the Nevada Army National Guard and 1,560 Army reservists in Nevada in 2012.
STUDY'S IMPACT UNKNOWN
While Hall spoke generally about the expected drawdown based on December's leadership meeting, the Army Reserve's chief spokesman said it would be "pure speculation at this point" as to what the study's impact "may or may not have on the Army Reserve."
"Implementation may be years off if ever," the spokesman, Lt. Col. William D. Ritter, wrote in an email to Hall.
In the congressional study, Odierno said a new readiness model would need to be developed to keep the National Guard and the Reserves at a higher state of readiness, "particularly if the United States gets into two major long-term combat operations at the same time."
The study suggests potential issues for Congress to weigh "include the strategic risk posed by a smaller and restructured Army (and) the 'health' of the Army given the impending downsizing."
After 11 years of fighting wars in Afghanistan and Iraq, the turnaround in rotations has stressed many citizen-soldiers who have served the role of de facto draftees.
Some of Ingram's soldiers returned Dec. 16 from their third deployment over the past decade. One had racked up four overseas tours.
There are 66,000 U.S. military personnel in Afghanistan, but there had been up to 100,000 as recently as 2010. Obama administration officials said last week there might not be any U.S. troops left in Afghanistan after December 2014, contrary to the Pentagon's view that thousands might be needed to keep al-Qaida terrorists in check and bolster Afghan forces for dealing with the Taliban.
GUARD MEMBERS READY TO GO
Despite the tasking, "the reserve components of the United States Army have never been more ready than they are today," said Nevada's Adjutant General William R. Burks, an Air Force brigadier general who heads both Army and Air Force branches of the Nevada National Guard.
"Many have talked about returning the Army Guard and Reserve to a 'strategic reserve' to save money," Burks said, referring to Pentagon officials. "What they fail to say is the real savings is downsizing the active-duty service members and making them all a rapid reaction force.
"We can then continue to use the reserve components as the inexpensive, operational reserve we have proven to be for the last 11 years," he said. He noted that guardsmen and reservists are only paid when they are called to serve.
"Simply put, the nation needs to rely more on the reserve components, not less," Burks said.
According to Ambassador Hall, the Army Reserve plays vital support roles to the regular Army by providing capabilities in engineering, logistics, intelligence, transportation, civil affairs, military police, and chemical and biological warfare response, with medical, dental, chaplain, postal and human resource services.
Burks, Nevada's military chief, said that "it shouldn't be forgotten that only the National Guard, not the active duty, has the dual role to be ready for both state and federal missions."
To get "the most bang for the buck," he suggests "millions of dollars a year could be saved by folding the Reserve headquarters into the National Guard headquarters, ameliorating the cost of redundant capabilities."
Retired Army Brig. Gen. Rebecca Halstead, the first female West Point graduate to reach that rank, commanded 20,000 soldiers at 55 bases for the 3rd Corps Support Command in 2006 in Iraq.
She led both active-duty and reserve component soldiers. While she hadn't yet read the congressional study, she said her Iraq experience demonstrated that the National Guard and Army Reserve "are critical to our readiness."
"I had to put that mix all together in order to fight that fight in Iraq," she said during a visit last week to Las Vegas.
"At the end of the day, it's about your capability, and you have to have a capability that meets the threat," she said.
"In terms of the National Guard and Reserve, we have had to depend heavily on them the last several years to fight in Afghanistan and Iraq. We couldn't have done what we did in those two theaters without them," she said.
Contact reporter Keith Rogers at krogers@reviewjournal.com or 702-383-0308.
U.S. Army drawdown report