DAR teams with Henderson students to break record for letters to the military
September 15, 2016 - 5:00 am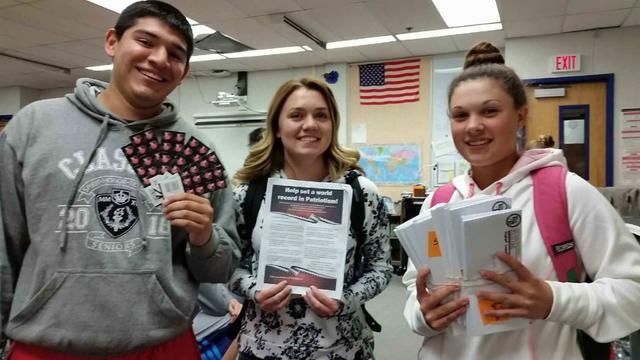 In May, members of the National Society Daughters of the American Revolution (DAR) in Las Vegas enlisted students from various schools to help collect letters to send to soldiers. The goal was to collect enough letters to break the Guinness World Record for most letters to military personnel collected in one month.
"The old record was 10,000 letters," said Elaine Anderson with the DAR group. "We were part of a new world record for 100,904 letters. The letters were collected from all of the (DAR) chapters worldwide."
Anderson said the reason this was successful was because of students such as Hannah Barr of Basic High School, 400 Palo Verde Drive.
"I thought it was really cool we were able to do this," said Barr, who helped organize her student council to participate. "When I heard about this, I thought it was a really good idea."
Barr, now a junior, took the proposal to her student government last school year and helped organize the campaign.
Anderson said DAR was also able to collect letters from other schools such as third-graders at Mater Academy of Nevada, 3445 Mountain Vista St. She even got a school from California to send letters.
"The kids were extremely excited to participate," she said. "Most of them have family members who are serving now or have served in our military."
Barr said most of the letters are going to strangers, but in some cases, people can write to specific family members. She wrote four letters.
"I wasn't writing to anyone specific," she said. "I basically wrote to them thanking them for their bravery. Everyone needs encouragement every once in a while. They need to hear people care."
Before shipping the letters off, DAR members took them to Washington, D.C., in June to be counted by Guinness World Records.
Barr said she is already in talks about getting more students at her school involved again.
"We want to get more than student council involved," she said. "I'm hoping to pitch it to choir or even DECA."
For more information about DAR, visit dar.org.
To reach Henderson View reporter Michael Lyle, email mlyle@viewnews.com or call 702-387-5201. Find him on Twitter: @mjlyle.