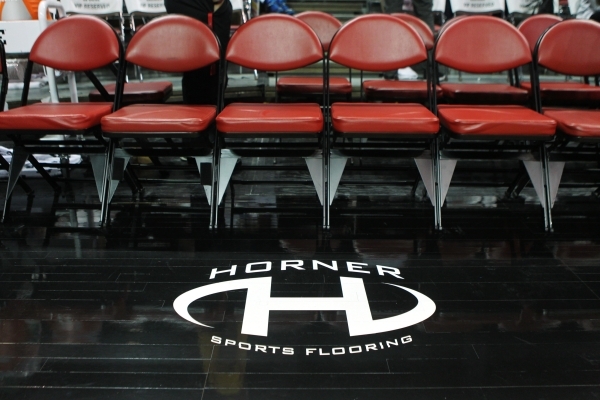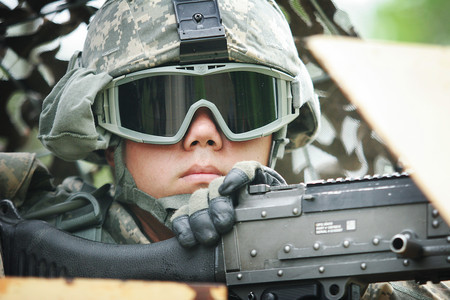 CAMP ATTERBURY, Ind. — Drizzle falling from gray clouds dampened the helmet of Spc. William Lowell while he manned a machine gun atop a tan-colored Humvee on a muddy road flanked by stands of hickory and poplar trees.
His brother, 27-year-old Walter Lowell of Las Vegas, sat below, clutching his M-4 rifle as he peered out the rear-seat window, looking for any signs of movement in the dense, hardwood forest.
Ahead of them in the convoy, the Petersen brothers — Andrew, 26, and Derek, 24 — stood by with their radios ready to relay word of any ambushes or roadside bomb attacks to other patrols in the area.
The Lowells and the Petersens are just two of nine sets of brothers serving in this Nevada Army National Guard unit that will be heading out in a few weeks for some of the most dangerous parts of Afghanistan.
It was Wednesday, one of the last days for them to pass the convoy training drill before nearly 700 soldiers from Nevada's 1st Squadron, 221st Cavalry will join the fight over there.
And the fight gets more violent every day as Taliban militants dig in to confront an expectant surge of 21,000 U.S. troops in the NATO effort to oust the insurgents and rebuild roads, schools and the country's infrastructure.
"It's certainly a wake-up call when you hear about all the stuff going on over there," said Staff Sgt. Derek Petersen, a member of Silverado High School's class of 2002.
"It makes you train harder here so we'll do the right thing over there," he said.
Like their Army brothers in arms, these blood brothers said Wednesday they are committed to completing the squadron's missions to provide security for provincial reconstruction teams and weed out the "bad guys" before they can attack convoys or forward operating bases.
"As far as the mission goes … I think it's about time that we sent more soldiers over to Afghanistan because it's just as important as Iraq," Spc. Andrew Petersen said.
The National Guard allows brothers to serve together in combat without special waivers and, in fact, encourages brothers and friends to join the unit together to build cohesion, said Lt. Col. Scott Cunningham, the squadron's commander.
The Lowell brothers, both graduates of Las Vegas High School, volunteered for the Afghanistan tour even though their father, Frank W. Lowell, a Vietnam War Air Force veteran, didn't want them to both to go to the war zone. He said he fears a so-called "Sullivan situation," named after five sailors, the Sullivan siblings from Iowa, who died when the USS Juneau sank during World War II.
"I don't like the idea of both of them going over together to serve but it's what they want," Frank Lowell said Friday. "I tried applying the Sullivan law to them but they didn't want that, so I'm just going to let them go."
Spc. Walter Lowell, a cavalry scout, will be going into rural areas of Afghanistan to intercept insurgents before they can launch attacks on friendly forces. One of his objectives will be to patrol "outside the wire," so to speak, to keep the enemy out of range and from firing mortar rounds inside bases.
He said he feels comfortable in this role because as a kid he was "a little commando in the streets. Nobody was better at hide-and-seek than I was," he said.
His brother, William Lowell, 29, knows what to expect from having served active duty, which included a tour of Iraq, while his wife and two daughters waited for his return.
He said he wants to be there to support his brother and carry on the family's long tradition of military service that dates back to ancestors who served in the Revolutionary War and most of the nation's historic conflicts. One of their distant uncles fought in the battle for Little Round Top at Gettysburg, Pa., with the 20th Maine Regiment.
Said Walter Lowell: "My brother and I are fevered patriots. We love this country. We love serving this country.
"If something were to happen to him, I would honor him as a fallen soldier more than a regular fallen soldier because he's my brother," he said. "I know my family would want me to come home because they need emotional help, but I would want to continue on the mission."
Likewise, the Petersen brothers are going over to be there for each other.
That was one of the main reasons why Andrew Petersen joined the 1st Squadron. Another was to fulfill his childhood desire to be like Superman and, he said, "this is as close as you can get to being a superhero."
"A few years ago I always thought to myself that if my brother ever went, I'm going with him because there's no way he's going to take all of my thunder," he said. "It's great. We're all brothers in arms but it's even better when you have your real brother with you."
Their mother, Sandra Gravett, of Las Vegas, said she is proud of her sons but "tries not to think about the negative."
Having them both deployed for Operation Enduring Freedom is "good and bad," she said.
"I really pray for them that they come back safely. I think it's a good thing because they have each other there to support each other," she said. "I'm concerned, of course, because it's a place that's not real safe for anybody to be."
Derek Petersen said it would be "a crushing blow" to think he would have to carry on with the mission without his brother.
Andrew Petersen agreed. "It would crush me if I were to lose my brother over there, but I think he would want me to drive on and continue on the mission and worry about that grief later," he said.
In a nutshell, that's what last week's team training exercises were about: preparing for the worst but hoping for the best.
On Wednesday, their task was to rehearse the right response to an ambush or an explosion from a roadside bomb, or IED, short for improvised explosive device.
Signs with the words, "Complacency Kills," on the side of the road served as a reminder to soldiers in the convoy to stay alert even though hours might pass before they encounter any action.
A bearded soldier wearing a robe with a scarf wrapped around his head hid in the shade of the forest ready to detonate a gun-powder charge concealed in a culvert. A black wire from the simulated IED ran for some 25 yards across the forest's floor to a car battery at his hiding place behind a fallen log.
The would-be insurgent, who spoke on the condition that he be identified only as "Mitch" because of the sensitive nature of his job, described how he spent many months in Iraq "outside the wire" engaging the same type of terrorists in 2004 and 2005 that he's now portraying.
"Our ultimate goal is to do it exactly like the insurgents," he said. "We don't use any equipment that they wouldn't have access to over there."
After about an hour, the first Humvee in one of three convoys to pass drove by the culvert without stopping. Mitch touched one of the terminals of the battery with a piece of metal to complete the circuit, causing the gunpowder to explode. The other trucks scrambled to respond to attach a tow strap to the Humvee that had been deemed hit, even though no shrapnel or projectiles were used in the drill.
About a half hour later, the convoy with the Lowells and the Petersens arrived. Their Humvees stopped and soldiers on foot scoured the area to find the simulated IED site.
Having completed that part of the drill correctly, the convoy rolled on only to encounter an ambush about two miles away with would-be militants attacking with simulated rocket-propelled grenades and assault rifles firing paint balls. Orange and pink paint splattered on the windshield of one Humvee.
As the drill continued into the night, Lt. Col. Cunningham discussed the mission back at the barracks. He said the 221st Cavalry's 1st Squadron will be in Afghanistan "at an absolutely critical time. It's at the tipping point," he said.
"Counterinsurgency wars are not sprints, they're marathons," he said. "People think we're going to go in there and wave a magic wand and it's over. But we're going into a country that's been in combat for 30 years."
So, Cunningham said, the mission is really "not a reconstruction effort. It's a construction effort."
His soldiers, though, are prepared. "They're ready. They're ready to go," he said.
Contact reporter Keith Rogers at krogers @reviewjournal.com or 702-383-0308.
Video