Heller backs push to require VA to disclose high-level directors' bonuses, awards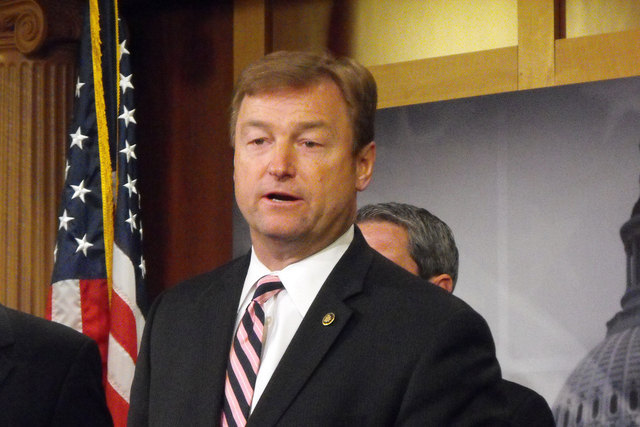 U.S. Sen. Dean Heller is backing an effort that would require the Department of Veterans Affairs to disclose to Congress the bonuses and awards that high-level VA directors get.
The push for added transparency comes as the VA has faced criticism for backlogs of veterans waiting for medical appointments and treatments at clinics and hospitals. The scandal has been amplified after revelations that executives were awarded bonuses as veterans languished waiting for medical care.
Heller is co-sponsoring a bill that would require the secretary of Veterans Affairs to annually report the performance-based awards and bonuses given to regional office directors, hospital directors and directors of integrated service networks for veterans.
"VA leadership on the local level, whether it is a VA hospital director, or a regional office director exerts significant control over the quality of care and benefits Nevada's veterans receive," Heller said in a statement. "That is why I personally meet with these individuals and work with them closely to address challenges on the local level and keep them accountable."
In 2013, 292 senior-level VA executives and directors received $2.7 million in performance-based awards top of their base pay. That figure included two separate $8,680 bonuses awarded the then-director of the VA Medical Center in North Las Vegas and the director of Sierra Nevada Health Care System in Reno.
Heller, R-Nev., is leading the push with U.S. Sen. Bob Casey, D-Pa. Both lead the VA Backlog Working Group that's examining the backlog. Heller added that the measure would increase accountability to the system.
"Therefore, members of Congress should be informed of whether VA leaders in their districts or states are being awarded bonuses based on performance," Heller said. "This measure is critical to bringing greater transparency and accountability to the VA."
Under the bill, the annual reports would include the amount of each bonus and the individual's job title and work location. The reports would go the Committee on Veterans Affairs and the Committee on Appropriations of both the Senate and House.
Contact Ben Botkin at bbotkin@reviewjournal.com or 702-387-2904. Find @BenBotkin1 on Twitter.
RELATED
VA trims veteran claims backlog to less than 100,000
VA claims backlog, signature problem frustrate valley Air Force veteran