Here's what trainees endure in Navy SEAL program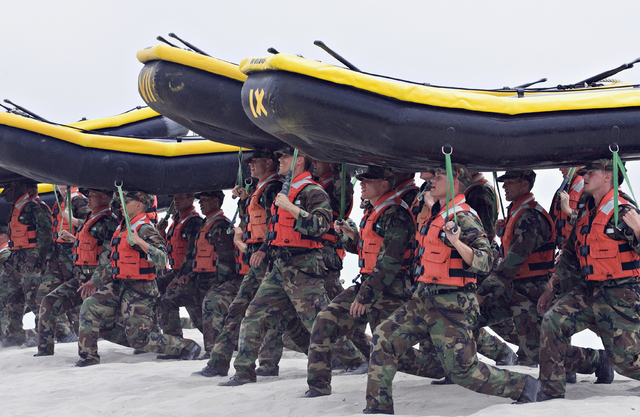 LOS ANGELES — The death of an aspiring Navy SEAL during his first week of training has been ruled a homicide in a highly unusual move.
Seaman James Derek Lovelace, 21, was in his first week of the six-month program in Coronado, near San Diego, when he died May 6 during a pool exercise. His lips turning blue and his face purple, the trainee dressed in full gear was treading water when his instructor pushed him underwater at least twice, an autopsy report said.
A medical examiner ruled Wednesday that those actions made Lovelace's drowning death a homicide. The highly unusual decision is serious and could affect the SEALs' basic training practices, said former Navy Capt. Lawrence Brennan, an adjunct professor at Fordham Law School who served as a Navy judge advocate.
The death raises questions about the safety of the strenuous training, which some argue is necessary to create warriors with missions like the one that took down Osama bin Laden. It opens concerns about where to draw the line between rigorous training to weed out the weakest and abuse that leads to deaths.
Here's a look at the grueling six-month training program that an average of only 25 percent of trainees successfully complete:
BASIC UNDERWATER DEMOLITION/SEAL TRAINING
Before the training program known as BUD/S even begins, trainees go through a five-week pre-training and "indoctrination" process, the Navy SEALS website says. Then the three phases of harsh training begin.
PHASE 1: PHYSICAL CONDITIONING
The first and toughest of the phases, and the one in which Lovelace died, lasts eight weeks. It includes swimming up to 2 miles with fins in the ocean; running 4 miles in boots against the clock; enduring wet, cold and exhaustion in many forms; and sleeping only four hours per night.
The peak of the first phase is known as "Hell Week," and is when many drop out of the program.
"Physical discomfort and pain will cause many to decide it isn't worth it," the SEALs website says. "The miserable wet-cold approaching hypothermia will make others quit. Sheer fatigue and sleep deprivation will cause every candidate to question his core values, motivations, limits, and everything he's made of and stands for."
PHASE 2: DIVING
The second eight-week phase focuses on underwater diving, with an emphasis on fighting. The trainees do both compressed-air and 100 percent oxygen SCUBA diving, long-distance underwater dives, and mission-focused swimming and diving techniques. The intensity of physical training also increases.
PHASE 3: LAND WARFARE
The final phase is a souped-up version of what many in the military go through in basic training.
"At this point, training shifts from testing how the men react in a high-stress 'gut check' environment, to making sure the trainees are competent in their core tasks," the SEALS site says.
It includes weapons training and marksmanship, explosives, small-unit tactics, and rappelling and rope operations. If completed, graduation comes next, and the trainees become "worthy of the sacrifices of the courageous Frogmen who came before them, and the great honor it is to serve as a U.S. Navy SEAL," the website says.