Nellis, Creech AF bases bump up security in response to ISIS threat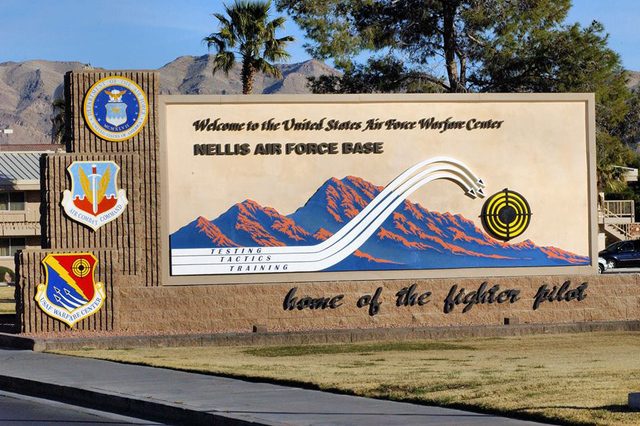 Nellis and Creech Air Force bases have bumped up their force protection levels to Bravo, third-highest on the five-tiered scale, as U.S. military installations increased security measures in response to reports of a perceived domestic threat by Islamic militants.
Nellis, at the north end of the Las Vegas Valley, and Creech, at Indian Springs, 45 miles northwest of Las Vegas, "are experiencing a random FPCON (Force Protection Condition) change to Bravo," according to a statement Friday from the 432nd Wing public affairs staff at Creech Air Force Base.
"This change was a prudent measure to establish a proactive, unpredictable frequency of actions to mitigate threats to an installation and protect personnel, assets, resources and infrastructure," the statement reads. It adds that the elevated security level "is not tied to any specific threat, but one of the ways we ensure the force protection of our service members and their families."
FBI Director James Comey briefed reporters Thursday about the bureau's concerns about homegrown followers of the group that calls itself the Islamic State.
On Friday, the Defense Department reported on its website that the U.S. Northern Command had elevated force protection levels for all military facilities in the continental United States. Those facilities include National Guard installations, ROTC and recruiting stations.
The Department of Defense defines Force Protection Bravo as an "increased and predictable threat of terrorism." U.S. military installations last increased their force protection level from "Alpha," second lowest, to "Bravo" in 2011. The level was raised on May 1, 2011, after the raid that killed al-Qaida leader Osama bin Laden, and later that year for the 10th anniversary of the Sept. 11, 2001, hijacked jetliner attacks on the World Trade Center and the Pentagon.
The lowest level on the tier is "Normal," or no known threat.
Contact Keith Rogers at krogers@reviewjournal.com or 702-383-0308. Find him on Twitter: @KeithRogers2
RELATED
Here's what you need to know about ISIS
Could the Islamic State be threatening military families online?
3 Americans charged with plot to help Islamic State
Airstrikes target Islamic State militants in Iraq and Syria — VIDEO
Thunderbird F-16 with engine trouble lands in New Mexico