Nevada Army Guard brigade marks change of command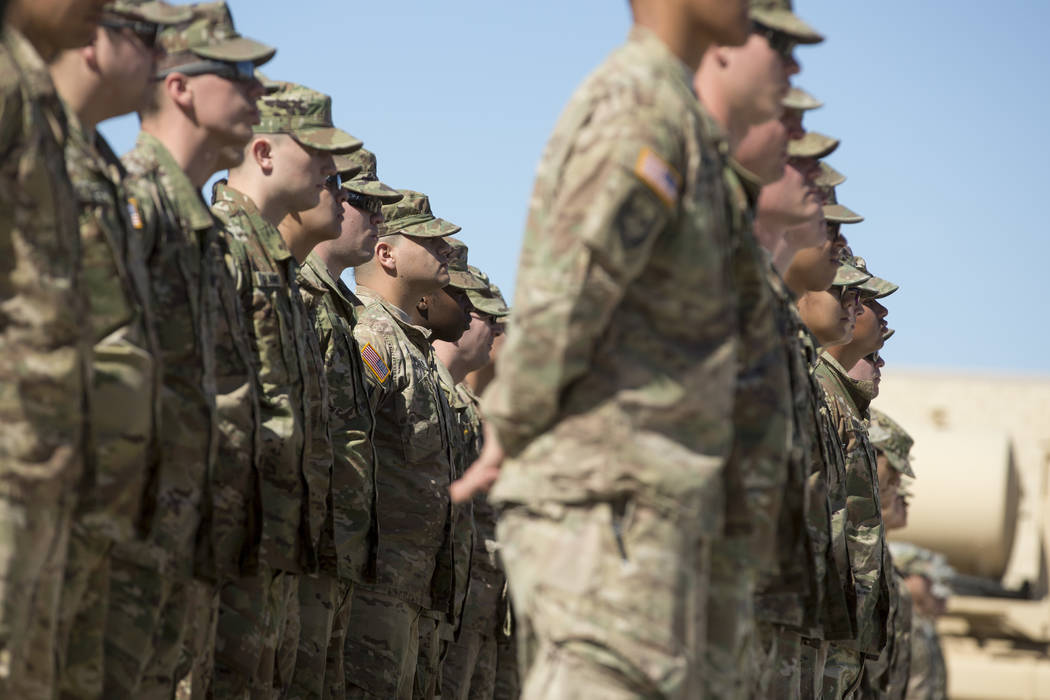 Soldiers from throughout the 17th Sustainment Brigade — the Nevada Army Guard's largest — assembled Sunday morning at the North Las Vegas Readiness Center to mark the brigade's change of command from from Col. Vernon L. Scarbrough to Col. Eric G. Wishart.
The brigade has operational control of the 17th Special Troops Battalion and 757th Combat Sustainment and Support Battalion and has subordinate units stationed in Northern and Southern Nevada,, according to a news release from the Nevada Army Guard.
More than 1,500 soldiers — about half of the soldiers in the Nevada Army National Guard — now fall under Wishart's command.
In the release, Wishart called the brigade "the most dynamic formation in the state."
"This is the most called on brigade for military support to civilian authorities. You're Governor (Brian) Sandoval's fire brigade," he said.
Wishart also made a pledge: "I will give you my undying effort to harness the raw talent we all know exists out there. We will continue to add chapters to (the history of) this great brigade."
Wishart is the fourth commander of the brigade since its formation in 2009. It completed its first deployment ⎯ a nine-month mission running sustainment operations throughout the Middle East ⎯ in 2016.
The mission included supplying more than $500 million worth of weapons, supplies, and vehicles to allied forces in Iraq through the Iraq Train and Equip Fund.
Wishart, who also serves as the deputy chief of staff of logistics of the Army National Guard, began his career with 1/221 Armor Nevada Army Nevada Guard as a tank platoon leader.
His leadership assignments have included scout platoon leader, support platoon leader, commander of headquarters and headquarters troop, squadron executive officer and commander of the 757th Combat Sustainment and Support Battalion. He's also managed the state "Partnership for Peace" program between the Army National Guard and the Republic of Turkmenistan. He previously deployed as a combat advisor with the Afghan border police.
He is a graduate of the University of Nevada Reno and the U.S. Army War College. His decorations include the Bronze Star, Meritorious Service Medal with silver oak leaf cluster and the Combat Action Badge.