U.S. rushes to add laser-armed drones to missile defense network
February 20, 2017 - 6:01 am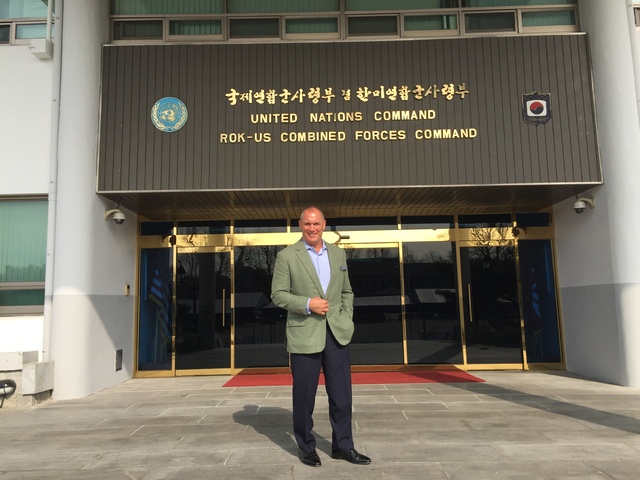 As North Korea marches toward its goal of threatening the United States with nuclear weapons, the Pentagon is racing to add a new component to its missile defense system: a revolutionary drone laser weapon capable of zapping rockets almost as soon as they are launched.
The U.S. Missile Defense Agency says it has conducted tests of a "directed-energy airborne laser" fired from a military drone. The weapon, which would be carried by remote-control aircraft loitering high over suspected enemy ballistic missile launch sites, would add an early interception ability to the current system, which relies on "metal-to-metal" missile interceptors guided by an elaborate system of radar and satellites.
"Our vision is to shift the calculus of our potential adversaries by introducing directed energy into the ballistic missile defense architecture," agency spokesman Christopher Johnson wrote in an email response to a Las Vegas Review-Journal inquiry. "This could revolutionize missile defense, dramatically reducing the role of kinetic interceptors."
Two remotely piloted Reaper drones — like those that routinely fly at Creech Air Force Base, 45 miles northwest of Las Vegas — are being used in a $230 million, five-year Low Power Demonstration program at White Sands Missile Range in New Mexico, according to Johnson.
Johnson said five leading defense contractors — Boeing, General Atomics, Lockheed Martin, Northrop Grumman and Raytheon — are studying the technology, and the agency expects to award contracts this year to design a multi-kilowatt-class laser weapon for missile defense.
"We will select the best designs, develop a demonstrator system for flight test in 2020, and piggyback on ballistic missile defense tests in 2021," Johnson said.
TIME IS OF THE ESSENCE
The importance of developing an early intervention component to the system that grew out of President Ronald Reagan's 1983 dream of a "Star Wars" defense shield was underlined by North Korea's Feb. 12 test of a ballistic missile.
The test, one of more than 20 conducted by North Korean leader Kim Jong Un's regime, was considered significant because the missile was powered by solid fuel instead of combustible liquids and was fired from a mobile launcher, increasing the likelihood it could be concealed until shortly before launch.
President Donald Trump said North Korea's advancing missile capability, coupled with five nuclear weapons tests, represents a "big, big problem" for the U.S. that he intends to deal with "very strongly."
The North Korean test occurred as Riki Ellison, chairman and founder of the nonprofit Missile Defense Advocacy Alliance, was visiting South Korea on a mission to better understand North Korea's ballistic missile threat and what's in place to defend against it.
He described the current U.S. missile defense system as "a limited system in technology, capability and capacity designed and driven by a 1999 policy to defend the United States and its allies from the ballistic missile threats of North Korea and Iran."
Because the systems rely heavily on command-and-control processors that target incoming missiles using "mathematical algorithms on ballistic path trajectories," the land- and sea-based platforms can only intercept a missile during midcourse and flight-descent phases "at the earliest," he said.
The specter of radioactive debris falling to Earth is a possible issue during a descent phase interception, according to Johnson. Radioactive debris and fallout are not issues during the midcourse phase, because the intercept collision would occur in space, vaporizing most if not all of the debris, he said. Anything that's left would burn up as it re-enters the atmosphere.
'THE MOST EFFECTIVE DETERRENT'
Ellison said the U.S. missile defense policy "needs to change and adapt to the current and future environment of the world" by developing a multilayer system that includes interceptor missiles, "nonkinetic" weaponry such as lasers and electronic countermeasures.
"This would be the most effective deterrent against the accelerated proliferation we are seeing today around the world," he said.
He also predicts Kim will "absolutely" try to disrupt the upcoming annual U.S.-South Korea "Key Resolve" military exercise, which begins in early March.
"Demonstrating a land and sea mobile solid-fueled ballistic missile that can do lofted trajectories and deliver a nuclear weapon disrupts and outplays" the joint military exercise, because "it shows a survivable nuclear capability that cannot be taken out by a preemptive strike by the United States and (South) Korea," he said.
Ellison said he believes North Korea has the "nuclear capability, capacity and technology today to launch a nuclear ballistic missile on Korea and Japan." It likely cannot yet strike the U.S. mainland, he said, "though Guam and Hawaii have to be defended as they are much more vulnerable."
Rep. Jacky Rosen, D-Nev., a member of the House Armed Services Committee, also expressed concern about North Korea's "aggressive behavior."
"North Korea's ballistic missile test is unacceptable, and we must work with our friends and allies in the region to pressure North Korea," she said in a statement provided through her spokesman. "I believe the key here is a coordinated effort by our friends and allies to press China to change its policy toward the North Korean regime. China is the last remaining nation in the region with a relationship with the North Koreans.
"In the meantime, we must support the development of missile defense systems that would allow us to protect the American people and our allies from aggressors like North Korea."
Contact Keith Rogers at krogers@reviewjournal.com or 702-383-0308. Follow @KeithRogers2 on Twitter.
RELATED
North Korea's nuclear weapons advances stir concerns