Mistrial declared in UMC case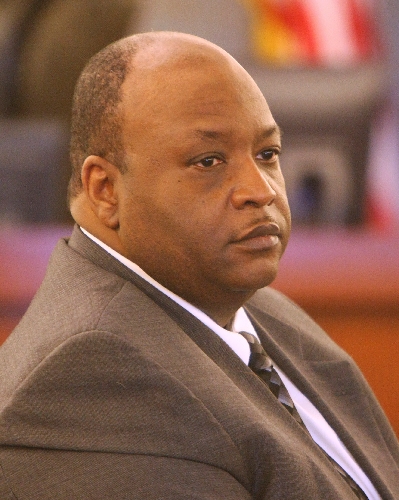 The judge in the trial of former University Medical Center chief Lacy Thomas declared a mistrial Friday because Las Vegas police failed to turn over hundreds of pages of potential evidence.
District Court Judge Michael Villani ruled Thomas' defense was harmed when detectives withheld the 577 pages of documents, most of which were minutes from weekly meetings ACS Healthcare Services employees held with UMC department heads and executives.
Those documents could lead to other witnesses or evidence to help Thomas defend himself, the judge said.
"The court finds that the defendant has been substantially prejudiced by the lack of disclosure," Villani said in declaring the mistrial.
The hospital contract with ACS triggered the criminal investigation against Thomas and is the basis for two counts in the 10-count indictment, which charged him with theft and misconduct by a public officer.
ACS lawyer Don Campbell had given the documents to Las Vegas police in February 2007 as they probed a handful of contracts the hospital awarded during Thomas' three-year tenure at UMC. But they never told prosecutors about the documents.
"Police didn't give it to the DA's because they didn't think ACS did anything wrong," prosecutor Scott Mitchell said.
Prosecutors discovered the documents Thursday when they came up during testimony by an ACS employee. Thomas' lawyer Dan Albregts had discovered the documents three days earlier when Campbell mentioned them during witness preparation.
Villani said he found no wrongdoing by police or prosecutors in the incident, but the potential damage to Thomas' defense could not be ignored.
"The bottom line is (police) did not provide this to you, and this evidence could lead to other witnesses for Mr. Albregts," Villani told prosecutors. "It could lead to exculpatory witnesses."
Mitchell and Albregts declined to comment on the judge's decision.
The mistrial came after two weeks of testimony by more than 16 witnesses during the trial, which had been expected to stretch into late next week.
Thomas stands charged with five counts each of theft and misconduct by a public officer stemming from contracts UMC awarded to ACS and four other companies when he ran the county's only public hospital.
Prosecutors contend that Thomas cost UMC about $10 million by awarding unnecessary or duplicative contracts to friends and associates.
Albregts said his client brought in his Chicago contacts because he had worked with them at a large county hospital there and trusted they could help solve major problems at UMC.
The mistrial ruling grew from a battle over whether to admit the ACS documents as evidence.
Albregts wanted them admitted because they showed the extensive work ACS did to improve hospital procedures and save UMC millions of dollars. The documents would also counter some witness testimony that suggested ACS workers were rarely at the hospital, he said.
"Not only does it contradict their own witnesses, it puts into question their credibility," Albregts told the judge.
Prosecutors argued that the documents were irrelevant because the criminal charges related only to the ACS contract terms, such as a lack of a termination clause, being unfavorable to UMC, not whether ACS did any work toward improving patient bill collections.
Prosecutors hoped to avoid a mistrial and suggested postponing the trial for a day or two so Albregts could review the documents before recalling earlier witnesses to the stand for more questioning. They also suggested dismissing the two counts related to ACS and going forward on the remaining eight charges.
Villani said recalling witnesses would be impractical and prejudicial to Thomas, and he rejected the idea of dismissing the ACS charges because the jury had already been tainted by hearing so much testimony about the company and its contract.
"You can't unring a bell, at this point," the judge said.
Villani will meet with Albregts and prosecutors next week to reschedule the trial for later this year.
Contact Brian Haynes at bhaynes@reviewjournal.com or 702-383-0281