Model speaks on Fator relationship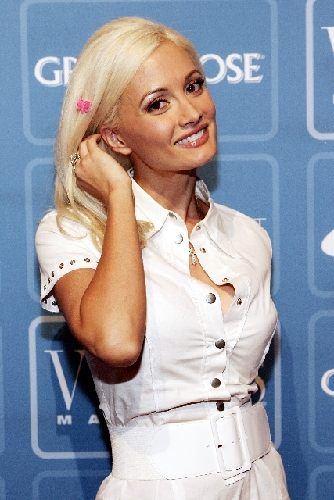 The Las Vegas model linked to Mirage headliner Terry Fator doesn't understand what the fuss is all about.
Officially, they've had one date, she said. He's separated, she's single — why all the media hoo-ha?
"I'm a little surprised anyone cares," said 21-year-old Taylor Makakoa Dew, suddenly in the glare of the biggest spotlight of her young life.
"We didn't expect this," said Dew, "this" being all the media interest after the two were sighted twice out in public over the weekend.
So what is the big deal, anyway?
It started with Fator's odd-time announcement, on the Fourth of July, that he was in the process of getting a divorce from his wife, Melinda, after 18 years of marriage.
A week later, Fator and Dew, his onstage assistant for about a year, were spotted hanging together at a UFC 100 party at Planet Hollywood Resort on Saturday — not a real date, she said, because they arranged to meet there with friends.
On Monday, they were seen holding hands at a Susan G. Komen charity event at Rhumbar at The Mirage.
I got a ton of negative calls and e-mails about their relationship.
I take part of the blame for misstating her age.
During an interview with her on opening night March 14, I asked her how old she was and when she went to work for Fator. I thought she said 18. She told me Wednesday she said 19, and she meant that's when she went to work for him, not her age on opening night.
Dew turned 21 on July 6.
Readers might have an issue with Fator being 44, but Dew made it clear she doesn't.
"The main thing is, he's a nice guy and it's not easy to find nice guys in this town," she said. "If he's older, oh well. Makes no difference to me."
It doesn't matter to family or friends, either, she said.
"Everybody's happy if I'm happy," she said.
And she's happy. When I requested a photo that showed the two of them backstage to run with this item, she said she wanted to talk to Fator first.
A few minutes later, she forwarded the adjacent photo, taken by her mother Nani Dew, adding "it's his favorite."
She confirmed that she was on the road with Fator for 10-15 shows before they opened at The Mirage.
But any talk about her being "the other woman" is unfair and "unfortunate because they were separated and Melinda had filed for divorce 6-7 months before we went on a date."
"I hope the best for Melinda and Terry and I hope Melinda can get through this in what ever way she needs too," said Dew.
She left his show immediately after opening night, she said, and flew to Hawaii to spend time with her elderly grandfather.
Why did she leave the show?
"I wanted to get more involved in modeling, and that was basically a showgirl job," she said.
SIGHTINGS
"Peepshow" star Holly Madison, at the midnight showing of "Harry Potter and the Half-Blood Prince" on Tuesday night at Rave Theater at Town Square. … Comedy magician Nathan Burton, back on NBC's "America's Got Talent" on Tuesday as a competitor for Season 4 (video: http://www.youtube.com/watch?v=JpxrXBN35L8). He appeared in Season 1. Also among the Season 4 competitors: The violin-playing Alizma Triplets of Poland and Bri, a 17-year-old Las Vegas Academy student, with a cover of the Jonas Brothers' "Burnin' Up." Her video on YouTube.com has taken off, with more than 57,000 views. She advanced to the Las Vegas round, which airs in August. View her video at: http://tinyurl.com/m2ugel.
THE PUNCH LINE
"President Obama attended the All-Star Game in St. Louis today. He was there to give a 10-run bailout to whoever was losing in the ninth inning." — late-night TV host Jimmy Fallon
Norm Clarke can be reached at (702) 383-0244 or norm@reviewjournal.com. Find additional sightings and more online at www.normclarke.com.