Nevada population numbers increase slightly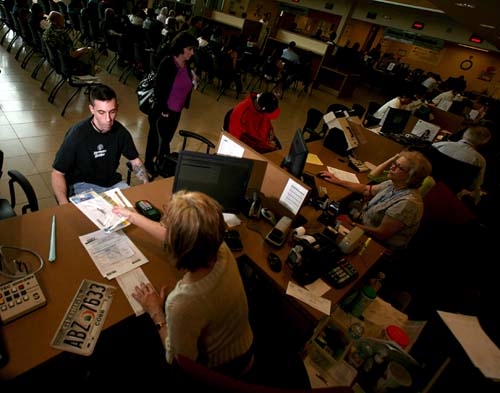 Move over, Reno.
North Las Vegas is now bigger than you.
The city to the south has long nipped at the heels of the northern city, population-wise. But according to official state estimates released Monday, North Las Vegas finally overtook Reno last year to become Nevada's third-largest city.
"Oh no," Reno Mayor Bob Cashell said in reaction to the news.
The estimates for July 2011 pegged North Las Vegas' population at 223,873. Reno's was 222,801 — a difference of 1,072 people.
"We are not a small little town anymore," North Las Vegas Councilwoman Anita Wood said. "We are a force to be reckoned with."
Las Vegas, with a population of 588,274, and Henderson, at 264,839, remain the state's two largest cities.
Overall, Nevada's population increased by 17,132 from July 2010 to July 2011. That is a modest increase of 0.6 percent.
"Just as other economic indicators are showing, we're sort of leveling off," state Demographer Jeff Hardcastle said.
He attributes Clark County's population growth, 13,462 people last year, largely to births, not people moving into the area.
Clark County has a population of 1,967,722, 72.3 percent of Nevada's 2,721,794 population. By contrast, Washoe County lost 935 people last year and now has 421,593 residents.
Reno's population fell by 2,420 between the 2010 census and the state estimate for July 2011.
It was the second bit of bad news for the Biggest Little City in the World. Earlier Monday, the state Department of Employment, Training and Rehabilitation reported a slight uptick in Reno's unemployment rate even as joblessness fell statewide.
Cashell said he was not surprised by the population decline in light of the economic woes in his community. Reno's unemployment rate of 13 percent remains lower than the 13.1 percent in the Las Vegas Valley, but Reno lost 400 jobs in the past year while Clark County added 4,600.
Reno's gaming industry has declined in part because of the recession and the growth of Indian gaming along major highways between Sacramento, Calif., and Reno. Several Reno casinos and major shopping centers are struggling to make their mortgage payments.
"It's just the sign of the economy," Cashell said. "It could go back up again."
Laughlin keeps on losing people
Besides the growth in North Las Vegas, the other significant finding by Hardcastle was the continued drop in Laughlin's population. He pegged that population at 7,166, a drop from its peak of 8,807 in 2007.
The decline may hurt an effort by some residents to force a vote this November on whether to incorporate Laughlin into a city. Because of conflicting reports on the costs of incorporation, both the Legislative Commission and the Clark County Commission have refused to authorize the incorporation election.
By Hardcastle's estimates, North Las Vegas actually surpassed Reno by 200 residents in 2010, but he had to discard his numbers in favor of federal census figures that showed Reno with a more than 8,200-person edge.
Hardcastle compiles the state's official population estimates annually based on state and local estimates. The figures are used by the state in determining the distribution of some state taxes to local governments.
Two years ago, during the depths of the recession, Hardcastle found Nevada had lost 27,677 people, a decrease of 1 percent. That was a far cry from the 20-year period ending in 2006, when Nevada's annual growth regularly ranked first or second in the nation.
Hardcastle's estimates for the state generally run about 20,000 higher than the U.S. census numbers. Had he used his own figures, not the ones from the census, Nevada's population would have shown a decline of about 3,000 last year.
Nevada also added jobs last year
State Economist Bill Anderson was not surprised by last year's small population increase because it is in line with job growth in 2011. He estimated that the state picked up 7,800 total jobs, less than 1 percent. He is projecting similarly modest growth of about 1 percent for the next two years.
Overall, Nevada has lost 160,000 jobs since the recession began in 2007, Anderson said.
Hardcastle said the state's population could start to decline again in coming years if other states continue to show economic improvement while Nevada remains flat.
He thinks some people may have chosen to stay in Nevada, even with its awful economy, because they probably wouldn't be able to find work in other states, particularly in California. Others may have chosen to stay because they lack marketable job skills or they couldn't sell their homes, he said.
Good news for North Las Vegas
In North Las Vegas, the demographic boost was welcome news to a city that has had it especially rough lately. Officials had to trim more than $60 million from the city's general fund in recent years because of plummeting tax and other revenues during the economic downtown.
Nearly 1,000 city jobs were cut or frozen. State officials last year were alarmed at the city's failure to balance its fiscal 2012 budget, leading to worries about a potential state takeover of the municipality.
The city finally balanced the budget thanks to a combination of cuts, layoffs and union contract concessions. But it faces a $15 million budget shortfall for fiscal 2013, which begins July 1.
The city's continued growth in the face of such challenges "shows that people are still vested in our city," Wood said. "We are a big, dynamic, growing city."
North Las Vegas once was among the country's fastest-growing communities. Its population grew by about 80 percent from 2001 to 2011. In 2001, the population was just 125,196, according to the city.
In 2004 and 2005, the population grew by more than 13 percent, but growth slowed in recent years.
Still, North Las Vegas officials weren't surprised to see the city overtake Reno.
"We anticipated it because of the realities of our growth" over the past decade, said Tim Hacker, city manager. "We believe it reinforces what we've been saying: North Las Vegas has come of age."
The news gives the city — the entire Las Vegas Valley, really — bragging rights, he said: "Maybe it's time to get a sign on the interstate that acknowledges we have the three largest cities" in the state.
Contact reporter Lynnette Curtis at lcurtis@review journal.com. Contact Capital Bureau Chief Ed Vogel at evogel@reviewjournal.com or 775-687-3900.
NEVADA POPULATION
(estimated numbers from July 2011)
• Las Vegas: 588,274
• Henderson: 264,839
• North Las Vegas: 223,873
• Reno: 222,801
• Sparks: 92,302
• Carson City: 56,066
• Pahrump: 36,995
• Elko: 19,209
• Mesquite: 17,038
SOURCE: State of Nevada