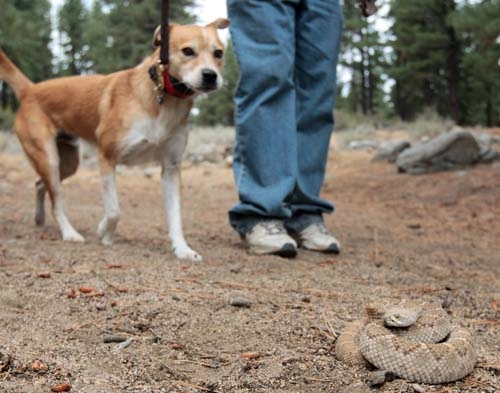 WASHOE VALLEY – A young German shepherd named Riley walks briskly next to her handler through a campground here at Davis Creek Regional Park, just north of the state capital.
Suddenly she stops. A Mohave green rattlesnake coils in the strike position a few feet ahead. The snake is barely visible to humans because it blends in so closely with the surroundings.
But Riley can see it.
She cautiously approaches, then yelps in pain.
But the rattlesnake didn't bite the dog.
Dog trainer Willie Stevens had touched his electric shock device just seconds before Riley reached the snake. This scene was planned as part of the Nevada Wildlife Federation rattlesnake avoidance training program for dogs.
On this August day, Stevens will shock 80 dogs, including Riley, two or three times each in an effort to teach them to stay away from snakes they may encounter while hiking with their owners.
Their owners paid $70 to watch from a distance as Stevens makes their pets yelp. Some owners cry. Others just put on stoic faces.
"There are a few seconds of pain," Stevens says. "But it's cheap insurance. You would pay $1,700 or more to a vet if your dog was bitten by a rattlesnake and needed anti-venom treatment.
"Your dog becomes your safety device. If he hears, sees or smells a snake, he takes another route. You can avoid the snake, too."
All of Nevada is rattlesnake country. Six venomous rattlesnakes and the poisonous Gila Monster are Nevada natives.
You seldom see them, said John Potash, the "snake handler" or owner of the Mohave green and Western diamondback snakes used in the Davis Creek snake avoidance training.
But they are there, Potash insisted, especially if you decide to walk in the desert in the cool of the summer night.
It's almost impossible to find out how many dogs, or even people, are bitten each year by rattlesnakes in Nevada. No official agency keeps track of snake bites. Not the state health, agriculture or veterinary departments or the Clark County Health District. None of the four animal hospitals contacted by the Review-Journal keeps records.
From his contacts, Potash estimates that 30 to 40 dogs have been treated for snake bites this year at an emergency animal hospital in Reno.
The drought in Northern Nevada last winter has forced a lot of rattlesnakes to wander down to Reno and Carson City backyards for food and water, according to Chris Healy, a state Department of Wildlife spokesman in Reno. Through anecdotes, he is convinced the number of dogs bitten by a rattlesnake is up this year.
But there have not been many bites in always dry Southern Nevada, said Alex Heindl, the former curator of herpetology at the Marjorie Barrick National History Museum at the University of Nevada, Las Vegas.
"I have seen fewer snakes than I am used to seeing," said Heindl of Henderson. "It got pretty hot early this year. I have not heard of any problems this year."
Heindl does not know the last time a human died from a rattlesnake bite in Nevada. He has visited 150 abandoned mines this year and has seen just one rattlesnake.
SNAKE HANDLING DEATH
About 12 people die each year in the United States from snake bites . The last well-publicized victim was Mark Wolford, 44, who died May 28 in West Virginia. He was a Pentecostal minister who used a timber rattlesnake in religious services. His father, another "serpent-handling" pastor, died of a rattlesnake bite in 1983.
These snake handlers believe strongly in the Biblical verse Luke 10:19: "Behold, I give unto you power to tread on serpents and scorpions, and over all the power of the enemy: and nothing shall by any means hurt you."
Heindl, Stevens and Potash said they think the snake pastors are just crazy. They respect and even like rattlesnakes, but wouldn't risk death by hanging them around their necks.
"It is definitely a life-threatening situation," Heindl said about snake bites. "But a person has a greater chance of dying in an accident in an ambulance on the way to a hospital than from a snake bite. Death is the vast exception."
He once was bitten by a rattlesnake when he was two hours from the nearest hospital, but kept calm, walked to his car and drove to the hospital. He figures he didn't get a lot of venom in that bite.
Carson City Fire Sheriff Stacey Giomi's dog was not as lucky.
Lady was walking in the mountains above Western Nevada College on May 19 when she was bitten by a rattlesnake, apparently hidden under a bush just off a well-traveled trail.
The Giomis rushed Lady to their veterinarian and then to an emergency animal hospital in Reno. The dog died 36 hours later after they had spent more than $5,000 trying to save her life.
Lady died even though she had gone through rattlesnake avoidance training, Giomi said.
Potash and Stevens recommend two rattlesnake avoidance training programs for dogs, but say they know of no dogs who were killed by rattlesnakes after going through one session.
"I don't know what we could have done differently. She loved running from bushes into water," said Giomi who has not yet replaced Lady. "We are dog lovers. Next time we will find a different place to walk."
Even Stevens avoids desert hikes on cool summer and spring days and evenings. A hunter, he is glad that hunting season in Nevada generally begins in November, when most rattlesnakes already have found shelter from the approaching winter.
In Las Vegas, the Nevada Department of Wildlife often is contacted by residents in Southern Nevada who believe they have spotted rattlesnakes in their yards.
Doug Nielsen, the agency's Las Vegas spokesman, said he formerly had the duty of capturing those snakes. In more than half the cases, the homeowner had mistaken a harmless snake for a rattler.
Nielsen would release the rattlers he captured in the desert outside of human inhabitation.
"Call us if you feel you have a rattlesnake," Nielsen said. "Our wardens go pick them up. But we don't go out to everybody. First we try to talk them through it. They may think they have a rattlesnake, but often they are red racers or gopher snakes."
IDENTIFYING RATTLESNAKES
Rattlesnakes are pit vipers with large triangular heads and narrow necks. Adult snakes have rattles, but the baby rattlers don't and often are more dangerous than their parents. Not all rattlers will rattle when you approach, so pay attention to where you walk when you hike, experts say. Don't put your hands under bushes or rocks.
"All they want to do is get away from you," Potash said. "Their first line of defense is camouflage. Your first line of defense is to be aware of your surroundings. Don't reach where you cannot see."
Heindl, whose reports on Nevada rattle­snakes can be found on the Internet, added a coiled snake usually can jump one third to one half of its body length. Since most rattlers in Nevada are 4 feet long or less, that means they cannot jump more than 2 feet.
Your chances of avoiding a bite are even better if you wear good hiking boots and jeans, he added.
Here at the Davis Creek campground, the light colored ratters so match the forest floor that it is hard to see them even when you know they are there.
Stevens calls rattlesnakes "buzz worms." He learned to like them after years of participating in the rattlesnake avoidance training for dogs. He said he killed nine rattlesnakes the first year he was in the program, but now won't kill any.
"I may reach down and pet this snake before the afternoon is done," he said after finishing up shocking another dog.
He said the shock training works because it teaches dogs to associate pain with the smell, sight and sounds of rattlesnakes. If a dog actually is bitten by a snake, the pain would not come until several seconds after the bite and the dog may not associate the snake bite with the pain.
Rattlesnakes eat rodents and are good for the national environment, said Potash, who began collecting snakes as a child and keeps them in cages in his Cold Springs home. None ever has escaped. He bought the Mohave green, native to Southern Nevada, but often catches snakes in the wild.
He and Stevens plan to take the rattlesnake avoidance training program for dogs to Southern Nevada on Sept. 28 and 29 at Bass Pro Shops, 8200 Dean Martin Drive.
Vorna Weaver, the former Nevada Wildlife Federation executive director who started the snake avoidance programs for dogs in the Reno area 10 years ago, said it has been hard to find a place in Southern Nevada for the training.
"We use live snakes that have had their venom ducts severed, but people don't like live rattlesnakes in parks," she said. We have had native snakes come out during our training. They are everywhere in this area."
They must acquire insurance for the training, although Weaver said a dog never has been bitten by a snake during the program. But the dog handlers occasionally are bitten by frightened dogs.
Stevens knows many people oppose the shock-training techniques. He said pet owners can teach their dogs to avoid rattlesnakes, but that could take hundreds of hours.
"Look at the plus side. For a few seconds of discomfort, you save your dog."
Contact reporter Ed Vogel at evogel@reviewjournal.com or 775-687-3901.
IN SOUTHERN NEVADA
WHAT: Rattlesnake avoidance training program for dogs
WHEN: Sept. 28-29
WHERER: Bass Pro Shops, 8200 Dean Martin Drive, Las Vegas. The training will be on the pavement outside the shop.
COST: $75
SIGN UP: getrattlednv@gmail.com
INFORMATION: 775-234-8844