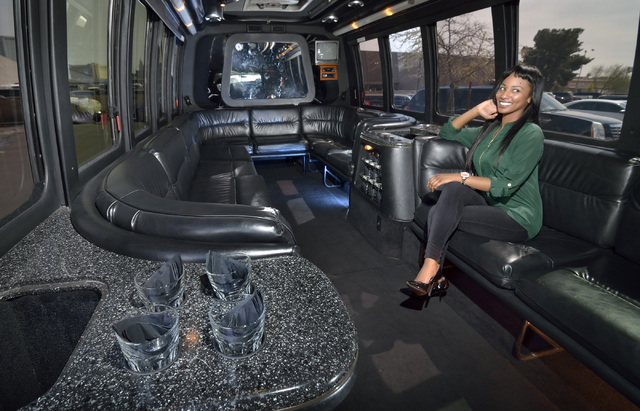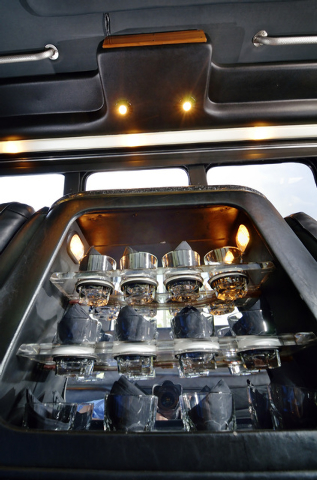 The Nevada Transportation Authority is gearing for one of those "only in Nevada" moments as it works through a revised regulation that would define rolling ultra-lounges.
The three-member commission that oversees charter buses and limousines in the state will have public hearings in the weeks ahead on revisions to bus and livery limousine regulations that would define vehicles that could be equipped with stripper poles, nightclub lights and fog machines.
The expanded definitions are being proposed as a means of clamping down on so-called gypsy limo and bus companies that come from outside the state when a large number of tourists are in Nevada for special events and large conventions. The proposed regulation also would block charter bus companies from entering the lucrative party-bus industry.
Regulators say many out-of-state limos and buses are unlicensed and potential threats to public safety because they are uninsured or haven't been inspected by authorities.
The amended rules are part of a general overhaul of regulations and address fuel surcharges, whether vehicles may be placed in service as taxicabs and whether free shuttle services are considered common motor carriers.
But the eye-catching passages of the proposed amendment are in the definitions of buses and livery limousines. Under the proposal, vehicles would be classified as livery limousines if they are equipped with "a pole or other apparatus generally used for dancing; nightclub-style lighting such as rotating lights, strobe lights or lasers; or, fog or smoke machines."
While the classification is "limousine," the definition is based on the chassis of the vehicle. So though it looks like a bus, people can stand up in it and it could have a pole in it, it's still considered a type of limousine.
Las Vegas was in the spotlight in 2009 in a similar transportation-centered craze — the arrival of the "stripper mobile."
As a promotional stunt, the Little Darlings and Déjà Vu Showgirls topless clubs operated U-Haul-like vans with Plexiglas walls on the Strip. Scantily clad women gyrated on poles as the vehicle traveled along the street.
When members of the Clark County Commission voiced safety concerns about distracted drivers, the clubs voluntarily shut down the vehicles. But in the two-month run that they operated, the clubs said business nearly doubled, and while some observers said they were disgusted with the stripper mobiles, others praised them as a genius marketing maneuver.
The biggest difference this time is that vehicles involve transporting passengers and the mobile lounge environment is to entertain those on board.
Transportation Authority Chairman Andrew MacKay said the public got its first look at the proposed regulations in February. Another hearing is planned in the next two months, but it hasn't been scheduled.
"The problem is that some of the companies that own these types of vehicles have been blurring the lines and attempting to avoid the more stringent application standard for charter limousines," MacKay said.
Interstate bus travel is deregulated, and companies are monitored by the U.S. Department of Transportation.
Charter buses, while also deregulated, are different. They must apply for certification from the Transportation Authority to operate within the state. With the popularity of rolling ultra-lounges on the rise, some companies have converted buses to a lounge environment.
Regulators hope to further tighten the rules by specifying that free shuttle service must occur "from a point of origin to the provider's licensed place of business and from the provider's licensed place of business back to the same point of origin with no intermediary stops."
While there's nothing in the revised regulation about prostitution, bus and limousine operations are subject to inspection and law enforcement can make traffic stops on vehicles.
"It's a lot easier to get a charter bus license than a charter limousine license," said Brent Bell, president of the Livery Operators Association, which represents about three-quarters of the taxi and limousine operations in Southern Nevada.
"So you have several charter bus companies in Las Vegas that will take a bus, gut the inside of it, put in couches, put in stripper poles, put in lights and then hold themselves out as a party bus company," Bell said. "They'll advertise it as a 'party limo.' They're advertising it as a limo without a limo license."
Bell said the association is supporting the rule changes.
Also in support is the operator of the city's largest fleet of limousines, the Alan Waxler Group, which built the company from a single vehicle in 1996 to a fleet of 260 today.
The fleet includes limousines, luxury sedans, sport utility vehicles, motor coaches and limo coaches — the company's entry in the rolling ultra-lounge category.
"It's kind of a cross between a bus and a limousine," said the company's senior chauffeur, Dan Stafford. "You can get in and out of it in a classier way."
Stafford said drivers are trained specifically to put a chauffeur's touch on a vehicle that handles like a bus. Drivers caution passengers to be careful when standing when the vehicle is in motion.
"It's a great way to get a Las Vegas celebration started, whether it's a wedding, a bachelor party or just friends getting together here, from the time they get to the airport to the time they get to their hotel," Stafford said.
AWG limo coaches are equipped with lounge-style leather seats, ice and beverage compartments, a high-end sound system and special lighting — but no dancer poles. The 14 limo coaches in the fleet have capacities of 16, 20 or 28 passengers. The Transportation Authority classifies a vehicle that can hold 16 or more passengers as a bus.
Alan Waxler, the company's owner, laughed when asked whether passengers ever have sex on his limo-coaches.
"Riding these are a social opportunity," he said. "It's like meeting with friends in someone's living room."
Waxler said the main reason he hasn't installed dancer poles in his vehicles is to discourage people from standing up and dancing when the vehicle is in motion.
"I've had less than zero interest in that because it only promotes problems," he said. "People cut off buses all the time in traffic, and the last thing we want is for our drivers to have to slam on the brakes when somebody's up dancing."
Drivers have the discretion of ending a ride if there's anything illegal going on.
"The way we look at it, the chauffeur is like the pilot of an airplane. If anything illegal is occurring, the pilot is going to land the plane and the passenger is arrested. In our case, we're not going to invade our customers' privacy, but if we suspect anything illegal is going on, smoking marijuana, using illegal drugs, we can stop and tell them their ride's over. But I can't recall that ever happening."
AWG's vehicles rent for $125 an hour, which includes water and ice and the first hour's fuel surcharge and driver gratuity.
Latoya Rowell, who manages reservations for AWG vehicles, said the limo coaches are hot products that often are booked well in advance.
"They instantly put you into a party scene," she said.
Most of the transportation is from the airport to hotels or for group outings on the town, but the company occasionally takes groups to Lake Mead or the Grand Canyon.
While many of the bookings are for partying tourists and companies in town for conventions and business meetings, Rowell said they're sometimes used for children's birthday parties.
"Instead of party and dance music, you'll hear kids' songs on the sound system, and instead of alcohol, they're serving cupcakes," said Al Travis, an AWG chauffeur.
Drivers say their passengers are rarely disorderly and are there to maximize their time together.
"In the times I've driven, I've never had anyone take off their clothes," Travis said.
Contact reporter Richard N. Velotta at rvelotta@reviewjournal.com or 702-477-3893. Follow him on Twitter @RickVelotta.