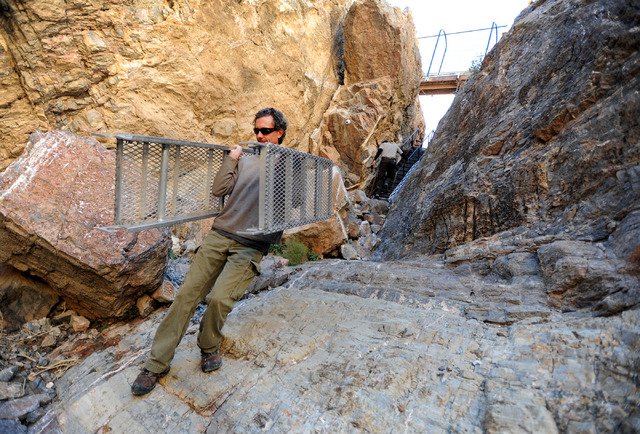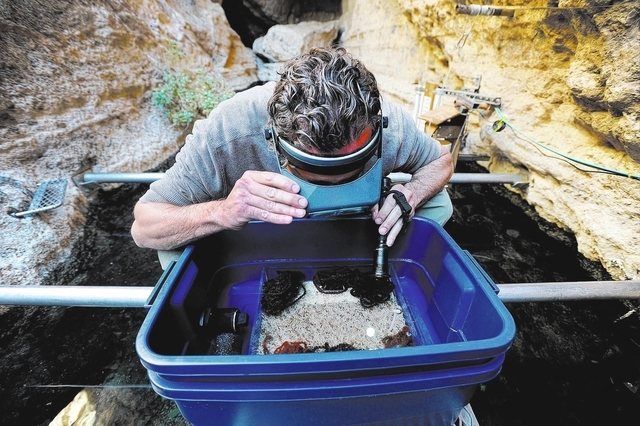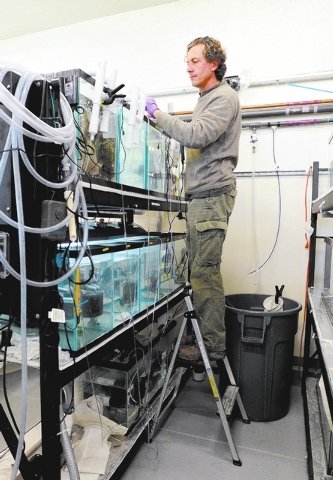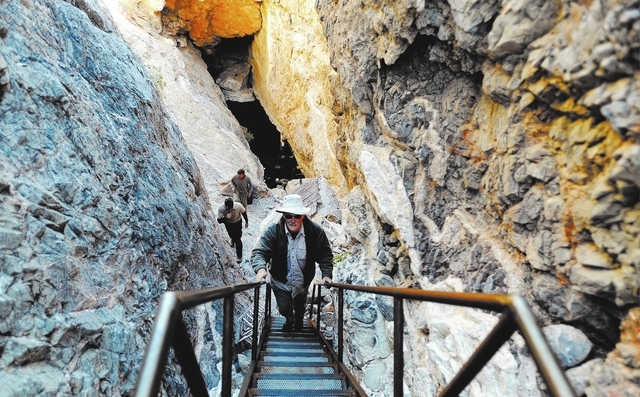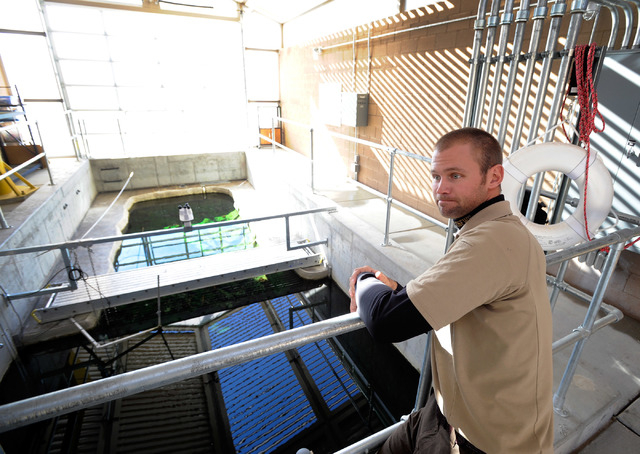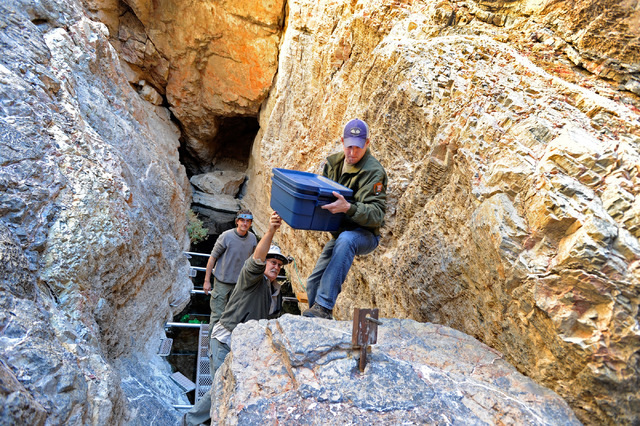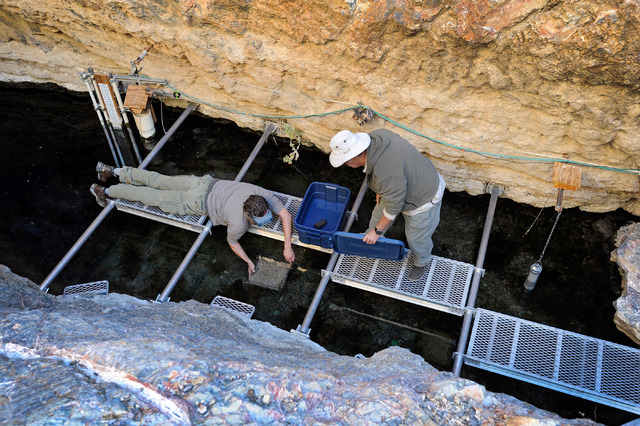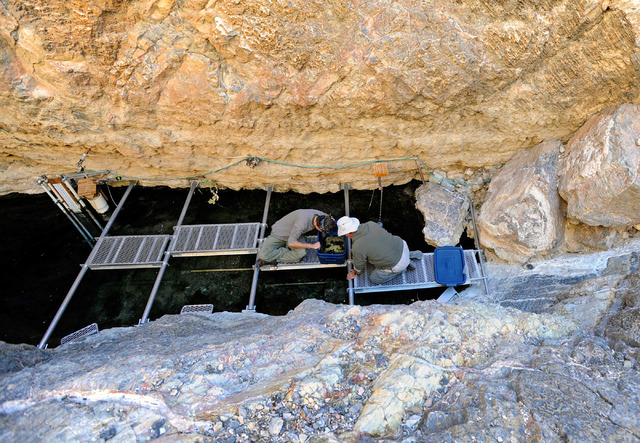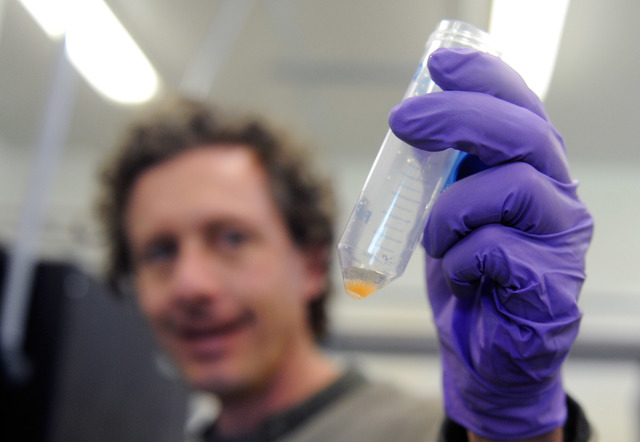 Three fish the color of a dingy dime, only smaller, hover near the bottom of tanks No. 6 and 7 at a new research facility 90 miles west of Las Vegas.
At 3 weeks old, they are already historic.
Never before has a Devil's Hole pupfish been successfully hatched in a lab from an egg collected from the wild.
If researchers at the Ash Meadows Fish Conservation Facility can perfect this process, they might be able to grow enough pupfish to stock an elaborate "lifeboat" they just built and save the species from extinction.
But more anxious weeks and months lie ahead, as the small team of biologists coaxes the recent hatchlings toward adulthood and, hopefully, a new captive breeding program.
"It's a five-step process, and we're on step three," said Darrick Weissenfluh, a fish biologist who manages the conservation facility for the U.S. Fish &Wildlife Service.
He and his team of three contract employees officially opened the $4.5 million facility at Ash Meadows National Wildlife Refuge, less than a mile from Devil's Hole, in late July.
It was built using proceeds from the sale of federal land in Clark County, but its annual operating budget of about $250,000 will come out of three separate funds in the Fish &Wildlife Service budget.
Aquaculturalist Olin Feuerbacher was brought in from the University of Arizona to design the lab and start raising pupfish.
The aquariums he built are meant to replicate the harsh conditions in Devil's Hole, where the water is thermally heated to about 93 degrees and carries barely enough dissolved oxygen to support life.
"Basically, these are designed to be the exact opposite of what you'd like to see in a fish hatchery," Feuerbacher said of his tanks.
He has also set up what he called a "slime factory" to grow the native algae and invertebrate creatures the pupfish feed on in the wild.
To keep the lab free of outside contaminants, everyone who enters must douse their hands and shoes with sanitizer.
A room full of high-tech filtration systems keeps the water in the tanks at exactly the same composition as the water in Devil's Hole, and all of the equipment is operated with computerized controls similar to those found at power plants. There are back-up systems for almost everything, and Weissenfluh and others receive automated alerts on their cellphones in the event of a malfunction.
But the centerpiece of the new facility is what Weissenfluh casually refers to as "the tank." It's an exact replica of Devil's Hole, right down to the contours of the pool, built inside a semi-open structure designed to provide the same seasonal variations in sunlight and weather.
The tank holds about 100,000 gallons and ranges in depth from about 18 inches to 22 feet. Part of the tank extends underground and out of the building to replicate the dark caverns where the pupfish spend some of their time. A hatch next to the building gives divers access to the buried portion of the tank.
Researchers can control the water level down to a fraction of an inch and the temperature down to a fraction of a degree, and there are cameras and instruments everywhere to monitor activity.
This is the lifeboat, but it remains to be seen whether there will ever be any fish to put there.
'DANGEROUS SITUATION'
It's a growing possibility that everyone acknowledges but no one seems ready to accept: The Devil's Hole pupfish might already be dead.
That's certainly what Jim Deacon is afraid of.
The longtime local biologist and founder of the environmental studies program at the University of Nevada, Las Vegas has been studying the pupfish since he made his first visit to Devil's Hole in 1961.
In the 1970s, he testified in defense of the species during a legal fight over groundwater pumping that landed in the U.S. Supreme Court and resulted in a landmark decision in favor of the fish.
He and others now worry that the shrinking population might be in the midst of genetic meltdown.
A population survey in late September yielded just 65 adult fish, the lowest fall number since regular counting began more than 40 years ago.
The spring count, which is typically lower than the one in fall, also hit a record low this year. Scientists counted 35 pupfish, fueling talk that extinction could be imminent.
"I think we're in a very dangerous situation," Deacon said.
The pupfish and its singular habitat have been under federal protection since 1967.
Since people started paying attention to the fish, there have never been very many of them. The population peaked at 544 in the fall of 1990 but began to decline in 1996 for reasons researchers still can't explain.
Today Devil's Hole is guarded by chain-link and barbed wire and a sophisticated security system that provides 24-hour video surveillance supplemented with solar power.
The cameras and alarms are linked to the outside world by a microwave dish on a tower above the water-filled cavern.
Kevin Wilson, an aquatic ecologist for the National Park Service, holds one of the few keys to the gate.
"It's the smallest known habitat for a vertebrate species in the world," he said.
At the surface, the pool is about 8 feet wide and 60 feet long, but the cavern angles down into the groundwater table to a depth scientists can only guess at.
Divers have been as deep as 435 feet, but "they were not at the bottom and couldn't see the bottom," Wilson said.
Pupfish have been found as far down as 100 feet, but they spend most of their time on a shallow shelf near the surface.
The National Park Service, Fish &Wildlife Service and the Nevada Department of Wildlife manage the fish's future. Wilson said broader strategies are decided by a joint management oversight team while some day-to-day decisions are left to an incident command team similar to what police departments deploy "when there's an emergency."
The fish in Devil's Hole are now fed five days a week. On Tuesday, Thursday and Friday they get a souped-up version of standard aquarium flakes. On Monday and Wednesday they get an enriched brine shrimp mixture, part of a new protocol launched in the past few months in response to the shrinking population numbers.
The extra food is not enough on its own to sustain the fish. It's designed to offset a decline in the natural food supply that scientists are still trying to understand.
Though Deacon remains pessimistic about the pupfish's prospects, he's heartened by the extraordinary effort still being made on its behalf. To him, the fight to save the species is nothing less than "an expression of our humanity."
"What makes humans unique is our ability to know. The more species that go extinct out there, the less there is to know," Deacon said. "The more we learn about the Devil's Hole pupfish, the more human we become."
HATCHING HOPE
With so few fish left, researchers have to weigh even the smallest actions carefully. The new breeding program is no exception.
Removing even a single viable egg from Devil's Hole could easily impact a population this small. To limit any potential damage, eggs are only harvested during times of the year when research shows spawning is limited and hatchlings rarely survive to maturity.
"We think the benefits outweigh the negatives in this case," Wilson said.
The eggs are collected on artificial spawning beds made from store-bought carpet that is treated to remove any dye, glue or other substances that could contaminate the pool.
Feuerbacher and company retrieve the beds once a week and haul them back to the lab in water-filled tubs. There they sort through every nylon carpet strand in search of clear round eggs no bigger than the head of a pin.
Almost two months of work has produced about two dozen eggs, about half of which were unfertilized or otherwise not viable.
So far, though, the survival rate looks promising. Of the 14 fish hatched in the lab, all but four were still alive as of early last week.
"They're in a stage now where I start to breathe a little easier," Feuerbacher said. "We spend a lot of time watching every single egg and every single larvae."
He knows how much is riding on the work he is doing. He feels it every time he looks inside one of the tanks and can't immediately find one of the tiny fish. "I have about two heart attacks a day," he said.
Feuerbacher hasn't named any of his hatchlings yet, but he said he might in three months or so, once they reach adulthood and their gender becomes apparent. Only then will he know if what he has is a breeding program or more bad luck for a doomed species.
"Given it's Devil's Hole, maybe they're all male."
Contact reporter Henry Brean at hbrean@reviewjournal.com or 702-383-0350. Follow him on Twitter at @RefriedBrean.