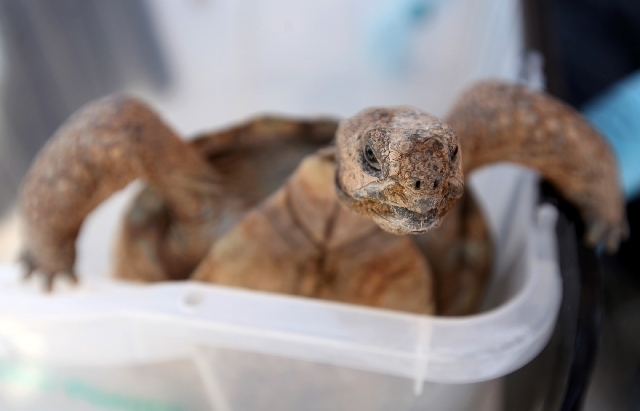 Nevada's pet tortoises are about to be put in solitary confinement. And they can forget about conjugal visits.
Under a new state regulation set to take effect next week, pet tortoise owners will be allowed to keep only one of the animals at a time.
The goal is to cut down on backyard breeding of the protected desert tortoise, which is considered threatened in the wild but growing out of control in captivity.
The regulation was adopted by the Nevada Wildlife Commission last month and goes into effect May 1.
People who already own more than one tortoise will not be required to give up their pets — or be threatened with fines or worse — if the animals were obtained legally, said Doug Nielsen, spokesman for the Nevada Department of Wildlife.
He couldn't even say for sure what the penalty might be for violating the one-tortoise rule.
"We don't have a bunch of wildlife officers from different agencies waiting to go take people's tortoises," Nielsen said. "Education is the first step."
So why are the people charged with saving the desert tortoise trying to cut down on the number of them that are born each year?
Because one of the fundamental purposes of the Endangered Species Act is to conserve the ecosystems on which species depend, not simply boost population numbers by any means possible, Nielsen said.
In recent years, researchers trying to study and protect the wild tortoise population have found themselves overrun with unwanted pets and strays.
The onslaught became so unmanageable — up to 1,000 unwanted tortoises a year — that the federal government's Desert Tortoise Conservation Center at the southern edge of Las Vegas canceled its pickup service and stopped accepting pets earlier this year.
Lied Animal Shelter, operated by the nonprofit Animal Foundation, now serves as the valley's primary drop-off point for unwanted pet tortoises and strays that would otherwise end up at the conservation center.
Wildlife managers also are worried that the glut of pet tortoises will lead to more of them being illegally turned loose into the desert, where they can spread infection and disease to the natives.
"We're not trying to keep people from having a pet that they enjoy. We're trying to protect that overall population," said Nielsen, who also writes an outdoor column for the Review-Journal.
The new regulation does not apply to pet tortoises that have been in captivity since before Aug. 4, 1989, when the species came under federal protection.
Pet desert tortoises acquired after that date need to be registered through an official adoption program or other method approved by the U.S. Fish & Wildlife Service.
Currently, the only official adoption program is run by the Tortoise Group, a Las Vegas nonprofit organization founded in 1982.
The group's website, tortoisegroup.org, includes information on adoption, registration and care of desert tortoises. Tortoise owners can register their animals through the website.
Nielsen said the registration requirement also will give wildlife officials a better idea of how many tortoises are being kept in captivity.
No other animal protected under the Endangered Species Act is also so widely kept as a pet.
By some rough estimates, there might be as many as 150,000 captive tortoises in the Las Vegas Valley.
Nielsen acknowledged that the long-term effect of the new regulation could be to halt the breeding of pet tortoises altogether, but that is unlikely to happen in our lifetimes.
Tortoises can live 80 to 100 years, and the females have been known to store sperm for up to 10 years before using it to produce a clutch of eggs.
It's conceivable that a pet owner could adopt a single tortoise, keep it for years and still wind up with an unexpected crop of hatchlings.
In other words, there will still be desert tortoises living — and breeding — in Nevada backyards for generations to come, regardless of the new regulation.
"Right now," Nielsen said, "the goal is to slow it down.
Contact reporter Henry Brean at hbrean@reviewjournal.com or 702-383-0350.