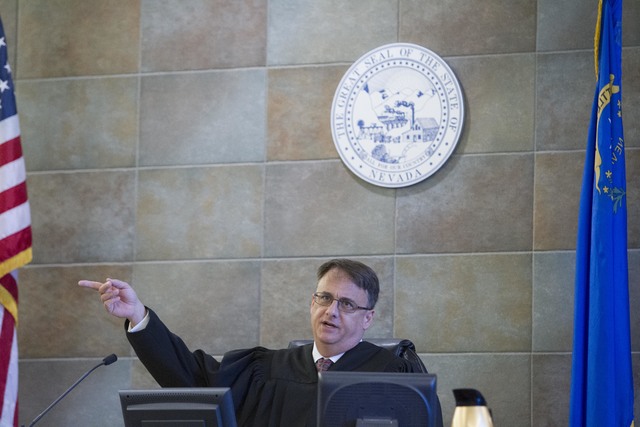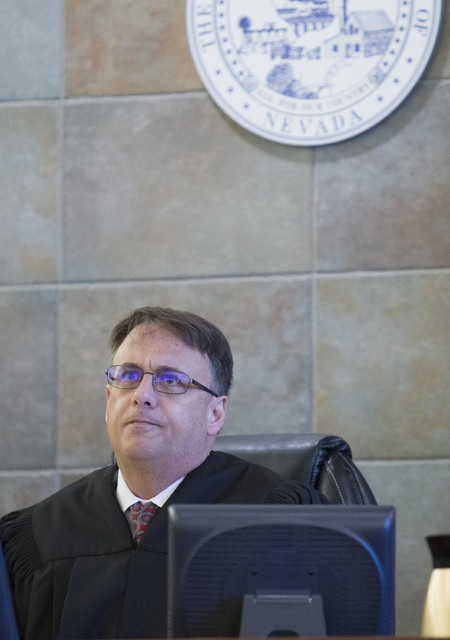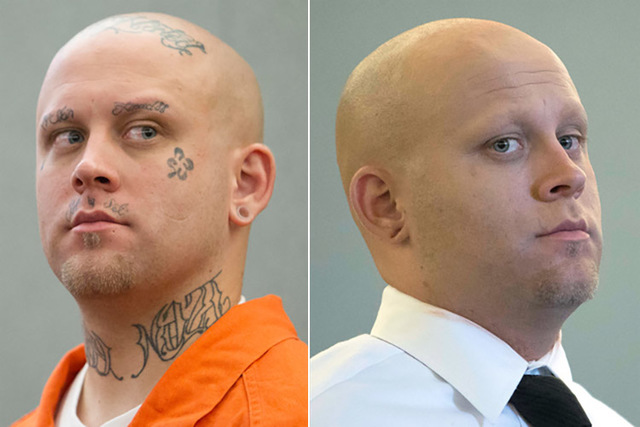 Even before he became a Clark County District Court judge, I didn't think highly of Richard Scotti. He was the beneficiary of a questionable political mailer, which helped him win the race in 2014.
He denied having anything to do with it. But it definitely helped him win a judgeship.
The target of the mailer, Las Vegas attorney John Watkins, told me he still today believes that Scotti, political consultant Dave Thomas and political mischief-maker Tony Dane were behind the mailer.
Watkins is a defense attorney who specializes in DUI cases. In the 2014 judicial election, a mailer showing an ambulance and a car on its side said, "DUI attorney John Watkins Helps Drunk Drivers Escape Justice" and "His Views Put Our Community At Risk."
Now the Sixth Amendment guarantees criminal defendants the right to an attorney, among other things. That mailer, supposedly sent out by a PAC that didn't exist at the time, attacks one of the basics of our Constitution.
People may dislike Watkins' clients, but criminal defendants have rights, clearly spelled out in the Sixth Amendment. By attacking Watkins for his representation of any criminal defendant, the attacker is dissing the U.S. Constitution's Bill of Rights.
Dane is an example of an unlikable defendant. He is awaiting trial in Virginia for involuntary manslaughter involving the food truck he was driving and the death of a woman. His case in Las Vegas on 11 felonies including extortion and perjury awaits the outcome of that case. He's demonstrated his hostility for gays over the years in multiple vile mailers and robocalls.
Dane may think more of that whole Sixth Amendment thing these days now that he's mired in the judicial system in two states.
Poor decision
The next thing Scotti did that I found a foolish decision and a waste of tax dollars was in the summer of 2016 when he was the trial judge hearing the case of Bayzle Morgan, a real charmer whose face and neck are covered with tattoos including a swastika. The words "Baby Nazi" are tattooed on his neck and "Most Wanted" on his forehead.
Scotti ordered facial makeup for Morgan's trial for stealing a motorcycle from a man at gunpoint.
"How is this man supposed to get a fair trial if everybody comes in here and thinks they might be influenced by the tattoos?" Scotti asked.
Some $1,200 was allocated for Morgan's beautifying make-up sessions during the trial.
Even with his tattoos hidden, Morgan was convicted and Scotti sentenced him to nine years.
Morgan now awaits trial on charges he murdered Jean Main, 75, and robbed her.
Then there was the outcry from victims in July when Dr. Jorge Burgos pleaded guilty to lewdness with female patients, kissing and groping them. He was charged with 16 counts and pleaded to three counts.
Scotti sentenced the North Las Vegas doctor to three years of probation and seven days in jail.
Scotti said Burgos could serve the seven days in jail on weekends so the doctor could continue to practice medicine.
Even the Nevada Board of Medical Examiners took a tougher stance, suspending Burgos from practicing for four months. His license is currently suspended.
Foibles and folly
When Scotti showed his inability to understand the First Amendment, I lost all respect for the first-term judge.
I doubt he'll become a second-term judge because he has handed would-be challengers multiple issues they can use for the type of attack ads that are so successful, as he well knows.
In the quick version, following the Oct. 1 massacre, the Las Vegas Review-Journal, later joined by The Associated Press, sued the Clark County coroner's office on Nov. 16 for refusing to release autopsy reports on the 58 victims.
District Judge Timothy Williams, who has been on the bench since 2006, said the documents were public records and should be released, while saying names and other identifying information should be redacted.
Later, the widow of slain police officer Charleston Hartfield, among those killed when he was off duty at the concert, sued to prevent disclosure of her husband's autopsy report. However, the redacted documents already had been released to about 100 news outlets.
Her case was assigned to Scotti. Despite that and contrary to Williams, Scotti ruled the autopsy reports were not public records and ordered the newspaper and the wire service not to publish. He ordered the Review-Journal and the AP to destroy copies of the autopsy reports. But there was no way to know which one was Hartfield's because they had been redacted.
The Scotti Solution: The newspaper and wire service should hand back all legally obtained 58 reports or allow officials to go through the reports and take them.
When the issue went to the Nevada Supreme Court, Scotti's nonsensical reasoning was slapped down. In a order written by Justice Kris Pickering, the court said that, while sympathetic to Hartfield's family, "The First Amendment does not permit a court to enjoin the press from reporting on a redacted autopsy report already in the public domain."
Scotti will be facing voters again in 2020, presuming he runs.
In the meantime, he has been taken off criminal cases. Court spokeswoman Mary Ann Price said Scotti "was reassigned to assist with our construction defect specialty docket."
That's an area where he has experience.
Jane Ann Morrison's column runs Sundays in the Nevada section. Contact her at jane@reviewjournal.com or 702-383-0275. Follow @janeannmorrison on Twitter.