Help comes for hoarder, neighbors in Las Vegas
October 6, 2012 - 1:00 am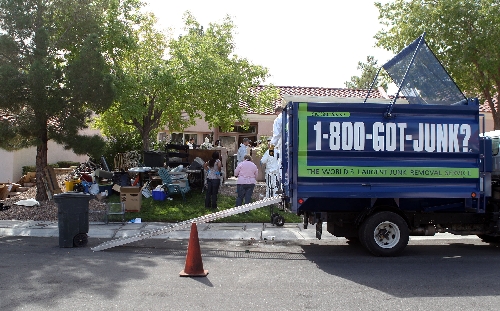 Las Vegas officials are calling it the worst case of hoarding they've ever seen.
Armed with an administrative search and abatement warrant, a horde of officials swarmed into a Sun City Summerlin neighborhood Friday to take care of a problem dating to 2007 – a hoarder.
An army of people from Code Enforcement, Las Vegas Fire & Rescue, Animal Control, the Southern Nevada Health District, Las Vegas police, Southern Nevada Adult Mental Health Services and Neighborhood Services descended on Kenneth Epstein's home at 9517 Gold Bank Drive.
Councilman Stavros Anthony, who represents the retirement community, said he wanted two things: compliance and compassion. "It's a very tragic situation, but it's also tragic for the neighbors," he said.
David Riggleman, spokesman for the city of Las Vegas, said about 20 people were working on the home, and that number included six employees with three trucks from 1-800-GOT-JUNK, a private removal company experienced with hoarders.
As long as they were outside, Epstein didn't object, but he became upset when officials moved to go into the house and locked himself inside. Caseworkers with mental health experience persuaded him to let the officials in, Riggleman said.
Inside, they found materials stacked from floor to ceiling. Epstein had created a space for himself to crawl atop the materials, but wouldn't have been able to walk upright in the house, Riggleman said.
Health officials said the house was infested with cockroaches, so the city will need to put a tent over the duplex and bomb it with bug spray to fumigate it. The house was declared uninhabitable by health officials.
Epstein was offered a place to stay but said he would sleep on the patio.
On Sept. 29, I wrote about the home and the materials piled up outside in the front courtyard and back patio. After reading the column, Anthony went to talk to Epstein and offer help. "He thanked me for coming over, he appreciated me getting involved, but you could tell looking at his eyes there was something wrong."
On Monday, the councilman met with all of the agencies that might be able to deal with the problem, taking a task force approach.
After brainstorming for legal ways to help the neighbors, get the home into code compliance and get Epstein some help, the city gave Epstein 72 hours to come into code compliance. When nothing happened, late Thursday, the city obtained an administrative search and abatement warrant.
That warrant, signed by a judge, allowed officials to look for storage of and/or failure to remove chemicals, perishable food, dead animals, animal or human feces, pests and rodents, hazardous or highly flammable materials and items that could be dangerous.
One dead cat was found. Epstein said he had 12 cats, but they were hiding, so Animal Control will need to trap them.
Six truckloads of materials were removed Friday by 1-800-GOT-JUNK. Workers estimated there would be 15 truckloads to remove.
The city will continue working today, Sunday and as long as it takes. If Epstein doesn't pay for the cleanup, the city will file a lien against his house. The process is expected to go into next week.
Items that Epstein wants to keep will be put in a storage bin and fumigated.
Riggleman estimated the valley has two or three cases a year in which the hoarding is so extreme that the door to the house can't be opened, like Epstein's home. Last Monday, code officials went to the home but couldn't get in because there was so much stuff blocking the door. To get access they had to take the door off the hinges.
Because hoarding to this extent can be considered a mental problem, Riggleman said, "This probably won't be the last episode, we understand we may have to return. But he does have water and power."
Two caseworkers from mental health services and two from Neighborhood Services were present because there are instances where hoarders become violent when their possessions, which they consider treasures, are removed.
This case has taught the city that repeated citations – such as the eight Epstein has received since 2007 – do not work with some people. Neighbors said the problem has been more severe the past two years. Epstein became the owner in 2010 after his mother died.
People often become hoarders because of some trauma in their life. Based on the pattern of citations, Anthony and Riggleman believe Epstein may have lost control after his mother died.
Chris Knight, director of the Building & Safety Division, which oversees Code Enforcement, has decided that in the future, when it appears someone is a serious hoarder, not just someone who doesn't want to clean up a mess, the city will take a different approach.
Rather than continue with repeated citations as the city did with Epstein, the city will bring in all the groups so that a broader, multi-jurisdictional approach is taken.
Neighbors had complained about the materials piled up in Epstein's front courtyard and back patio in violation of the homeowners association rules and regulations. They also complained about putrid smells.
One neighbor told me, "This is a health and fire hazard, not only to him, but to the neighbors. In the mornings, he sits and feeds the pigeons. You can smell that poopie smell."
When people complained to the Sun City Summerlin Community Association, officials there said the problem belonged to the sub-association, the 38-home Eagle Valley Homeowners Association made up of duplexes.
But members of the sub-association didn't feel like that group had the ability to handle the situation and was advised by their management company, Castle Management, that the sub-association might be sued if it hired someone to simply remove items from the courtyard and patio.
The sub-association asked the master for help, but while officials said they were working on it, they had been working on it for at least two years without any results. The executive director of the master association, Barbara Cogar, has submitted her resignation.
Hank Guastaferro, president of the sub-association, said Friday that mistakes were made by both associations and that both bore some responsibility for allowing the problem to continue for so long.
Epstein has been seen going through his neighbors' recycle bins and trash and taking items home. When a code enforcement employee showed up two weeks ago and worked for hours helping Epstein clean up outside, after she left, he went into the large garbage bin and retrieved his stuff. The day after it had been cleaned out, it was all back on his property. Some of it he shoved through the kitchen window.
Speaking of stuff, I'm reading the book, "Stuff: Compulsive Hoarding and the Meaning of Things" by Randy Frost and Gail Steketee, the first researchers to study hoarding starting in the 1990s.
The cases they researched are horrifying, but they conclude that hoarders can be treated, even in the worst cases.
Frost wrote, "The chronic savers we studied were highly perfectionistic and indecisive, having trouble processing information quickly enough to feel comfortable making decisions. They acquired things wherever they went, and every day they carried lots of things with them – 'just in case' items they couldn't be without."
Hopefully, for Epstein, help is a possibility.
For his neighbors, help became a reality Friday. At least for now.
Jane Ann Morrison's column appears Monday, Thursday and Saturday. Email her at Jane@reviewjournal.com or call 702-383-0275. She also blogs at lvrj.com/blogs/morrison.