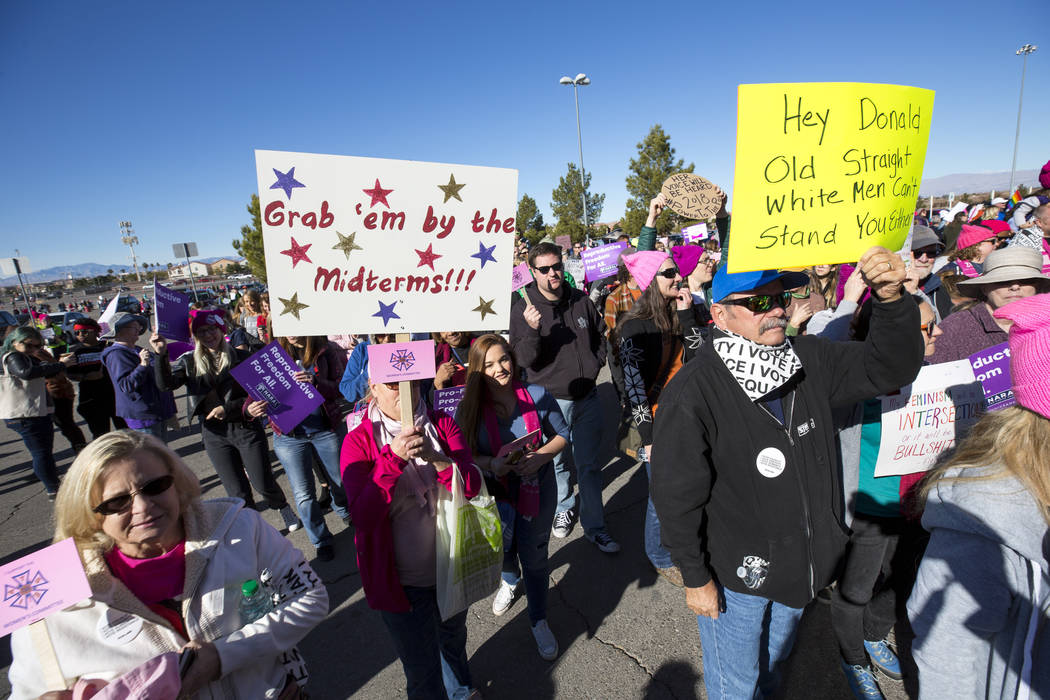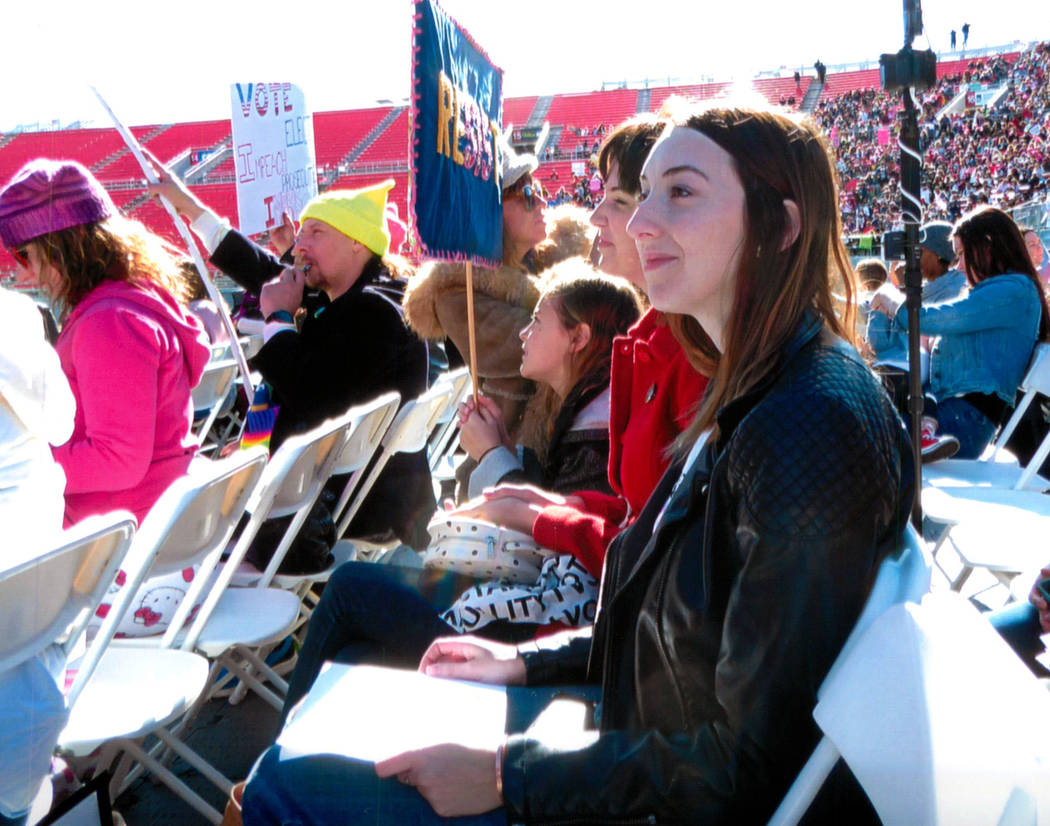 I went looking for 20-something women at last Sunday's Women's March: Power to the Polls rally, and my search went as I expected. The overwhelming number of the estimated 20,000 people at Sam Boyd Stadium, to put it delicately, appeared to be "women of a certain age."
That's code for mature, including women like me who marched for various causes in the late 1960s and early 1970s.
Before the rally, designed to kick off a voter registration effort nationwide, I worried that few younger women would be there, though they still have plenty of battle-worthy issues. I was right.
There's still sexual harassment to resist. Equal pay for equal work remains a fantasy for many.
On Wednesday, two examples of why younger women need to participate were in the news. In Michigan, former sports doctor Larry Nassar was sentenced for molesting 156 young female gymnasts whose complaints to adults had been ignored. In Las Vegas, hotel housekeepers said they want panic buttons for protection against sexual predators when they clean rooms.
Young women today may not know abortion was illegal until 1973, when Roe v. Wade became law. It was 45 years ago. They weren't born.
Many of the women I saw were of an age to know that battle as well as the failed effort to pass the Equal Rights Amendment. They were of an age to read "Our Bodies, Ourselves" in 1971, and the feminist classic Simone de Beauvoir's "The Second Sex."
Black women, such as Toni Morrison, also were writing powerful books then as well as now, because they were facing racism as well as sexism. Last week, as she held her daughter, rally organizer Bob Bland noted, "Women of color are leading the movement."
Despite the dearth of 20-somethings, I was encouraged by three Las Vegas women — Brianna Fox-Priest, Kendahl Scully and Calisha Cooks-Brown — who each had specific reasons for attending.
Why are you here?
Fox-Priest, 24, works in retail, marketing and social media and has lived in Las Vegas for a year. She wanted to attend the Las Vegas rally because she was unable to make the Women's March in Washington a year ago.
She described herself as a "feminist who believes in all rights, including the sisterhood of color and transsexuals."
Fox-Priest said she saw "a good mix, including millennials," while noting that some millennials might not have been able to attend because of work.
Scully, 27, a server who works downtown, scampered after her 1-year-old son, Maverick, who was wearing a shirt declaring him a feminist.
"I am a feminist and I am raising him as a feminist," she said.
The lifelong Las Vegan said she attended because "I don't like our president. He's a misogynist."
Like me, she said she was disappointed that the event did not draw more younger people. And she added, "I wish I'd seen more men here."
My search for 20-somethings stretched a bit to include 30-year-old Cooks-Brown, a nurse attending with her children, Camyrn, 7, and Audrey, 5.
Her sorority, Alpha Kappa Alpha, founded in 1908, is the first African-American sorority. It supports equality, diversity and unity among women and asked for volunteers to work the rally. She and other members from the Henderson chapter volunteered.
"We need to be treated equal," she said, and to be recognized "for more than just our looks."
Will it succeed?
Was the kickoff rally a success with its stated objective, to register voters to elect people, especially women, who support women's rights?
Organizer Linda Faiss said nearly 1,000 people — 952 to be exact — registered to vote at the event, and another 10,000 people registered online during the five-hour rally. The goal is to register a million voters nationwide.
Nevada is notorious for its low voter turnout.
Thus, the 2018 midterm elections will be the proving ground for whether the rallying cry "Power to the Polls" achieves its goals.
Jane Ann Morrison's column runs Sundays in the Nevada section. Contact her at jane@reviewjournal.com or 702-383-0275. Follow @janeannmorrison on Twitter.