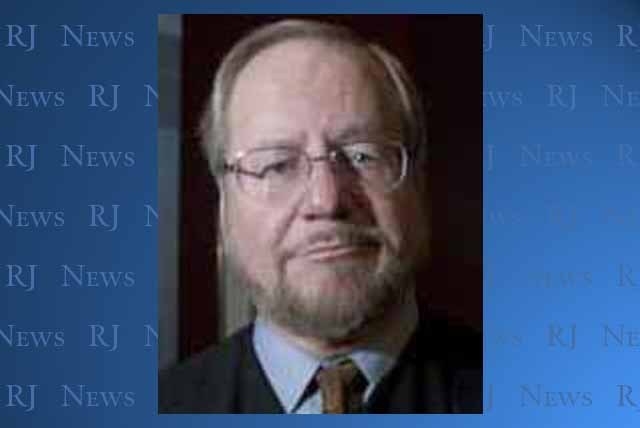 Two or three times a year since 1998, Philip Pro has received a James Bondish call, usually on short notice.
Would he like to go overseas, often to countries many of us cannot spell or pronounce? If he can, he does, usually for about a week.
Unlike Bond, Pro is not armed with special weaponry or gadgets or fancy cars.
He is armed with knowledge he wants to share with emerging democracies, knowledge about the "Rule of Law," the principle that no one is above the law and the law must be applied equally to all. For some emerging nations, that is a tough concept.
As a federal judge since 1987, Pro shares both philosophy and reality about the U.S. judicial system so that emerging countries can understand and perhaps emulate as they reform their own judicial systems.
The goal, he said during an interview in his Las Vegas office, is to promote the idea you cannot have a viable democracy without the rule of law, and those who rule must also be controlled by the law. The law cannot be applied equally without an independent judiciary, and judges must be subject to the law.
Pro said the programs "are a good effort by the U.S. and other Western democracies to promote the rule of law with the goal of protecting human rights and economic rights." He gave as an example of economic rights a company that builds a dam in a country, but if materials are faulty, can't get equal justice in the courts.
Pro described judges as "guardians of the rule of law" who act as buffers between government and citizens to temper the power of the state and ensure not only that the law is enforced equally but that the rights of each citizen are respected.
At least that is what he told judges when he spoke in Cape Town, South Africa, in 2008.
He has taken his message and his practical experience to Eastern Europe, Africa, Asia, South America and the former Soviet Union.
He has stayed in good hotels, but he also has slept in a tent with mosquito netting.
Pro's international "Rule of Law" trips are usually organized by the State Department working with the Department of Justice and nongovernmental organizations. Depending on the type of seminar, a program can include judges, prosecutors, defense attorneys and academics.
His office file room houses dozens of boxes of materials from his trips marked with the name of the country and the year of his visit.
"I've been to Georgia probably 15 times," he said.
He wasn't referring to the state, he was talking about the republic of Georgia, which declared its independence from the former Soviet Union in 1991. While still a work in progress, Georgia has been a leader in judicial reforms and a model for other countries in the former Soviet bloc.
Pro's most recent trip was to the Ukraine in March. He also has been to Hungary, Spain, Norway, Lithuania, Jordan, Ukraine, Turkey, Georgia, Armenia, Azerbaijan, Kazakhstan, Kyrgyzstan, Malawi, Pakistan, Malaysia, South Africa, Bosnia, Colombia, Indonesia, Mexico and the Hague in the Netherlands.
A few times, he said no because of conflicts, but with the world of laptops, even as he travels, he stays connected with his office on the working vacations.
Sometimes he is talking about the code of ethics and the free press in a country that had neither. Sometimes he is talking about case management through technology to a judge who has a metal desk and one computer.
"If I did write a book, this would be a big part of it," said Pro, who turns 67 today.
Pro also could write about the mob in Nevada back when he was a deputy attorney general for Nevada gaming regulators in 1979-1980. And he could write about the MGM fire litigation resulting from the 1980 fire, which caused the deaths of 87 people. Or his years as a federal judge, U.S. magistrate, prosecutor or defense attorney.
He has been involved in all aspects, which is why as a judge, he is a pro.
Pro described the overseas trips to educate others as "a wondrous experience for me, and it's humbling. I'm humbled by all the benefits we have in our country, and they covet what we have with our judicial system."
Ever since law school, Pro has sought to educate others about the law. For the past 26 years, he has been a leader in We, the People, a competition between Nevada high schools about their understanding of the U.S. Constitution.
Explaining the rule of law is this judge's job, on the bench and off. Whether he is explaining the rule of law to high school students, law school students or to judges, Pro takes it seriously.
It's a worthy endeavor. I just wish more American citizens understood the rule of law better and that some judges demonstrated their understanding of it as well as Judge Pro.
Jane Ann Morrison's column appears Monday, Thursday and Saturday. Email her at Jane@reviewjournal.com or call her at 702-383-0275.