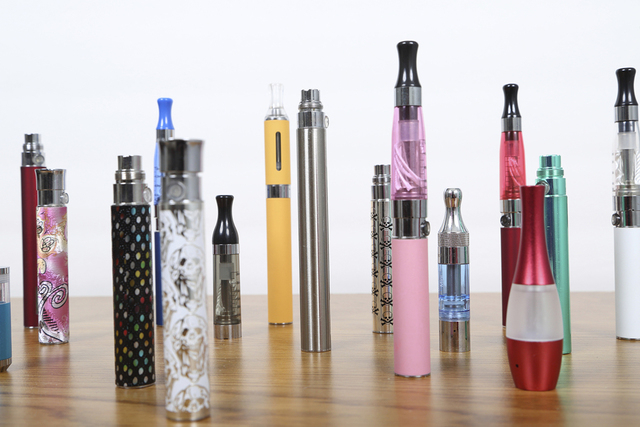 Readers routinely complain that the news media give the beginning but not the end of a story. Well, here are a few endings of note involving e-cigarettes and equal access to the Nevada State Museum at the Springs Preserve. As hard as I tried, I couldn't find a link to tie them together, so they'll have to hang separately. Thank you, Ben Franklin.
E-CIGS: When 7-Eleven sued Becker Enterprises because of an adjacent business called Sky Vapors, the convenience store company argued that e-cigarettes contain tobacco.
The convenience store chain claimed that their lease has an exclusivity clause, and the landlord cannot rent to a nearby business that sells tobacco.
The question of whether or not e-cigarettes are tobacco products is both national and complex.
But at least in this single lawsuit, District Judge Michelle Leavitt came down on the side of Becker Enterprises, which was sued under the name of its related company, Durango Sahara.
Leavitt concluded e-cigarettes are not tobacco products. In February, she laid out her rationale, a decision that allows Sky Vapors, which sells e-cigarettes, to remain at 8643 W. Sahara Ave., in a shopping center on the southwest corner of Sahara Avenue and Durango Drive.
Leavitt tossed the case and granted the summary judgment sought by Becker Enterprises. She said exclusivity clauses in commercial leases "are considered a restraint of trade, and as such, are strictly construed against the person seeking the enforcement." That's you, 7-Eleven.
Then the judge relied on the city of Las Vegas Municipal Code that defines tobacco products as "any substance containing tobacco leaf, including but not limited to cigarettes, cigars, pipe tobacco, hookah tobacco, snuff, chewing tobacco, dipping tobacco, bidis or any other preparation of tobacco product."
The code doesn't say that patches containing nicotine or nicotine gum used by people trying to stop smoking are included in the definition.
Nor does the code mention "vapor products" or e-cigarettes.
So, Leavitt said, e-cigarettes are not tobacco products. The nicotine in e-cigarettes, which have gained popularity in the past three years and are now a $2.5 billion industry, is not in a tobacco leaf form. It's in a liquid form.
The timing on the Feb. 2 hearing was perfect, according to Becker Enterprises attorneys April Becker and Jessica Goodey.
Two weeks later, the Southern Nevada Health District said e-cigarettes are harmful to people's health and should be regulated. The vapor contains nicotine, ultrafine particles and low levels of toxins known to cause cancer, local health officials said. "These are in concentrations that are higher than in conventional tobacco smoke."
The health district didn't come out and call it tobacco. The district called it worse than tobacco. But that didn't change or influence this lawsuit by 7-Eleven because the lawsuit wasn't about the safety of e-cigarettes. It was about trying to quash the competition.
7-Eleven sells e-cigarettes too.
ADA ISSUES AT MUSEUM:Officials at the Nevada State Museum at the Springs Preserve were put on notice in 2014 that the museum built in 2011 had problems for people with disabilities.
Peter Barton, administrator of the state Division of Museums and History, acknowledged various problems and agreed that change is necessary. Some access changes have occurred. For instance, the front doors were changed so people in wheelchairs won't get stuck in the middle. Barton found the $30,000 needed to make that happen, but estimated that it would take more than $1 million to reach compliance so all visitors can enjoy the museum.
But expensive changes involving upgrading the exhibits themselves so the visual and hearing impaired can enjoy them, well, that takes more money.
State officials considered suing the California firm that designed and built the exhibits within the $51.5 million museum, which didn't take into account the disabled, but he said the decision was made not to sue out of concern the lawsuit would be too costly and might not be successful.
While he would like an extra $500,000 to move things along more quickly, that money is not in Gov. Brian Sandoval's proposed budget.
Barton said the state capital improvement program didn't even recommend his budget request to the governor.
"I'll try next time," he said, referring to the 2017 legislative session.
It's hard to understand how the federal government can pass a law in 1973 requiring access for programs, goods and services for the disabled, and a museum can have exhibits that are not accessible to all 42 years later in 2015.
Is it lack of money or lack of caring?
Jane Ann Morrison's column appears Thursdays. Email her at jmorrison@reviewjournal.com or leave a message at 702-383-0275. Find her on Twitter @janeannmorrison