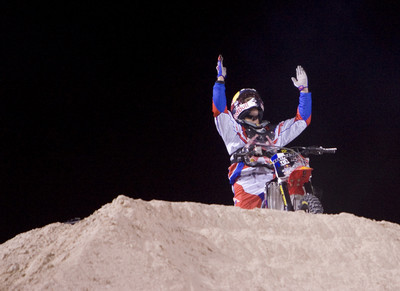 Don't ask Robbie Maddison, Australia's Evel Knievel, to compare himself to Robbie Knievel or their dueling New Year's Eve jumps tonight.
They are oceans apart, said Maddison, in so many words.
"There is no comparison," a fuming Maddison said Tuesday.
"He is a disrespectful drunken bum, a no talent who is making a joke of a jump," he said.
Their feud isn't being manufactured for TV ratings: Maddison is on ESPN and Knievel is on a Fox special.
Maddison, who grew up idolizing Knievel's father, told him so at the iconic daredevil's funeral a year ago in Butte, Mont.
"We sat down and drank into the night, talked, and he told me how much he respected me," said Maddison.
The wheels came off their friendship when Maddison learned Robbie Knievel "tried to sabotage me." The bad blood involves a confidential conversation Maddison said he had with Robbie Knievel's stunt coordinator about bringing him on board for Maddison's New Year's Eve jump.
"After he (Knievel) found out, he went about planning to kill my thunder," said Maddison, who will attempt to race his bike 100 feet straight up a ramp and land on top of a replica of the Arc de Triomphe at Paris Las Vegas and freefall into a safety net.
Down at The Mirage, Knievel will soar 200 feet over the refurbished volcano.
"There are thousands of guys in the world who could make that jump," Maddison said. "There's … only one guy who could do this jump."
"New Year, No Limits" airs on ESPN beginning at 8 p.m.
Fox's "New Year's Eve Special" begins at 11 p.m.
HOLLY'S CONFESSION
Hugh Hefner's ex Holly Madison said she had a "crush" on illusionist Criss Angel more than a year ago.
Madison made the confession to CNN's Larry King during an appearance with Angel during an interview that aired Monday.
They met in Hollywood when Angel was taping the NBC show "Phenomenon." Madison and her "Girls Next Door" galpals Kendra and Bridget served as assistants.
"I had been a fan of his show, 'Mind Freak,' and wanted to meet him," Madison told King. "We just kept talking." She was still at the Playboy Mansion during that time, but "we did not start dating until recently."
Madison, who still works for Playboy, defended Angel's embattled show "Believe," saying "it's absolutely brilliant and I don't want to know what they're thinking. I think they're haters."
Angel said he "could care less about what critics think. Critics, in my opinion, are wannabes that have never — will never be."
He added, "Critics are people that have never created a show, never directed a show, never acted in a show. So — and, quite frankly, there's a period called previews. And that's meant to evolve and develop the show." He said, "People were reviewing the show that never even saw the show."
Angel told King the show, a collaboration with Cirque du Soleil, "is 99 percent to 100.8 percent capacity every show." He added, "We are the number one show in Las Vegas."
Unsaid was that local ticket outlets offer two-for-one deals, and some tickets have been discounted up to 40 percent.
Cirque du Soleil publicist Merri Hagan recently confirmed to R-J entertainment writer Mike Weatherford that there "certainly are some discounts out there" but they are for "specific audiences … very targeted incentives," not a fire sale at the box office and not part of the locals offer for Cirque's other shows "Ka," "Mystere" and "Zumanity."
THE SCENE AND HEARD
XS, the nightclub scene's new 500-pound gorilla, opens tonight at Encore with a monster debut. All the tables — inside and outside, yes outside — are sold. Even the $3,000 cabanas on the second level overlooking what will soon become, I predict, one of the world's most talked-about pool parties are sold. The only thing left: day beds for $1,500 each.
SIGHTINGS
At Playboy Club (Palms) on Monday night: Tampa Bay third baseman Evan Longoria, who was named the American League's 2008 Rookie of the Year, at the Hugh Hefner VIP table with a friend. At another table: David Cook, the "American Idol" winner of season seven. … Maddison, having dinner at N9NE Steakhouse (Palms) on Monday with fellow daredevil Rhys Millen and ESPN reporter Jamie Little, who is covering the event. She grew up in Las Vegas and was introduced to dirt biking by Carey Hart when she was 14. … Olympic swimming ace Michael Phelps, drawing a crowd Monday while playing poker with some big boys at the Palms. He showed up at Lavo (Palazzo)Tuesday with girlfriend Carolynn "Caz" Pal, the Moon cocktail server. Earlier this month, Phelps told Kelly Ripa on "Regis & Kelly" that he was "single" when she asked whether he was dating.
THE PUNCH LINE
"Why is Barack Obama moving his stuff into the Oval Office?" — From David Letterman's "Top Ten Things Overheard at the Bush Family Christmas."
Norm Clarke can be reached at (702) 383-0244 or norm@reviewjournal.com. Find additional sightings and more online at www.normclarke.com.