O.J. gets beating in the N.Y. media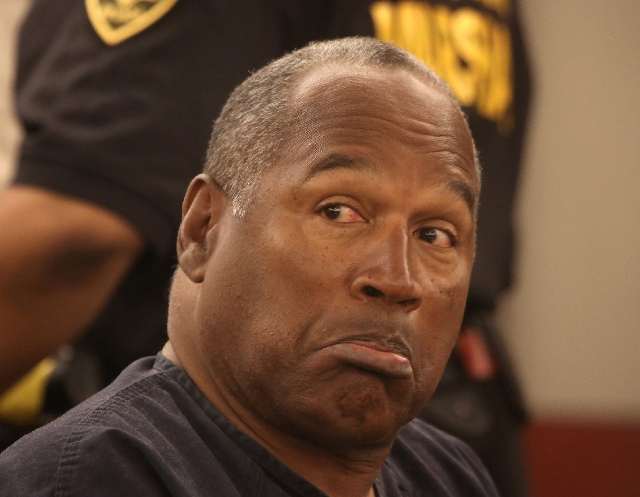 New York's acid-penned media had a field day with O.J. Simpson's bulked-up body.
O.J. DOES LARD TIME, blared the front page of the New York Post.
The New York Daily News weighed in with GROW J, also the lead headline.
Simpson's transformation from one of the greatest NFL runners into the size — 270 pounds — of an offensive lineman was a fodder fest for punsters.
The Daily News wrote: A bloated Simpson "looked like a man who knows how to use a knife (and fork) as he appeared in a Vegas court (Monday) to take a stab at having his kidnap conviction tossed."
The Post went with "a bloated and jowly" Simpson "rolled into a Las Vegas courtroom … looking as if he had just spent four years at an all-you-can-eat buffet instead of a tough Nevada prison."
Simpson friend Thomas Scotto told the Post: "He's eating a lot of junk food. It's commissary food … cans of chili, potato chips and other snacks. I think he has a hot plate or something.
"He said to me, 'I gained a lot of weight. … The food in here sucks.' "
Simpson blamed the 60-pound weight gain on arthritis and junk food.
"The first year he was in there he was working out in the gym," Scotto said. "He was the head guy in charge of the gym and baseball coach. He was doing stuff. His arthritis started kicking in. He stopped working out.
"He's eating commissary food. Food in there sucks."
Scotto, a Miami body-shop owner who often played golf with Simpson, was the reason Simpson was in Las Vegas in 2007. Simpson was best man at Scotto's Vegas wedding.
Scotto has been quoted as saying he would have been an accomplice had it not been for a timing issue the night of the arrest.
HEATHER'S LATEST DIG
Actress Heather Graham had an opportunity to soften her anti-Las Vegas position, but she doubled down.
In town to promote the third "Hangover" film, she got a softball question during a roundtable discussion Sunday at Caesars Palace with journalists .
Apparently unaware of Graham's recent putdowns of Las Vegas as "phony," over-air-conditioned and sterile, a journo asked, "You're cast a lot in Vegas-based movies. Are you in love with Vegas?"
"It's kind of ironic," Graham said, "because I'm not a big Vegas person. Send me on a yoga retreat with a beach that's an eco-resort with no electricity. That's more my style.
"It is funny that I end up coming here so much," she said, adding, "I think it's a great backdrop for a film."
Other than that, how did you like the flight, Mr. Sullenberger?
Dingbat.
SIGHTINGS
Former French President Nicolas Sarkozy, feeling right at home at Restaurant Guy Savoy (Caesars Palace) on Thursday. Sarkozy dined at the chef's table and posed with the kitchen staffers and with Guy Savoy, who was hosting his Master Series dinner on the first night of Vegas Uncork'd by Bon Appetit. … Molly Ringwald, dining with friends at Mundo (World Market Center) on Friday after her show at The Smith Center. Mundo owner George Harris gave her a tour of the Garden of Hope, a collaboration between Candlelighters for cancer kids and Mundo. … Fox News Chief White House Correspondent Ed Henry, dining Friday at La Comida, the new downtown Mexico City-style restaurant. … Actor Matthew Gray Gubler, lending help to the American Lung Association fundraiser Friday at the Las Vegas Country Club. He got some good news earlier in the day that CBS had renewed "Criminal Minds" for a ninth season. He attended Las Vegas Academy. … District Court Judge Joseph Bonaventure Sr. and his son, Justice of the Peace Joe Jr., singing Italian songs at the San Gennaro Feast on Saturday with Tommy DeVito, one of the original Four Seasons. It was the junior Bonaventure, then a 31-year-old Las Vegas Township justice of the peace, who, in 2007, ordered Simpson to stand trial here.
THE PUNCH LINE
"One of the jewel thieves they captured (in a $50 million Belgium heist) was also a lawyer. That is a shame. Now lawyers will get a bad reputation." — Craig Ferguson
Norm Clarke's column appears Sunday, Wednesday and Friday. He can be reached at 702-383-0244 or email him at norm@reviewjournal.com. Find more online at www.normclarke.com. Follow Norm on Twitter @Norm_Clarke. "Norm Clarke's Vegas," airs Thursdays on the "Morning Blend" on KTNV-TV, Channel 13.