Palin, Lowden likely will not cross paths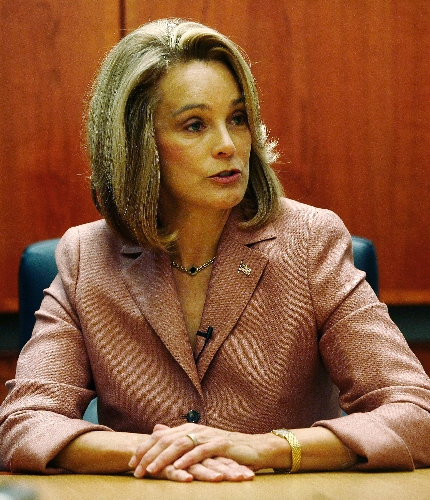 When Tea Party darling Sarah Palin arrives in Las Vegas on Monday for an appearance at the Shopping Center Convention, Sue Lowden will be out of town.
A coincidence, or convenient scheduling?
A Lowden representative said Lowden, the leading Republican hopeful for U.S. Senate , had already scheduled out-of-town campaign stops
Or was it a case of their handlers not wanting them to cross paths?
According to a Review-Journal report on Friday, the recent surge by Tea Party-backed Sharron Angle, the former assemblywoman, has caused anxiety among the GOP establishment that prefers Lowden to run against Senate Majority Leader Harry Reid.
A Lowden rep pointed out that Lowden campaigned for Palin during the 2008 presidential race and added that Palin invoked Lowden's name during a Susan B. Anthony List fundraiser on May 14 in Washington, D.C. Lowden had earlier received the group's endorsement.
On another front, Lowden made Keith Olbermann's "Worst Person in the World" list on Friday. The MSNBC host zinged Lowden for changing her story after saying her $100,000 campaign bus was donated to her.
Lowden's responded with a zinger of her own: "Like millions of others I watch O'Reilly and Hannity. … Who is Keith Olbermann again?"
SMOKIN' ACES
We have a hunch this will play well in Peoria.
Chuck Buescher, ex-assistant basketball coach at Bradley University in Peoria, Ill., came up with a pair of aces May 15 on one of the most difficult courses in the Las Vegas area.
Buescher, 65, aced the par-3, 139-yard seventh hole with an 8-iron at Cascata, Harrah's high-roller course. He added a second hole-in-one five holes later at No. 12, with a six iron on the 150-yard par 3.
The double aces gave him a 74 for the round, according to Brian Hurlburt, editor of www.GolfLasVegasNow.com. Witnessing the second ace were Jim Les, men's basketball coach at Bradley University and former Bradley star and NBA player Hersey Hawkins.
THE SCENE AND HEARD
The Black Door Bar and Grill, 4640 Paradise Road, opens with a celebrity black carpet event tonight. Rocker Dave Navarro of Jane's Addiction is a partner in Nico Santucci's latest venture, a 1960s-style supperclub and ultralounge. Santucci's other Las Vegas operations include Mansion 11, Parisian Palace, Lynx Lounge, Moulin Rouge, Venus Lounge, Cafe Moda and the mob-themed Capo's. …
The Hard Rock Hotel & Casino is launching a search for the face of Rehab, beginning Memorial Day weekend. Frederick's of Hollywood is a partner in the search, which will net the winner a $20,000 grand prize, a modeling contract and spots in the 2011 Rehab television advertising campaign. Information: www.rehablv.com. …
Excalibur's Tournament of Kings is gearing up for the 20th anniversary party on June 18 at the Excalibur. One of the longest-running shows on the Strip, the medieval spectacular features 12 breeds of horses, 32 cast members plus jousting and hand-to-hand combat. The people-watching bonus: the Cornish game hen dinner comes with no utensils.
SIGHTINGS
NBA star LeBron James, playing Wii in a Bellagio pool cabana Friday. … Eight-time Olympic medalist Apolo Anton Ohno, dining at Lagasse's Stadium (Palazzo) on Friday.
THE PUNCH LINE
"I went to lunch and had crab cakes. The waiter came over and asked if I wanted leaded or unleaded. The tartar sauce was 80 percent tar." – David Letterman
Norm Clarke can be reached at (702) 383-0244 or norm@reviewjournal.com. Find additional sightings and more online at www.normclarke.com.