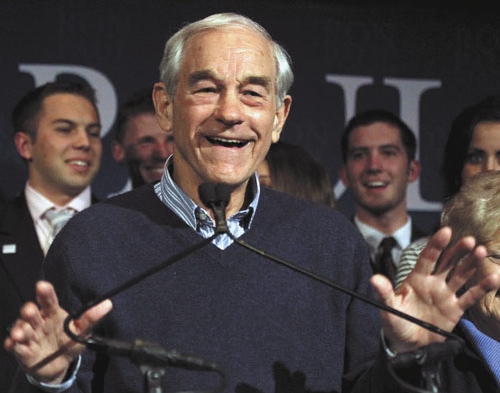 Ron Paul's presidential campaign said Thursday it would try to elect as many delegates as possible at Saturday's Nevada Republican Party Convention, dismissing a national GOP threat not to seat the state's delegation at the national convention if it included too many Paul supporters.
The Republican National Committee warning came in a letter sent Wednesday to Nevada Republican Party Chairman Michael McDonald, who had asked for a legal opinion about delegate selection ahead of the state GOP convention in Sparks.
An RNC lawyer said it would be "highly likely" Nevada's 28 delegate seats at the Tampa, Fla., convention would be jeopardized if Paul delegates took up slots that should be allocated to Mitt Romney, who won the Feb. 4 caucuses here with half the vote and is the presumptive GOP nominee.
Carl Bunce, the Nevada chairman of Paul's campaign, rejected the unwanted advice. He said he would stick with his strategy of trying to win up to two-thirds of Nevada's national delegation seats by sending hundreds of Paul delegates to the convention to dominate the election.
"The 'opinion' of an establishment lawyer that supports Mitt Romney changes nothing," Bunce told the Las Vegas Review-Journal. "In the letter he says to not change the rules, then says how we should change the rules to benefit Romney. Classic establishment tactics – change the rules when they are not in their favor."
Bunce said that under Nevada GOP rules approved in October and submitted to the RNC, delegates to the national convention are first elected at the state convention and then allocated by the meeting secretary to the candidates based on the proportional outcome of the Feb. 4 caucuses. There is no "loyalty test" required of any elected delegates, the Paul supporters noted.
"He left that part out of his creative writing assignment," Bunce said of the RNC lawyer.
The last-minute legal wrangling threatened to throw into chaos Saturday's convention at John Ascuaga's Nugget in Reno. GOP officials are trying to avoid a repeat of the 2008 state convention, which was abruptly shut down when Paul backers tried to take over by changing the rules from the floor.
Paul is scheduled to address his followers at the convention, which he did four years ago.
McDonald said Thursday he was working behind the scenes to smooth things over with representatives of the Paul and Romney campaigns. He vowed to hold a fair convention.
"We're going to play by the rules," McDonald said. "We have a job to do. It's going to be fair, above-board. Everyone has to live or die by this race. It has to be decided by the Republicans of Nevada."
Romney won Nevada's Feb. 4 caucuses with 50 percent of the vote, while Paul came in third with 19 percent behind Newt Gingrich and ahead of Rick Santorum. Under binding, proportional caucus rules, Romney was awarded 14 national delegates, Gingrich six, Paul five and Santorum three.
But with Gingrich and Santorum suspending their campaigns, GOP officials said Romney should now be awarded 20 of the Nevada national delegates at stake and Paul eight. Paul supporters could challenge the new allocation, arguing Gingrich and Santorum delegate slots are up for grabs.
Members of the Romney, Gingrich and Santorum camps are organizing together and may present one 28-delegate slate for election that would include eight allocated Paul slots as well, said one GOP insider familiar with possible strategies. Paul supporters plan to present their own full slate.
In the end, several GOP sources said, the Romney camp may be satisfied if it is able to put his supporters in at least 14 of the 28 delegate slots. Otherwise, he could challenge the election results.
No matter Saturday's outcome, only eight of Nevada's national delegates would be allowed to vote for Paul on the first convention ballot Aug. 27-30 in Tampa. The rest would have to join Romney delegates in backing the likely nominee, under RNC rules.
Paul backers in Nevada and nationwide are hoping there will be a second ballot when they would be free to vote for Paul, a highly unlikely development because Romney appears on his way toward winning the necessary 1,144 delegates to wrap up the nomination before the convention. Paul has yet to win a binding state primary or caucus outright, although he has picked up delegate pluralities in several states.
Josh Putnam, a visiting assistant political science professor at Davidson College, has been closely tracking the delegate count. He said Paul supporters appear to be gaining delegate majorities or pluralities – the highest vote count among candidates – in a string of states, including Colorado, Minnesota, Iowa and Massachusetts. He's also doing well in Alaska, Louisiana and Washington state.
"What it does is allow Paul some sort of leverage at the national convention," Putnam said, such as influencing the party platform and earning a prime speaking spot. "They're going to plug away at this until the process is over and Mitt Romney emerges from Tampa as the nominee."
Two RNC letters sent to the Nevada GOP appear aimed at reminding Paul supporters they must follow the rules or be punished, including by not being allowed to go to the national convention.
In an April 30 letter, RNC counsel John R. Phillippe Jr. told GOP Chairman McDonald that the convention rules could not be changed from the floor to "un-bind" elected national delegates from Nevada's Feb. 4 GOP caucus outcome. It served as a pre-emptive warning for Paul's people.
"Any action taken at the Nevada Republican Convention to alter the method in which delegates are elected, selected, allocated, or bound for the 2012 Republican National Convention" as agreed to in October "would constitute a material change in violation" of the rules, the letter said.
In a May 2 letter, Phillippe went further and said the delegates elected at the state convention should match up with their preferred candidates to vote for at the national convention.
"If a prospective delegate's name is certified to the RNC but has not been approved by an authorized representative of the candidate he or she professes to support, grounds for a contest may exist," Phillippe wrote, saying the campaigns should be allowed to vet each delegate.
He said his opinion "is purely advisory and not binding on any committee of the Republican National Committee or of the Republican National Convention" but he laid out consequences.
"I believe it is highly likely that any committee with jurisdiction over the matter would find improper any change to the election, selection, allocation, or binding of delegates, thus jeopardizing the seating of Nevada's entire delegation to the National Convention," he wrote.
Beyond the convention, the Paul movement could cause Romney and the GOP problems in the race against President Barack Obama if Paul backers don't get behind the GOP nominee in November.
The Romney campaign didn't return calls seeking comment for this story.
Contact reporter Laura Myers at lmyers@reviewjournal.com or 702-387-2919. Follow @lmyerslvrj on Twitter.
Republican National Committee letter to Nevada Republican Party regarding delegate rules Second Republican National Committee letter to Nevada Republican Party