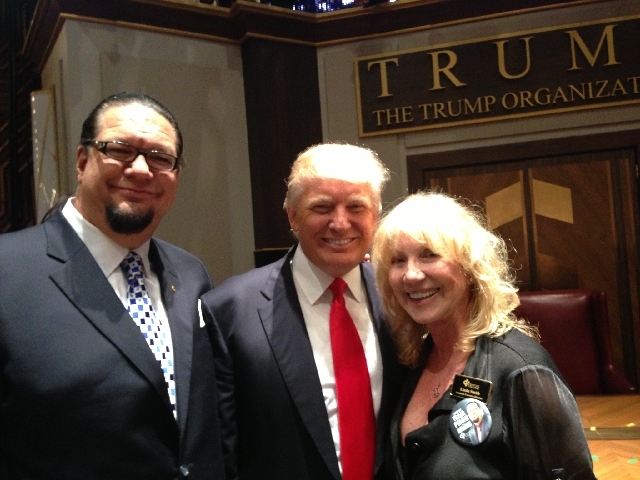 NEW YORK
Donald Trump robbed Penn Jillette of what should have been victory on Sunday's "Celebrity Apprentice."
But Penn used the show to raise $800,000 and counting for Vegas charity Opportunity Village.
"They'll probably hit a million" dollars in donations, Penn told me afterward on a stage at New York University, where anonymous donations — as high as $100,000 — poured in after the show.
Penn dominated most of the two-hour live broadcast of "All-Star Celebrity Apprentice." He was far more entertaining than rival Trace Adkins, the country singer. Penn did magic tricks and kept people laughing, while off-camera, his wife Emily and their kids danced and waved.
Gruff and grumpy Adkins barely spoke.
Penn won a Walgreens challenge by designing a better ice cream than Adkins. Penn's ice cream sold 207,000 pints in a week, triggering Walgreens to donate $100,000 to Opportunity Village.
Adkins' sole finale money victory came by talking NFL quarterback Tim Tebow into getting $200,000 in donations to Adkins' charity, the American Red Cross.
But at the end, Trump said Penn once had told a Trump hair joke ­— and then he named Adkins the winner. Yes, that actually happened.
Penn and Adkins were a two-man love-fest, calling each other great guys.
Penn later told me he thought Trump gave Adkins the overall victory to balance the rivals' accomplishments, after Penn sold more ice cream.
"It was very close. And I couldn't have lost to a better person. Trace is a wonderful man," Penn said.
Penn told me Adkins donated thousands to Opportunity Village.
Throughout the live finale, I sat with Opportunity Village Associate Executive Director Linda Smith, who smiled and wept when the Vegas offices of Opportunity Village were shown on the NBC telecast.
Penn gave viewers an inside look at the lovely people working and benefiting there. The charity helps 1,700 people who have intellectual disabilities by training them for jobs so they can earn wages.
"You're an inspiration to all of us," one of the people told Penn on camera.
About 80 percent of the charity's $26 million budget is self-funded.
"Seven families started Opportunity Village. It's amazing how far it has come," Smith said.
They weren't rich parents either, she said. The school system would not take their kids half a century ago, so they started Opportunity Village. Then Elvis Presley championed Opportunity Village and wore scarves made by workers there.
Penn wears those scarves. He wept into one on "Apprentice."
He said he wanted the charity to gain exposure so it can grow bigger than Vegas. Opportunity Village hopes to begin raising $70 million in the coming years to build campuses to serve more needy individuals, Smith told me.
I asked her how she can start that daunting prospect. "Just be optimistic," she said. "Just get out there and ask people."
Smith took the high road after Trump robbed Penn.
"Honestly," she said, "my heart is overflowing. I'm proud Opportunity Village is part of this. It's beautiful. There is no loser. And Red Cross is in Las Vegas. There is no animosity.
"And because of this, we have doubled our online donations from outside Las Vegas, from Penn fans."
Penn was humble, too.
But if you ask me, Adkins' Nashville friends and fans need to come to Vegas to give back to Penn & Teller's Rio show and to Opportunity Village. I said that to Penn and he laughed.
"Yeah," Penn said. "Nashville needs to come. They've got some payback to do."
Doug Elfman's column appears Mondays, Tuesdays, Thursdays and Saturdays. He also writes for Neon on Fridays. Email him at delfman@reviewjournal.com. He blogs at reviewjournal.com/elfman.