'We're really not that different': Former N.J. gov talks working across the aisle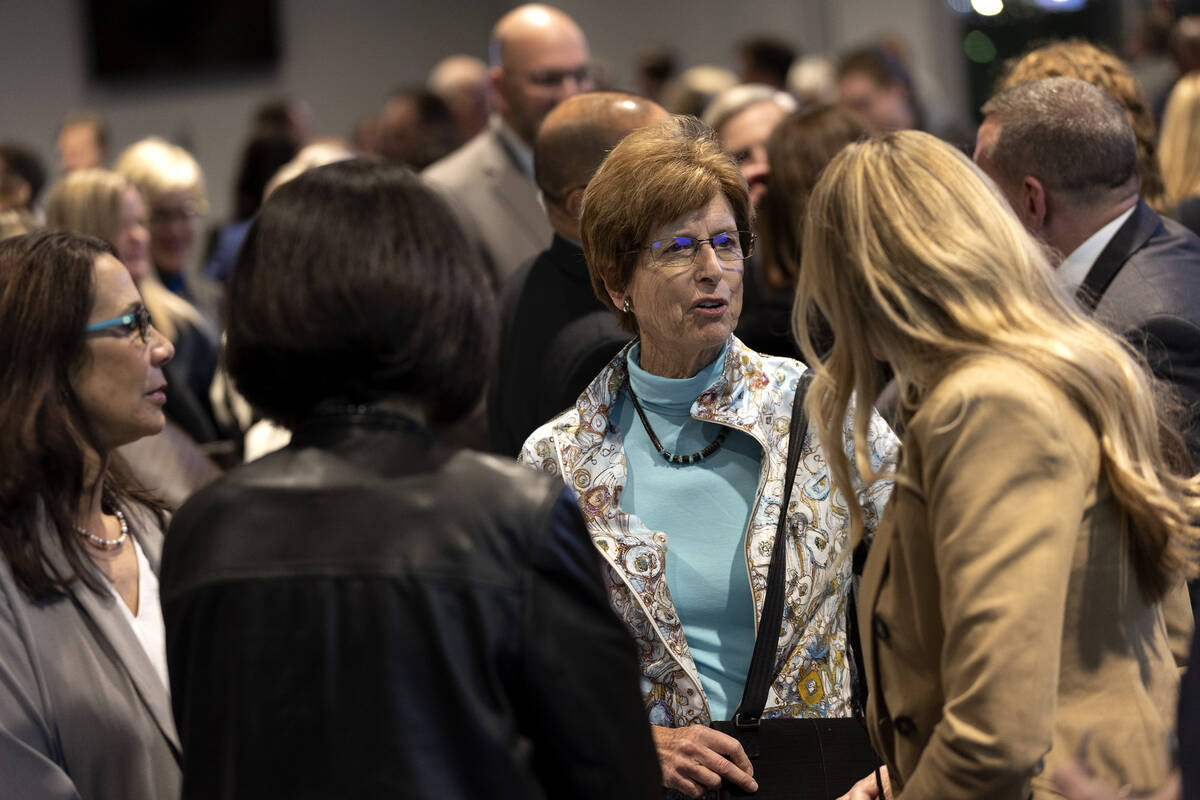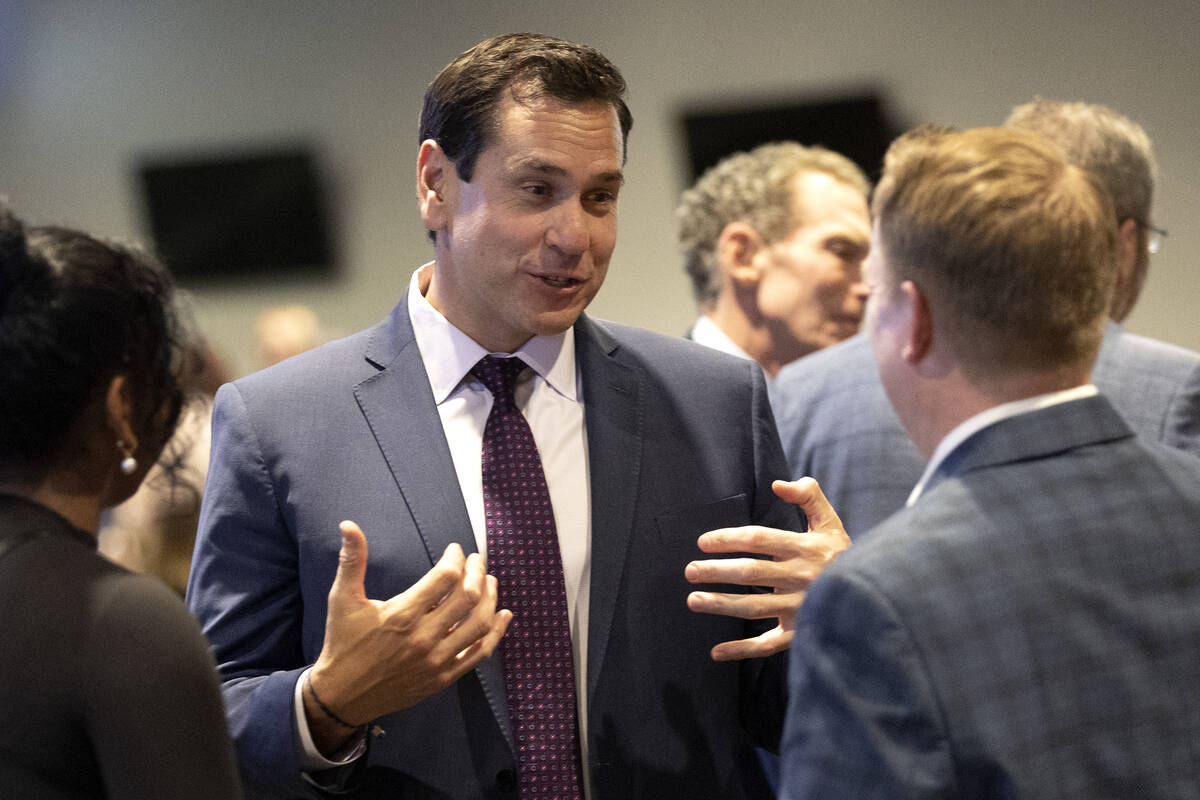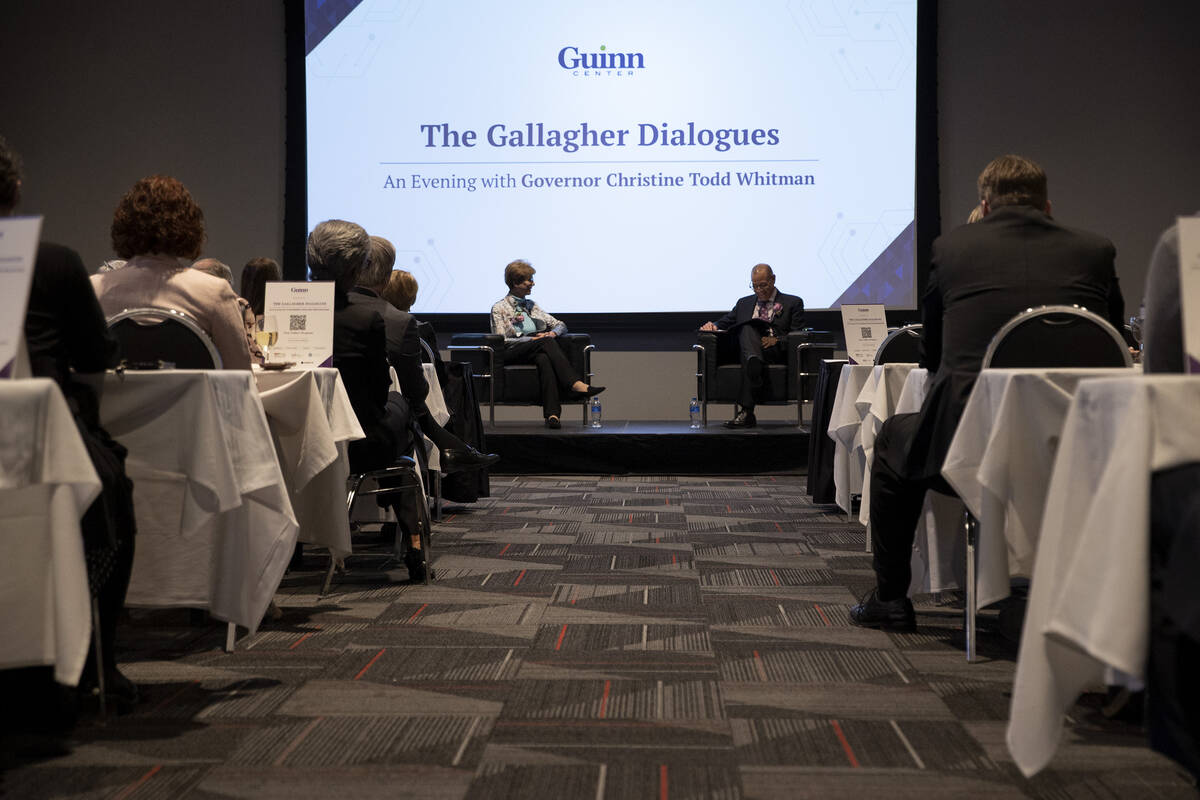 Former New Jersey Gov. Christine Todd Whitman and co-founder of the Forward Party told Nevada leaders Thursday to set aside party differences and come together to get work done.
At the Guinn Center's first installation of its Gallagher Series, a dialogue program for Nevada lawmakers and opinion leaders named after the center's co-founder Tom Gallagher, Todd Whitman talked about division in the country, disinformation and looking beyond the two-party political system.
"We're really not that different," Todd Whitman said. "And we really do have the same things we want to achieve. We may want to go about them slightly differently, but we have the same desires."
The talk came at an opportune time, with Nevada's 2023 legislative session convening in less than a week. State legislators who attended the event include Assemblyman Brian Hibbetts, R-Las Vegas; Assemblywoman Shondra Summers-Armstrong, D-Las Vegas; Assemblywoman Selena Torres, D-Las Vegas; Assemblyman Toby Yurek, R-Henderson; and Sen. Roberta Lange, D-Las Vegas. Democratic Secretary of State Cisco Aguilar was also in attendance.
Todd Whitman discussed the increasing division in the country and when it started. In part, the division comes from a lack of people voting, with the most extreme candidates on either side winning the elections, she said.
As administrator of the Environmental Protection Agency during the George W. Bush Administration, Todd Whitman started seeing people separate from one another when Newt Gingrich, former speaker of the House of Representatives, separated new House members by parties during their initial briefings. Before, new house members got their briefings together.
"That led them to not getting to know one another," Todd Whitman said.
She also criticized Congress today for not focusing on the most important issues like a budget crisis and climate change and instead debating about Ticketmaster and Taylor Swift.
"We have other issues that demand attention, and we need to be part of that future because it's ours," Todd Whitman said.
Beyond the two-party system
During the 2020 presidential election, she made headlines when she endorsed Joe Biden over Donald Trump. In 2022, she joined forces with former Democratic presidential candidate Andrew Yang to create the Forward Party, a third party that aligns itself more in the center of the political spectrum. Todd Whitman spoke about limitations that she thinks exist in the two-party system.
"I think most of us agree that things aren't working the way we want," she said. "And most of us would agree that the parties are not meeting all of our needs, and frankly at times look like they don't really care about our needs. All they care about is the next election and staying in office."
The Forward Party is based on principles including the respect for rule of law, the Constitution and security at home and abroad, economic opportunity for all, and a recognition that the way representatives are elected needs to change.
Todd Whitman expressed support for open primaries and rank choice voting, saying that if it is done right, people with more than 50 percent of the vote can get elected.
Nevada voters passed a ballot question in 2022 supporting open primaries and rank choice voting. Because it calls for amending the state constitution, it must pass again in 2024 to take effect in 2026. Both major parties, however, are opposed to the initiative.
"We believe in bringing people together and getting, solving the problems. Republicans, Democrat, Independent or Forward Party candidate," Todd Whitman said.
"You can disagree without being disagreeable, and you don't have to become enemies," she said.
Fighting disinformation
To fight disinformation, Todd Whitman said it is important to get the facts out immediately and have a thoughtful conversation with someone who, for instance, believes the Earth is flat or that the 2020 election was stolen.
"Understand that the other person has a right to their opinion," Todd Whitman said. "They have reasons why they feel the way they do. But try to pull it out of them as to why they got there, how they got there, why they think that way, then they'll start to listen. They don't feel threatened by it."
Then, bring up what 90 percent of the scientists or professors say, and introduce another set of facts that the person could consider, Todd Whitman said.
As co-founder and co-chair of the States United Democracy Center, a nonpartisan organization advancing free, fair and secure elections, she talked about how her organization worked to hold people accountable and worked with government leaders to push back against efforts to overturn the vote. Groups were trying to change the people who oversaw the vote, then they could change the laws around voting to change the outcomes and gain better control of who was elected, Todd Whitman said.
The organization found that election deniers were not popular. When it conducted a poll on what happened when voters learned their candidate was an election denier, the candidate's support dropped 20 percent, she said.
Todd Whitman encouraged people in the middle of the aisle, those who Nixon called the "silent majority," to speak up.
"You just got to stop being silent," she said. "We can't afford that anymore."
Contact Jessica Hill at jehill@reviewjournal.com. Follow @jess_hillyeah.