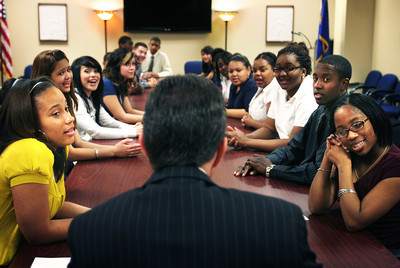 High school can be a scary time, but one principal wants to confront teenage alienation and frustration in a style Harry Potter could appreciate.
Jeff Geihs plans to reorganize Cheyenne High School next year in the model of Hogwarts Academy, where Potter learned wizardry and magic potions in the novels by J.K. Rowling.
Just as Hogwarts is subdivided into the four houses of Gryffindor, Ravenclaw, Hufflepuff and Slytherin, Geihs wants to create six smaller learning communities next year within his high school of 2,400 students.
The result would be six smaller schools of 400 students.
Each school would have grades 9 through 12 and reflect the overall demographics of Cheyenne, whose population is racially mixed. Thirty percent of students qualify for free or reduced-price lunches.
Just as the smaller schools would retain Cheyenne's diversity, students would not be sorted out by ability or interests, either.
"It's nothing fancy. We're not trying to have themed academies," said Geihs, whose last name rhymes with "nice."
Cheyenne, on Alexander Road between Decatur and Martin Luther King boulevards, will be only the second high school with "smaller learning communities" in the state after Hug High School in Reno.
Hug Principal Andrew Kelly and Geihs distinguish their approach from other schools because they're not limiting their smaller learning communities by grade level, such as a "freshman house" or a "sophomore house."
Nor are they are creating specialized academies within their school.
Their only goal is to provide education on a smaller scale.
Kelly said the idea is to "break the structure (of big high schools) down to small enough pieces so it's easier to manage."
Beginning next year at Cheyenne, each smaller learning community will be considered a distinct ninth through 12th grade school with its own name and traditions.
Each will be housed in a separate wing of Cheyenne and have its own staff of about 25 educators, including an administrator, a secretary and a lead teacher.
The principals are trying to create a better safety net to catch students who might otherwise fall through the cracks.
"It's not enough to mentor; you have to monitor," Geihs said. "In a worst-case scenario, 10 percent of the kids are habitually truant."
In a school of 400 students, that's only 40 truants.
"Twenty-five adults can keep track of 40 students," he said.
Kelly said teachers in the smaller communities are able to "zero in" on a student's strengths and weaknesses and even know their students' family backgrounds.
Because of sheer numbers, teachers at big schools cannot be as focused in trying to meet their students' needs, he said.
Kelly compared teachers at big schools to fishermen who "throw out a net and try to bring in a few fish."
In the four years since transforming into a high school with smaller learning communities, Hug has gone from a failing classification to "making adequate yearly progress" under the federal guidelines of the No Child Left Behind Act.
Cheyenne is already making adequate yearly progress under No Child Left Behind, but Geihs thought the change to smaller learning communities would lead to even better results.
While relatively new to Nevada, smaller learning communities are a national trend that has been endorsed by the National Association of Secondary School Principals and supported financially with grants from the Bill and Melinda Gates Foundation.
The consensus is that educators don't desire big factorylike high schools, but school districts are forced to create schools of 3,000 students for the economies of scale, Kelly said.
Geihs said the transition at Cheyenne will not create any new costs; it's just a matter of reconfiguration.
In one exception, the staff voted to use empowerment funds to hire an additional administrator, Geihs said.
Cheyenne qualified for up to $1 million in additional funds each year over three years when it became an empowerment school this year.
The Lincy Foundation provided the private funding to increase innovation at Clark County schools.
While the money will help, Geihs said Cheyenne could have made the transition even without the additional funding.
He is assigning vice principals and deans to oversee the six smaller schools, but the administrators still will have to balance their other regular duties, such as overseeing athletics and curriculum.
While Cheyenne offers specialized courses such as Mandarin Chinese and architecture, the electives will not have to be duplicated for each of the six schools. Instead, they will become "umbrella courses" in which students from any of the six schools can attend. Other such courses include chorus and art.
Umbrella classes or electives aren't expected to distract from the smaller learning communities, since they're taken mostly by juniors and seniors.
Geihs hopes the smaller learning communities will have the greatest impact on freshmen and sophomores, who are most at risk of falling behind in credits and dropping out of school.
He also thinks the smaller learning communities will increase accountability and create competition between staff as each school tries to outperform the other.
Cheyenne still would retain its overall identity, however, since it still will have only one football team, one choir and one prom, Geihs said.
Once parents were assured that school activities and opportunities would not be restricted or taken away, they have supported the plan, Geihs said. Some have gone to Reno to see how smaller learning communities work.
Geihs knows change is going to be difficult.
"There's going to be road bumps," he said.
Kelly said restructuring a school is still only a strategy. Real progress won't happen unless there is a "change in culture" as well.
Bill Gates said in a letter from his foundation that "many of the small schools that we invested in did not improve students' achievement in any significant way. These tended to be the schools that did not take radical steps to change the culture, such as allowing the principal to pick the team of teachers or change the curriculum. We had less success trying to change an existing school than helping to create a new school."
Contact reporter James Haug at jhaug @reviewjournal.com or 702-374-7917.