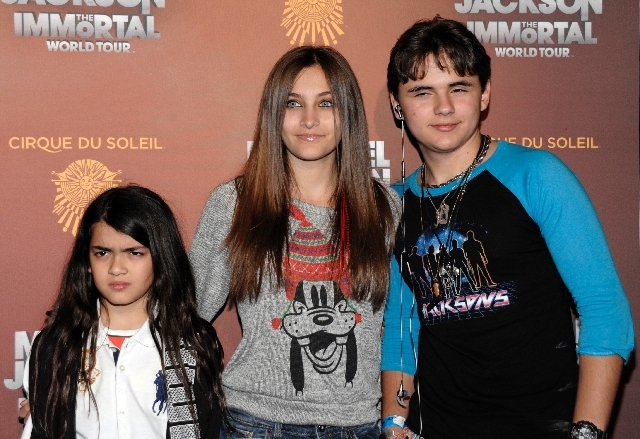 In light of recent events, there are questions about how many members of Michael Jackson's family will attend the June 29 premiere of Cirque du Soleil's "Michael Jackson One" at Mandalay Bay.
Jackson's daughter, Paris, 15, a former Las Vegan, was rushed to a Los Angeles-area hospital on Wednesday after attempting to take her own life.
Jackson family insider Roger Friedman of Showbiz411.com reported on Friday that the troubled teen might have her hospital stay extended for a couple of weeks.
People magazine reported she cut her wrists with a kitchen knife and took as many as 20 ibuprofen pills.
It seems highly unlikely that she would join the family in Las Vegas in what could be her first public appearance since being hospitalized.
When she attended the Las Vegas premiere of Cirque's touring show, "Michael Jackson The Immortal," she was seen sobbing on a shoulder of a young woman, reportedly a cousin, during her father's hit, "I'll be There."
Adding to the family's stress: The fourth anniversary of the King of Pop's death is June 25, and the six-week-old trial that pits the family against entertainment giant AEG Live LLC continues.
Katherine Jackson, the 83-year-old mother of the King of Pop, filed the lawsuit against AEG Live, claiming the company failed to properly investigate the Las Vegas doctor, Conrad Murray, convicted of injecting a lethal dose of propofol into Jackson.
Paris Jackson and her brother Prince are listed as potential witnesses in that case in Los Angeles.
There have been reports that TJ Jackson, Michael Jackson's nephew and the co-guardian of Paris, Prince and Blanket, has moved 80 miles away from Katherine Jackson's residence in Calabasas, Calif., where the children stay.
SUPER SHOWCASE
You know it's huge when the largest Las Vegas hotels lend their top entertainers to an event.
Some 1,000 of the 6,000 key travel industry delegates attending this week's International PowWow will be wined, dined and entertained today at a media brunch at The Smith Center for the Performing Arts.
The trade show, this year renamed the IPW, includes more than 500 domestic and international journalists from 70 countries.
The entertainment lineup for the brunch includes: Cirque du Soleil performers, Matt Goss, the Las Vegas Philharmonic, the Nevada Ballet Theater, Clint Holmes, Terry Fator, "Million Dollar Quartet," Frankie Moreno, "Jersey Boys," "Rock of Ages" and "Jubilee!"
The private event will feature food from 40 of the city's top restaurants.
Myron Martin, president and chief executive officer of The Smith Center, won't be able to take in the big show. He's in New York City to attend the Tony Awards.
THE SCENE AND HEARD
First Friday was hot, hot, hot. So hot that the icemaker at Mingo, restaurateur George Harris' latest downtown venture, couldn't keep pace with drink orders. So Harris ordered 200 pounds of bagged ice cubes. Later in the evening, he ordered 100 more pounds. That's on top of the 500 pounds created by the icemaker. "A good problem to have," Harris said. …
Small world: When entertainer Holmes returned from a recent trip to Europe with his wife, Kelly Clinton, they spent a few days at New York City's legendary Carlyle Hotel, where he's a regular performer. As he was walking through the hotel, he thought the lady he walked past had a familiar look. It was Las Vegas Mayor Carolyn Goodman. She was in New York City with her husband, former Mayor Oscar Goodman, who was promoting his memoir, "Being Oscar." …
The metal scaffolding in the photo that appeared here on Friday is for the June 19 filming of "American Ninja II." MGM Resorts International is constructing a permanent entertainment venue nearby on vacant land.
SIGHTINGS
All 51 Miss USA contestants, getting a look at downtown Las Vegas on Friday. They lined up for a group shot at The D's famous long bar and met comedian Andrew Dice Clay and Derek Stevens, the owner of The D. … Soap opera icon Susan Lucci, backstage after Donny & Marie Osmond's show at the Flamingo on Friday. … Dallas Cowboys Dwayne Harris and Lawrence Vickers, shopping at Misura (Monte Carlo) on Friday.
THE PUNCH LINE
"Attorney General Eric Holder said that despite all the controversies, he has no intention of stepping down. Hey Eric, I didn't either. Sometimes it just happens." — Jay Leno
Norm Clarke's column appears Sunday, Wednesday and Friday. He can be reached at 702-383-0244 or email him at norm@reviewjournal.com. Find more online at www.normclarke.com. Follow Norm on Twitter @Norm_Clarke. "Norm Clarke's Vegas," airs Thursdays on the "Morning Blend" on KTNV-TV, Channel 13.