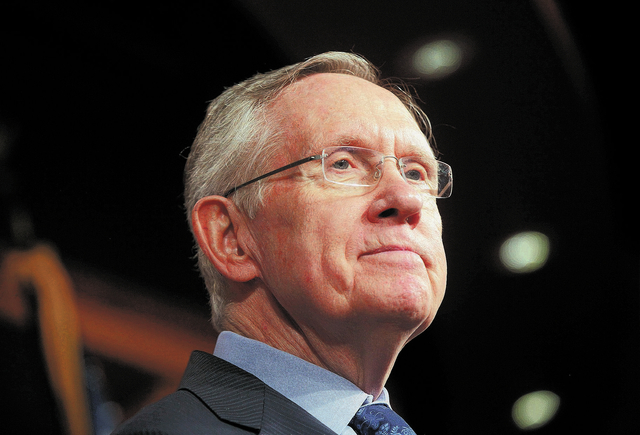 Sen. Harry Reid last week bemoaned the possible demise of the Las Vegas Sun newspaper, whose publisher is fighting for its life in federal court.
"I believe in competition," Reid said in an interview early last week. "I believe getting rid of the Sun newspaper would be a bad thing for Nevada."
Reid long has enjoyed an ally in the Democratic-leaning Sun and its leader, Brian Greenspun. Reid's political mentor, former Gov. Mike O'Callaghan, was its executive editor for 25 years. His attorney son Leif has represented the paper, and Reid reminded that he too once did legal work for the Sun when it was edited by Hank Greenspun, Brian's late father.
Meanwhile, Reid and the editorial pages of the libertarian/conservative Las Vegas Review-Journal rarely have seen eye to eye. Previous publisher Sherman Frederick crusaded against Reid's re-election in 2010, and still criticizes him freely in a blog and a column that runs in the paper.
At a Las Vegas Chamber of Commerce gathering in 2009, Reid told the paper's advertising director, "I hope you go out of business." He later said he was joking.
"I don't have any problem with the news coverage in the R-J, but the editorial policy is as goofy, senseless, stupid as any in America," Reid said last week.
On the other hand, "you pick up the Las Vegas Sun and you have great columnists there, you've got Greenspun writing every once in a while, and other people. Certainly that's another voice."
Brian Greenspun has filed a lawsuit to prevent an agreement from being consummated between his brother and sisters, who control the company board, and Stephens Media, the Review-Journal's parent company.
The deal would end a 24-year-old joint operating agreement that governs publication of the two newspapers. It could effectively end the print edition of the Sun, while the family would retain rights to its website address, lasvegassun.com.
A letter of intent between the parties has been signed, and they are working toward a definitive written agreement that will be submitted to the U.S. Department of Justice for review, according to Stephens Media attorney Mark Hinueber.
Leif Reid initially was one of Greenspun's attorneys in the case, but has filed a motion requesting to be removed because of an undescribed conflict.
Sen. Reid maintained he has not been involved in the matter. But, he signaled, "if you think of something I can do let me know."
CRITICISM BOTHERS DAD BILBRAY
Former Rep. Jim Bilbray, D-Nev., got used to criticism during the 1987-95 period he served in the House of Representatives.
But nothing makes him and his wife more upset than hearing anything bad said about their daughter, Erin, a candidate for the 3rd Congressional District now represented by Rep. Joe Heck, R-Nev.
"It makes me angry," Bilbray said in a recent interview, adding he should know better since criticism, however unwarranted, is part of the political game.
But any father of daughters would likely agree with him: Nothing bad should be said about a daughter other than by them.
Bilbray, 75, is still practicing law and serves on the U.S. Postal Service's board of governors. The job takes him around the country for new stamp releases. In recent years, that has meant visiting Civil War battlefields.
His daughter is married to Las Vegas pediatrician Noah Kohn and they have two daughters. Erin Bilbray-Kohn, 44, has been a political consultant and political trainer. She worked on both of Attorney General Catherine Cortez Masto's successful campaigns.
Democrats now hold a 9,600 registered voter advantage in the 3rd District. With Congress in never-ending partisan brinkmanship, expect a bitter and competitive race in the November 2014 election.
A recent poll showed only 11 percent of respondents now think positively about Congress.
Expect a lot more criticism, Jim.
JACK-O'-LANTERN SMILE
Give Clark County Commissioner Tom Collins credit for popularizing one of the best descriptions for Gov. Brian Sandoval's broad smile.
"Jack-o'-lantern smile," said Collins, an appropriate description this month since the state celebrates Halloween and Nevada Day on the same day, Oct. 31.
Republican Sandoval has been dubbed "Governor Sunny" by some, although the phrase often is meant to be nasty. But he does smile a lot, and his photogenic looks have induced newspaper photographers to take many pictures of him. After looking at the smiling governor's photo in Thursday's Review-Journal, an anonymous reader commented that the governor must be out campaigning because his pictures once again are regularly appearing in the newspaper.
Collins, a Democrat, said he has heard others use the "jack-o'-lantern smile" and does not take credit for its origination. He said he likes Sandoval, regardless of their political differences, noting they served together in the Legislature. He also expects Sandoval to win re-election, adding he could run for lieutenant governor. He mentioned that in the 2010 gubernatorial election Sandoval even won Democratic Clark County. It pays to smile.
But Democrats must field a viable candidate to oppose Sandoval's re-election bid, according to Collins. Without a strong Democrat in the race, he predicted Sandoval will give a lot of his contributions to Republican legislative candidates and to help state Sen. Mark Hutchison in the lieutenant governor race. The entry of Sen. Tick Segerblom, D-Las Vegas, into the gubernatorial race would force Sandoval to spend money on his own race and, therefore, help other Democrats on the ballot, he added. The question is will Segerblom or another big-name Democrat "take one for the team," Collins said.
GOP LEADER BACKS WOMEN FOR SENATE
State Senate Minority Leader Michael Roberson, R-Las Vegas, was criticized earlier this year by leading female Republicans for the lack of women in his caucus.
Of the 10 state Senate Republicans, only Barbara Cegavske, R-Las Vegas, is a woman, and there are no minorities. Cegavske is term-limited from seeking another Senate term, which could leave the Republications without any female members.
But Roberson has gotten the message. The Senate Republican Caucus announced Wednesday that it has endorsed the election of two women — Patricia Farley in District 8 and Becky Harris in District 9 — for Senate seats. The endorsements come long before the June 10 primary and the general election next November.
"Patricia and Becky are proven women of action who will help lead the fight to improve public education, create more jobs, and bring stability to the housing market in Nevada," Roberson said.
Farley is president and owner of Southwest Specialties Inc., a construction firm with offices in Las Vegas and Reno that employs more than 50 people statewide. Her second business, Kids' Club Las Vegas, is a 10,000-square-foot indoor play area for young children.
Harris is a lawyer at Lawyers/West. She also is a certified mediator with the Nevada Foreclosure Mediation Program.
She has volunteered her time on the Attendance Zone Advisory Commission to find solutions to overcrowded classrooms, and served as the PTA's parent liaison at Silverado High School.
Farley is running for Cegavske's seat in a district that has about 800 more Democrats than Republicans. Harris is seeking to upset incumbent Democrat Justin Jones in a district that has 5,300 more Democrats than Republicans.
SANDOVAL ISSUES SHUTDOWN WARNING
Gov. Brian Sandoval wasted no time last week in letting Nevada's congressional delegation know just how dire a continued partial shutdown of the federal government will be for tens of thousands of residents.
The very day he received a briefing from his Cabinet about the likely shutoff of food stamp and nutritional assistance programs to more than 400,000 residents starting Nov. 1, Sandoval fired off a letter highlighting his concerns to Nevada's two senators and four representatives in Washington, D.C.
"I feel compelled to write all of you to express my deep concern with the shutdown of the federal government and its potential impacts on our state," he said in the letter. "This shutdown impacts how the state operates, the services we are able to provide, and has the potential to set our state back when it comes to economic recovery. In the most basic of terms, this is about ensuring people are fed, houses are kept, and jobs are available."
The shutdown will affect some of the neediest Nevadans if it continues, Sandoval said.
"It is difficult to make informed choices on how to proceed absent swift action from the federal government to provide clear directions regarding which programs will be made whole and which will not," he said. "At a very minimum, the federal government needs to address this uncertainty so the state can plan financially and manage its affairs responsibly."
Contact Stephens Washington Bureau Chief Steve Tetreault at stetreault@stephensmedia.com or 202-783-1760. Follow him on Twitter @STetreaultDC. Contact Capital Bureau Chief Ed Vogel at evogel@reviewjournal.com, or at 775-687-3901. Contact Capital Bureau reporter Sean Whaley at swhaley@reviewjournal.com or 775-687-3900. Follow him on Twitter @seanw801.