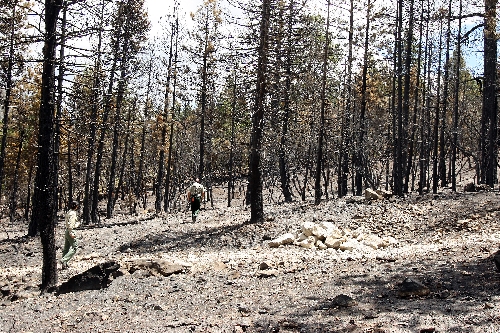 Marshals at the Regional Justice Center reacted quickly Wednesday morning when a bomb threat was called in to the massive downtown courthouse.
Next time, though, they might want to reconsider where they send the people they evacuate from the building.
At least that was the suggestion made to court officials by one 80-year-old Korean War veteran, who watched incredulously as hundreds of people streamed out of the building only to line up right in front of the structure's windows.
Maybe all that glass is bombproof.
DOUG McMURDO
During a recent preliminary hearing in Las Vegas Justice Court, prosecutors called on a felon to testify against two defendants.
A prosecutor asked the inmate if the district attorney's office had offered any kind of deal that would get him out of prison early or benefit him in another case.
"I was hoping you would. But you didn't," the inmate said.
During cross-examination, a skeptical defense attorney asked the inmate if he wasn't getting a deal, why he is testifying.
"I'm trying to turn over a new leaf," the inmate said.
The attorney suggested the inmate was getting a deal from prosecutors.
The inmate explained just because he hoped it, doesn't mean it would happen.
"I hope it rains tomorrow," the inmate said.
"Rain's not gonna get you out of prison," the attorney said.
FRANCIS McCABE
Maybe they were on a mission from God, to paraphrase a 1980 movie starring John Belushi and Dan Aykroyd.
Twenty students from the Clark County School District were among the performers in "The Blue Brothers Play" at the Winchester Cultural Center on Saturday .
The difference this time around: Representatives of the law enforcement community were welcome to attend.
JAMES HAUG
Week In ReviewMore Information