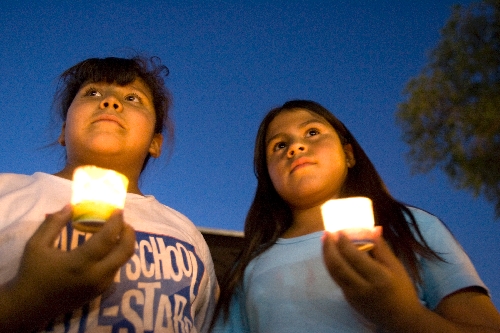 During his time as governor, Kenny Guinn developed a reputation for putting in long hours at the office.
After Guinn's funeral on Tuesday, former Assembly Speaker Richard Perkins recalled how he often saw the governor still hard at work after most everyone else had gone home for the day.
One evening Perkins said he and Guinn's chief of staff, Pete Ernaut, walked in on the governor as he scribbled furiously on the draft of a speech Ernaut had just written for him.
"Pete's face went ashen," Perkins remembered. "He said, 'Governor, what are you doing?' "
Guinn's reply: "I'm writing in my ad libs."
HENRY BREAN
At Palace Station, site of Tuesday's funeral reception for Guinn, a woman working in the cashier's cage said it was nice to hear that the former governor was the kind of guy who would want hot dogs and cold beer served at his wake.
The woman's co-worker was just glad to hear the reception was free and open to the public.
"Oooh," the second woman said, "we can sneak up there and have some food."
HENRY BREAN
Las Vegas Mayor Oscar Goodman won't say who he is backing in this year's governor's race — yet — but he is ready to endorse someone who isn't running for anything.
"This is not a situation where I just stand up in front of the media and say, 'I support David Riggleman or Steve Sebelius,' " Goodman said, referring to his communications director and the editor of CityLife, respectively. "When I support somebody, it has to be like a big deal. It has to be like a tour. It has be like a party."
Sebelius then asked if the mayor would support him should he decide to seek public office.
"I have such respect for you, in advance of your filing your candidacy, I will tell the world I would support you," Goodman said. "I can't think of any candidate who would better express my philosophies — and carry on my habits — than yourself."
We'll drink to that.
ALAN CHOATE
Week In ReviewMore Information