Running for Congress in Nevada? It can be a long, difficult road after filing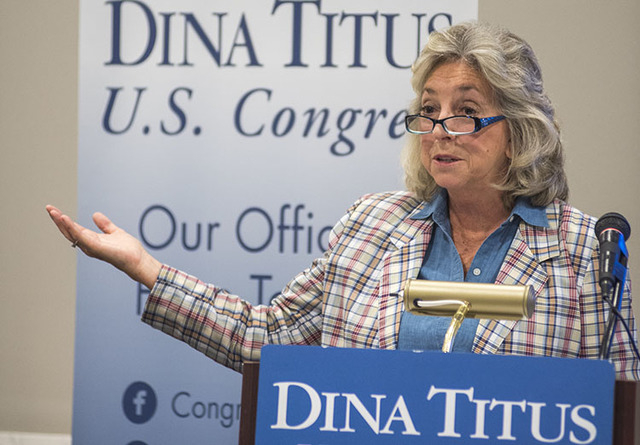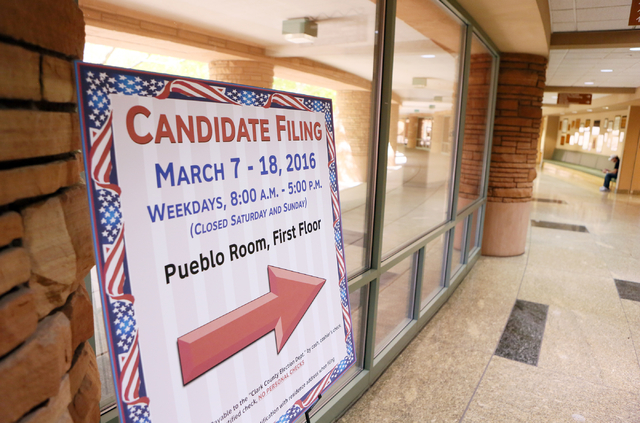 Getting your name on the ballot to run for Congress against a popular incumbent is easy. Getting the money needed to mount a successful race can be an entirely different matter.
For congressional races, the planning, fundraising and hand-shaking starts well before the March filing period, which ended on Friday. In the 1st Congressional District, only three candidates were in the race and had filed paperwork needed to raise money last year, including incumbent U.S. Rep. Dina Titus, D-Nev., who is running for a third two-year term, according to Federal Election Commission reports.
By the time the filing period ended Friday, 11 candidates in all were running: three Democrats, six Republicans and two candidates who are independent or belong to a third party. Challengers are starting the race at a wide disadvantage with Titus on the money front. The incumbent reported $250,678 cash on hand in her campaign fund at the end of 2015.
Candidates who are just starting to raise money have a narrow window between now and the June 14 primaries, said Fred Lokken, a political science professor at Truckee Meadows Community College in Reno.
"The ones that usually have the credibility and stand a chance were getting organized last June and were doing fundraisers since August and have the money in the bank," Lokken said. "The fundraising process is also building name credibility. You just can't do that in two and a half months."
In the 2014 election cycle, when Titus was re-elected to her seat in the urban Las Vegas district, her campaign spent slightly more than $1 million, far out-matching all opponents. That's actually on the low end compared with congressional races across the nation. The average campaign that won a seat in the House in the 2012 election spent an average of $1.6 million, according to a report compiled by the American Enterprise Institute and Brookings Institution, two nonprofit research organizations.
"They're on such an uphill battle here," Lokken said of candidates who start with little money. "They start with the problem of nobody knows who they are."
The long odds don't diminish the enthusiasm of underdog candidates intent on getting their message out with social media and face-to-face interaction. Patrick Boylan, another Democrat, had announced last year he's running for the nomination and filed paperwork with the Federal Election Commission.
Now that he's crossed the $5,000 contribution threshhold that requires a report, he'll be sending one in to the FEC for the first time. Most of it is his own money.
"We haven't made much money, but we've had a lot of people spreading the word and getting out my fliers," said Boylan, who operates a car rental franchise. "I'm doing real grassroots stuff."
While he doesn't turn down donations, he doesn't actively ask people for money either, Boylan said. One of his biggest donations so far is a contributor who is paying for his campaign message to be on a billboard near Interstate 15.
The Democratic primary on June 14 is a three-way race that also includes Jose Solorio, a business consultant and former Clark County School Board member, who filed Friday.
The son of Mexician immigrants, Solorio said he'll engage in fundraising and reach out to businesses and individuals. A big part of his focus, he said, will be connecting with people at the grassroots level, including Latinos in the immigrant community, in an effort to get people to turn out to vote who haven't before.
Only one of the six Republican candidates, attorney Mary Perry, filed paperwork with the FEC last year to start raising money.
The other Republican candidates running are Louis "Blulaker" Baker, Stephanie Carlisle, Fred Horne, Gary Johnston and Jeffery Miller.
Perry's campaign had received $7,600 by the end of 2015, and $5,200 was money she had loaned her campaign.
She ran unsuccessfully for a family court judge position in 2014. Since then, she's focused on meeting people in the congressional district in preparation for a 2016 congressional run.
Her outreach includes going door-to-door and meeting potential voters in parks and other public places.
"People watch TV ads and they may remember the name," Perry said. "But they're going to remember if you've actually shaken their hand and asked, 'What is your concern?'"
Contact Ben Botkin at bbotkin@reviewjournal.com or 702-387-2904. Find him on Twitter: @BenBotkin1
Related Content
A few candidates in Nevada are facing no opposition