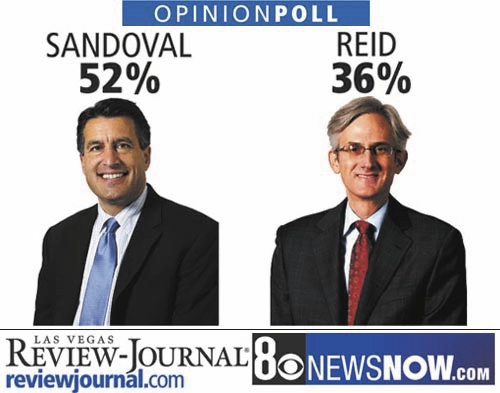 It's no wonder Democrat Rory Reid wants to shake up the Nevada governor's race: He's trailing Republican Brian Sandoval by 16 percentage points with 80 days until the Nov. 2 election.
The newly released Las Vegas Review-Journal/8NewsNow poll shows 52 percent of respondents picked Sandoval, a former federal judge, to 36 percent who chose Reid, chairman of the Clark County Commission with 9 percent undecided. The margin of error on these results is plus or minus 4 points.
Respondents also reported having a much more favorable impression of Sandoval than Reid, which makes a potential comeback all the more challenging.
The long odds and short time frame explain why Reid is taking more chances, such as challenging the Republican to an impromptu debate at a luncheon both attended on Wednesday.
Analysts, however, say even with new-found feistiness the Reid campaign will find it difficult to claw back into the race.
"Every number you have quoted me, Rory Reid is on the wrong side of it," said Eric Herzik, a political science professor at University of Nevada, Reno.
The 16 percentage point margin is greater than the average margin of 13.5 based on four polls taken since July 16, according to the Web site Real Clear Politics. A Review-Journal/8NewsNow poll two weeks ago showed Sandoval with a 19 percentage point advantage.
It's unclear whether the three point difference is the result of Reid gaining support or a reflection of the two polls' margin of error of 4 percentage points.
"They might have changed one point here or one point there, but it is almost like a carbon copy of the last poll," said Brad Coker, managing director of Mason-Dixon Polling & Research, the firm that conducted the Review-Journal/8NewsNow polls. "Sandoval is in control."
Herzik said the favorable and unfavorable numbers are most troubling for Reid.
When asked about Sandoval, 48 percent of respondents said they had a favorable impression, 18 percent unfavorable, 30 percent neutral and 4 percent didn't recognize him.
For Reid, 29 percent had a favorable impression, 41 percent unfavorable, 27 percent neutral and 3 percent didn't recognize him.
"That gap is just devastating," Herzik said. "Not only is Reid upside down, he is upside down by a lot and Brian Sandoval is right side up by a lot."
Jennifer Duffy, senior editor for the nonpartisan Cook Political Report, emphasized Sandoval's lead.
"Once you are over 50 it is really hard to bring it back," Duffy said. "It is a majority of the vote."
Coker said almost every number shows a race that, so far, has been one-sided.
Even among Democrats Reid gets support from just 66 percent of respondents, with 21 percent of his own party choosing Sandoval. Among Republicans Sandoval gets 86 percent support compared to 5 percent for Reid.
Sandoval also leads Reid 48 percent to 41 percent in Clark County, the most populous area of the state and Reid's home turf.
Sandoval "is cutting into the Democratic vote, he is ahead in Clark County, and winning everywhere else comfortably and leads among men and women," Coker said. "I don't know what else there is to say."
Sandoval's campaign spokeswoman, Mary-Sarah Kinner, had little to say about the latest results.
"Brian remains encouraged by the reception he is receiving across Nevada, but there is a lot of work to be done before November," she said.
Reid's campaign pointed out a number of factors they say remain in their favor.
Reid, who has been campaigning for two years, had a fundraising advantage of about $2 million in June when the candidates last reported finances. There are also more registered Democrats than Republicans in Nevada, another advantage for Reid.
Reid has used his funding advantage to attack Sandoval in television and Internet ads and to build a large campaign organization with aggressive statewide outreach.
"I still believe the polls are irrelevant at this point," said Reid spokesman Mike Trask.
Trask said the surprise debate on Wednesday shows Reid will do what it takes to rattle Sandoval, which he says will prompt voters to see Reid as the better leader.
"I think we showed this week that Rory is going to be aggressive and he is going to shake up this race and he is going to make sure Nevada voters know what kind of leaders he and Brian are," Trask said.
So far the candidates haven't shown major contrasts in their policy positions.
Reid touts his school improvement plans as superior, but both candidates promise to increase accountability and student performance without raising taxes.
Each has also promised to balance the general fund budget, which could be $3 billion in the red for the 2011-13 biennium, without raising taxes or changing the state's tax structure, a feat analysts and elected officials from both major parties call unlikely.
Even on immigration issues, which Reid highlights to court Hispanic voters, the two candidates have some similarities. Each has said he would oppose driver's licenses for residents who can't prove they are in the United States legally.
Reid has also tried to rally support by criticizing Arizona's controversial immigration law. Sandoval during the primary race against incumbent Gov. Jim Gibbons said he supported the law, later adding that he isn't certain such a law would work in Nevada because, unlike Arizona, Nevada doesn't border Mexico.
Reid has said the federal government should handle immigration.
Democratic and Republican political consultants who follow the gubernatorial race said Sandoval's lead, while daunting, is surmountable.
Ronni Council, a Las Vegas consultant to Democratic candidates, said she thinks Reid's accusations that Sandoval is dodging the issues will gain potency as the campaigns near the finish line.
"Sandoval has got to have at least said something by then," she said. "Frankly, I would think the press would have to really start calling him out at that point."
Ryan Erwin, a Republican strategist, said Reid needs to show he is more conservative than Democrats in Washington, D.C., a task complicated by his father's status as Senate majority leader.
"He's got to find a way to hold his base and show that he is conservative enough and fiscally responsible enough to earn independent votes," Erwin said. "He simply can't win this race if he is perceived as a run-of-the-mill, spend-happy Democrat."
Contact reporter Benjamin Spillman at bspillman@reviewjournal.com or 702-477-3861.