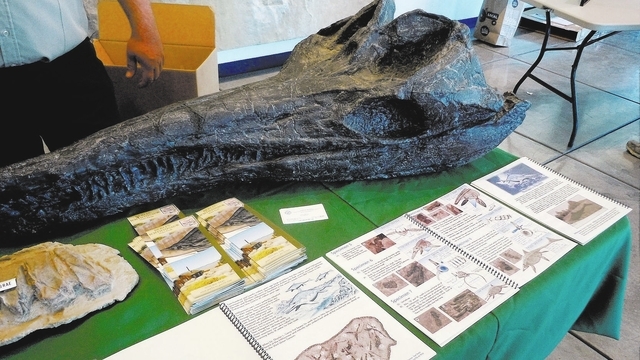 Picture a dolphin the size of a tractor-trailer with reptilian blood in its veins. Now picture it swimming after giant squid in a tropical ocean that covered Nevada roughly 220 million years ago.
Meet the ichthyosaur, a deep-diving dinosaur from before there were dinosaurs.
"They were at the top of the food chain," said Jeff Morris, supervisor for the home of Nevada's official state fossil, Berlin-Ichthyosaur State Park in northwestern Nye County.
The park features some of the largest and most concentrated ichthyosaur specimens in North America. A total of 37 of the creatures have been cataloged there, including nine that remain on display right where they were dug up.
Morris, who has served as park supervisor for the past 13 years, said the ichthyosaur is like an early reptilian version of two modern-day mammals. It shared many of the same physical characteristics as the dolphin and probably filled roughly the same ecological niche as the sperm whale.
A researcher named Siemon Muller first discovered the fossils in Nevada's Shoshone Mountains in 1928. Charles Camp and Samuel Welles from the University of California, Berkeley, led excavations of the site that began in 1954 and lasted through the 1960s.
Morris said the ichthyosaurs unearthed at the park apparently lived and died at the same time, victims of some sort of cataclysmic event. They may have been poisoned by toxic fish they ate during a so-called "red tide," he said.
The name of the genus comes from their final resting place: Shonisaurus, which literally means "lizard from the Shoshone Mountains."
New research suggests the ichthyosaur died out for good about 94 million years ago, but it lives on in Nevada Revised Statutes. The sea monster of Central Nevada was signed into law as the state's official fossil in 1972.
There is an ichthyosaur on display at the Nevada State Museum at the Springs Preserve in Las Vegas, but if you want to see the state fossil in the spot where it was found, be sure to gas up before you hit the road. Berlin-Ichthyosaur State Park is 350 miles northwest of Las Vegas, and 160 miles southeast of Reno.
"We're in the boonies," Morris said.

Celebrating the Silver State