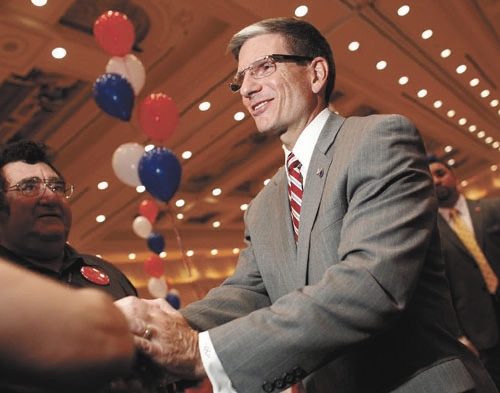 12:01 a.m.
Republican Sen. Dean Heller defeated Democratic Rep. Shelley Berkley and won a full six-year term to the U.S. Senate after one of the most negative campaigns in Nevada history.
With 100 percent of the vote counted, Heller led Berkley by more than 12,100 votes. Berkley gave up her seat in Congress to challenge Heller.
-HOWARD STUTZ
A depressing night at The Venetian; attendees revived by motivational speech
10:47 p.m.
Husband and wife, Leroy and Carmen Peters, said they were sticking around at The Venetian to watch Gov. Mitt Romney's concession speech and see what happens in the senate because they don't have cable at home.
They were volunteers for Republican campaigns.
"I'm kind of down," Leroy Peters said. "It's too bad. We're supposed to be a swing state but we didn't even get on the swing."
Leroy Peters wore an NRA hat and a button on his shirt that reads "I believe in America."
Not so much.
"The country will go downhill," he said.
A Republican supporter, Jeri Taylor-Swade, took to the stage for an impromptu "motivational" speech for the crowd.
"This is the most depressing night ever, right?" she said. "But we have people who have won, I'm waiting for somebody to come up here and say we have winners in this room, in this state.
"We need something to celebrate tonight.
"Please don't leave, I know you want to leave. I'm like 'oh my God I want to move to Canada right now.' I'm looking at all these people walking out the door and we cannot leave the people that have won. We have republicans that have won, that have fought,and have won this day. We have got to celebrate with them."
Following Taylor-Swade, Pat Hickey, the only candidate in the room, came to the stage to talk to the crowd.
"I still think this night holds tremendous celebration for races in nevada. I absolutely believe Dean Heller will be elected tonight. There's a lot more left to happen tonight. Thank you for all you've done."
– JEFF MOSIER
Rep. Heck re-elected to second term
10:33 p.m.
Republican Rep. Joe Heck was re-elected to a second term representing Congressional District 3.
With almost 75 percent of the vote counted, Heck held a comanding double-digit lead over Democrat John Oceguera, the outgoing speaker of the Nevada Assembly.
The district covers much of Clark County.
-HOWARD STUTZ
Horsford beats Tarkanian, elected to the U.S. Congress
10:20 p.m.
Democratic State Sen. Steven Horsford was elected to U.S. Congress Tuesday, defeating Republican Danny Tarkanian.
With almost 60 percent of the vote counted in Congressional District 4, Horsford held a double-digit lead over Tarkanian.
The seat is a newly-created district and includes portions of Clark County and rural Nevada.
-HOWARD STUTZ
A middle finger salute to The Donald
10:07 p.m.
It wasn't just locals who rallied for President Obama in Las Vegas on Tuesday at the Mandalay Bay.
Dean Nye, 47, traveled to Las Vegas from Denver with his father-in-law and wife, Nora, to celebrate his birthday and a big Democrat win.
"We came to kick up our heels a bit," Nye said as he sipped his second $11 glass of red wine.
"It's worth it tonight," he said.
As a news channel flashed a somber Tweet from hotel mogul and reality star Donald Trump, Nye laughed as a couple of young women raised their middle fingers to the screen.
"Emotions are running high," he said before turning back to celebrate. "Four more years!"
– MIKE BLASKY
Maryland voters approve Question 7 casino expansion issue
9:56 p.m.
Maryland voters approved a new casino Tuesday following the most expensive political campaign ever witnessed in the state.
With 94 percent of precincts reporting Maryland residents favored Question 7, by a vote of 51.6 percent to 48.4 percent. The measure will place a new casino in suburban Prince George's County.
MGM Resorts International was the primary backer of the committee supporting Question 7, and the Las Vegas-based company spent $40.8 million on the ballot question.
Regional casino operator Penn National Gaming, also with headquarters in Las Vegas, opposed Question 7 and contributed $42 million to the anti-gaming expansion campaign.
In total, the fight over Question 7 ran more than $90 million, surpassing the combined total spent on Maryland's last four gubernatorial elections.
Sayre Matthew, a 37-year-old Democrat, said she voted against more gambling, but not because she's opposed to casinos.
"The people of Maryland have delivered a message, sorting through an onslaught of dishonesty, voters chose to support progress," MGM Resorts Chairman Jim Murren said in a statement. "No one expected such a vicious campaign, but common sense prevailed and Maryland will certainly benefit from our hard work to fight a campaign of unrestrained distortion."
-HOWARD STUTZ
Conklin trailing in early vote
9:17 p.m.
Likely Assembly Speaker Marcus Conklin was trailing his Republican challenger by almost 1,000 votes when the early and absentee votes were tabulated.
Conklin, who is expected to the lead the Democrats in the Assembly, 48.7 percent of the vote while Republican Wesley Duncan has 51.3 percent.
-HOWARD STUTZ
A tale of two parties
9:02 p.m.
About 8:15 p.m., as news stations projected President Obama the winner, supporters at the Democrat Victory Party at Mandalay Bay went wild.
Assemblywoman Lucy Flores said she expected the win but wasn't counting any chickens before they hatched.
"You're always on pins and needles until the results are in," Flores said.
Flores said the next step was for Nevada Democrats to win their local races. Shelley Berkley's race against Sen. Dean Heller was her primary concern, but Flores said Berkley had the advantage in early voting.
"I think she had a pretty good buffer," she said. "I'm still nervous, but I think we'll be OK."
At The Venetian, it was all on Ohio's shoulders.
The crowd dissipated almost immediately once the Ohio outcome was announced about 8:15 p.m. From two giant screens, Fox News announced Obama was, essentially, re-elected to a second term.
Most of the tables, draped in red, white and blue, became half empty after being nearly full just an hour ago.
Raymond Castillo, of the Filipino-American Veterans of Nevada, stuck around. He sat slouched in his seat, wearing an American-flag tie and red-white-and-blue vest. "We will have the same four years," he said. "I'm a little bit disappointed. I hope Mr. Obama can fulfill all the promises he made in 2008. He hasn't done anything."
-MIKE BLASKY and JEFF MOSIER
Dina Titus returning to Congress
8:51 p.m.
Former U.S. Rep. Dina Titus is returning to Congress, this time from Nevada's 1st District. The 61-year-old Democrat defeated 47-year-old Republican former Navy officer Christopher Edwards and two other candidates to win a return to Washington, D.C., after a two-year hiatus. Titus will serve a central district including downtown Las Vegas and the Las Vegas Strip long represented by Democrat Shelley Berkley. Titus taught political science at the University of Nevada, Las Vegas, and was a state senator for 20 years, including 15 years as minority leader, before being elected to Congress in 2008. -HOWARD STUTZ
JPs Jansen, Zimmerman, Lippis hold leads over challengers
8:39 a.m.
Early votes in the race for Las Vegas Township Justice of the Peace, Dept. 5 showed incumbent Judge Bill Jansen barely leading challenger Cynthia Dustin-Cruz.
Jansen has 50.5 percent of the vote, Dustin-Cruz had 49.5 percent.
In Dept. 8, incumbent Judge Ann Zimmerman leads challenger Amy Chelini, 54.6 percent to 45.4 percent.
Judge Debbie Lippis holds a much more comfortable lead over her challenger.
– HOWARD STUTZ
GOP partiers react with anger to news organizations prediction of Obama victory
8:30 p.m.
At The Venetian, after Fox News announced that Ohio went for Obama, Lilian Auspitz left almost immediately from the party.
The red, white and blue pom-poms she brought with her hung idly by at her side.
"I'm so disgusted," she said, marching away from the ballroom toward the elevator. "We worked so hard as volunteers. This country is going down the tubes.
"It's over."
She blames a "dirty" Obama campaign for the loss.
"(Romney) wasn't dirty like Obama," she said.
– JEFF MOSIER
'It's all in God's hands'
7:31 p.m.
Gwen Barrett, of the Republican Women of Las Vegas, arrived late to The Venetian because she was making phone calls to voters up until 7 p.m.
She's been working on the campaign since the spring. Last week she broke her foot falling down some stairs while going door to door asking people to vote. She's wearing a big, black boot on her right foot.
"It was for a good cause," she said of her unfortunate fall.
As for the presidential election tonight, she said she's feeling "very up."
"There's so many people that worked so hard," she said. "It's all in God's hands now."
– JEFF MOSIER
Exit polling update
7:22 p.m.
The economy was first and foremost on the minds of Nevada voters as they cast ballots Tuesday for president in the key battleground state, with 6 out of 10 identifying it as the most important issue facing the country, preliminary exit poll numbers show.
In a state that has suffered some of the highest unemployment and foreclosure rates in the nation since helping elect President Barack Obama in 2008, voters in the state cited the economy as their top concern far more often than health care, the federal deficit or foreign policy.
Nearly three-fourths describe the U.S. economic condition as poor or "not so good," according to the preliminary exit poll conducted for The Associated Press and the television networks by Edison Research in a random statewide sample.
But about 4 out of 10 Nevada voters surveyed think the economy is getting better. Three out of 10 think it's getting worse and a similar amount think it's about the same.
About 4 in 10 Nevada voters said their own family's financial situation is worse today than it was four years ago, but about a quarter said they are in better shape and the rest about the same.
-ASSOCIATED PRESS
Polls have closed in Nevada, but results won't be released until all sites have reported
7:10 p.m.
The polls have closed in Nevada, but results may not start flowing in until around 8 p.m.
Secretary of State Ross Miller said via Twitter earlier today he won't release early vote and absentee vote totals until all voting sites have closed throughout the state. Potential voters who got into line before 7 p.m. will be allowed to vote.
Results will update on the Las Vegas Review-Journal website as soon as the numbers are provided by the Associated Press.
-HOWARD STUTZ
Impressive spread at the GOP party at The Venetian
6:58 p.m.
Romney campaign volunteer Sandra Alvarez stared down the smorgasbord of salads, sandwiches, fruit, brownies and cookies at the Republican party at The Venetian.
She was heart-broken because she said she can't eat hardly any of it.
Alvarez is on the South Beach Diet and isn't allowed to eat fruit for two weeks. She had her eye on the cups of fruit, which included blackberries, her favorite.
"What better way to see the election unfold?" she said of the event, which was the first of this kind she's attended. "It's kind of like watching a big football game with all your friends. I'm not a sports fan but I imagine this is what it's like for guys."
Of the venue, "it's beautiful, I'm shocked," she said. "I'm so excited and so hopeful."
-JEFF MOSIER
GOP volunteer: If Obama wins 'I'm probably going to move out of the country'
6:40 p.m.
Husband and wife Charles and Diana Waldorf are wearing matching blue Romney/Ryan T-shirts that read "The Comeback Team," and "Dr. Joe Heck for Congress" stickers on their chests.
Both volunteered for Republican campaigns, including those for Sen. Dean Heller, Rep. Joe Heck and Mitt Romney.
Diana Waldorf said she worked for two companies – Sharper Image and Borders – that have gone out of business in the last four years. She's lost two full-time jobs and now works only 10 hours a week. She spent much of her free time volunteering for the campaigns.
"It's been difficult," she said about the last four years. "I'm excited. I'm confident Romney will win. I'm confident because he's a business man, he understands jobs.
"I've been disappointed in Obama. He hasn't made good on his promises.
"Romney knows how to make money. He knows how to get the economy going."
What if Obama wins tonight?
"I'm probably going to move out of the country," she said, laughing.
Charles Waldorf echoed his wife's disappointment in the economy and said Republicans like himself have been portrayed badly by the liberal media. He said he feels under attack for being pro-God and pro-life.
Diana Waldorf said she has been called a racist many times when wearing her blue Romney/Ryan shirt.
"They don't even know me," she said. "They say, 'You just hate blacks, that's why you're not voting for Obama.'"
Charles Waldorf said this is the first time he's every volunteered for a campaign, and it's because of what he's seen during this presidency.
"You've had your chance and you haven't got the job done."
-JEFF MOSIER
Unopposed candidates rejoice while others wait
6:30 p.m.
There are still another 30 minutes or so left to vote in Nevada, but six candidates can already declare victory.
Actually, they were victorious once filing for office concluded.
All were unopposed.
In the State Assembly, Democrats Marilyn Kirkpatrick (District 1), Harvey Mumford (District 6), Olivia Diaz (District 11), Richard Carrillo (District 18) and Lucy Flores (District 28), along with Republican John Hambrick (District 2), all had the easiest elections of their careers.
For Flores, considered a rising star in the Democratic Party, she was able to campaign on behalf of other legislative candidates, congressional candidates Steven Horsford and John Oceguera, U.S. Senate candidate Shelley Berkley and President Barack Obama.
Last week, the Washington Post profiled Flores.
Three Nevada Supreme Court Justices – Michael Cherry, Michael Douglas and Nancy Saitta – were also unopposed and re-elected.
The only difference with the justices was they also faced the unique Nevada protest vote, "None of These Candidates."
All each justice needed was one vote to seal the victory. It's safe to say they each voted for themselves.
-HOWARD STUTZ
Contact reporter Howard Stutz at hstutz@reviewjournal.com or 702-477-3871. Follow @howardstutz on Twitter.
Interactive Election Map