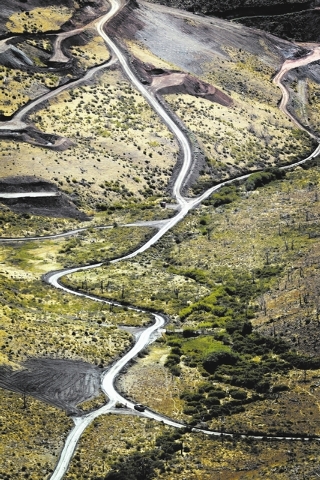 Editor's Note: Nevada 150 is a yearlong series highlighting the people, places and things that make up the history of the Silver State.
Before there was Nevada, there was mining.
In the state's earliest days, mining wasn't just our key industry. It was "essentially our only industry," said Jeremy Aguero, a principal in local research firm Applied Analysis, and author of a September report for the Nevada Mining Association on the role of the sector in our economy.
"The mining industry was instrumental in the formation of the state and the governing laws that we still live with today," Aguero said. "It was, for the vast majority of the history of the state, its largest single employer, and that's still true in many rural counties today. We are the Silver State in so many ways. Our mining legacy is everywhere in Nevada, and our economic landscape clearly reflects its long history here."
Added Tim Crowley, president of the Nevada Mining Association: "We really founded the state."
That's tough to argue. Mining's rich history here traces back to 1859, half a decade before statehood. That's when prospectors began digging up the Comstock Lode, an epic ore body that yielded millions of ounces of silver and gold. The vein birthed some of the biggest boom towns of 19th century America: Virginia City's population exploded to nearly 30,000, making it the biggest town between Chicago and San Francisco in the 1860s and '70s.
A century and a half later, Nevada's 126 mining operators make up a relatively small part of the state's economy, mostly in the north, and in rural areas. It's our seventh largest sector, at only 5.3 percent of gross state product, or $7 billion in a $133 billion economy. But the industry still asserts outsized economic effects on the state.
Consider that jobs in metal-ore mining in particular grew 80 percent in Nevada from 2003 to 2013, even as employment in all industries averaged 6 percent gains, according to Applied Analysis. Mining has accounted for 14 percent of all job growth in Nevada since 2009. It also pays some of the state's highest salaries. Metal-ore mining workers averaged $86,476 in 2012, 98 percent more than the overall average of $43,680. Wage growth has been huge, too, with incomes spiking 114 percent from 2003 to 2013, compared with 39 percent growth among all jobs. Mining paid $431.4 million in taxes in 2012, including $255.6 million in industry-specific net proceeds of minerals and royalties levies, and it generated a total economic output of $8.8 billion.
Hold on — there's more. Mining's gross domestic product in Nevada expanded at an annual rate of 17.9 percent from 2002 to 2012, compared to overall growth of 4.9 percent, and an increase of 4 percent in accommodations and food. The industry also supports more than 2,000 vendors statewide, Aguero said. That includes some of the Las Vegas Valley's best-known businesses, such as Cashman Equipment Co., which recently sold Barrick Gold Corp. nearly $200 million worth of ore-hauling trucks, and Ahern Rentals, which quintupled its Elko staff from 2010 to 2012 to handle new business from contractors there.
What that all means is that, amid half a decade of recession-related news about Nevada's foundering construction sector and its relatively stagnant gaming and tourism industry, mining has told an unusual statewide growth story.
That's mostly because of gold.
About 90 percent of the state's gross proceeds from mined commodities come from gold. To understand why, you'll have to go back a little earlier than statehood — about 350 million years earlier, to be exact. That's when explosive volcanic eruptions, heaving fault lines and vast seas across what's now Nevada combined to flood underground cavities with water. Complex chemical reactions caused gold to form and concentrate in the water. As the water cooled and receded, it left gold deposits on subterranean rocks. Those geological bodies today make up one of the world's most productive gold-mining regions.
Nevada now routinely ranks in the top five for global gold production, beating out just about every country save China, Australia and South Africa. Nevada was behind 73.5 percent of all U.S. gold production in 2011, and 11 of the country's top 20 gold-producing mines were in Nevada that year.
The Silver State — so named because silver made up most metals production at the time of statehood — has always yielded an above-average share of gold. But it took a bull market in gold to help mining lead growth in the recession. Gold prices surged more than 500 percent from 2000 to 2012, skyrocketing to nearly $1,800 an ounce.
Yet, we'd be missing a big part of mining's story if we stuck only with gold. Nevada's also No. 12 in the world for silver production, and No. 15 for copper output. We rank No. 2 for diatomite, a mineral used in pool and food-and-beverage filters, and No. 4 for barite, which you'll find in drilling muds for the oil and gas industry. The state also produces major supplies of molybdenum for stainless-steel products such as appliances, and lithium for batteries in hybrid cars. And Clark County is a big supplier of gypsum, a component of wallboard for new construction.
Those resources have helped Nevada lead the way on the invention of new mining techniques. Take heap-leaching, which uses cyanide to pull microscopic gold from rock. The 1960s Nevada discovery helped drive global gold production from 47.5 million ounces in 1970 to about 90 million ounces a year today.
"One thing that surprises people is how much technology we've brought into society, in ways most people don't recognize," Crowley said. "There's industry innovation in the use of biofuels, and technological advances in safety that can carry over into any industry. As one specific example, operators are testing fatigue-management technologies in trucks and machinery. We create a lot of technologies that are probably not known to a broader audience."
Not all of mining's contributions have been positive, and the industry's history has come with its fair share of controversy. That part about helping shape state laws? One of those rules enshrines the state's 5 percent mining tax in its constitution. That rubs a lot of Nevadans — particularly advocates for higher education spending — the wrong way. So the Assembly decided in May to put a referendum on the 2014 ballot that would remove the constitutional cap and let lawmakers raise the industry's tax rates.
And then there are mining's environmental impacts. Advocacy groups in Northern Nevada are talking with state officials about how to rein in mines' mercury emissions. What's more, abandoned open-pit mines are filling with water and creating acidic lakes that harm migrating waterfowl. Scientists at the University of Nevada, Reno say three of the state's four largest manmade lakes will be pit lakes in a few decades, with some approaching 450,000 acre-feet of water. That's 150,000 acre-feet more than the entire state of Nevada gets from the Colorado River each year. Another 12 to 15 pit lakes will contain more than 50,000 acre feet, about what Reno's residents consume in a year.
Then there's the industry's boom-and-bust cycle. You can even see shades of the roller-coaster ride today. Gold prices have tumbled about 25 percent in the last year from those $1,800 highs in 2012. Some operations are feeling the pinch: Barrick plans to temporarily mothball its Ruby Hill mine — Eureka's largest private employer — and Allied Gold said in August that it's delaying construction of a mill at its Hycroft mine near Winnemucca until it can finish a new feasibility study.
But over the long run, Nevada's mining industry is positioned to continue shaping the state's broader economy. Nevada ranked No. 4 in the world, after Greenland, Finland and Sweden, and No. 1 among U.S. states, on the Fraser Institute's latest Mineral Potential Index. Plus, potentially huge new gold finds, including Newmont Mining Corp.'s Long Canyon and Barrick's Goldrush, could keep Nevada among the world's biggest gold producers for the foreseeable future.
Mining operators are optimistic in general, too. Nearly 70 percent said in a recent Nevada Mining Association member survey that they expect to hire new workers in the next five years. Their average projected growth rate for 2013 was 13 percent. They also expect an 8 percent average annual expansion rate through 2018.
That means Nevada's mining history will also be its future for years to come.
Contact reporter Jennifer Robison at jrobison@reviewjournal.com. Follow @J_Robison1 on Twitter.

Celebrating the Silver State