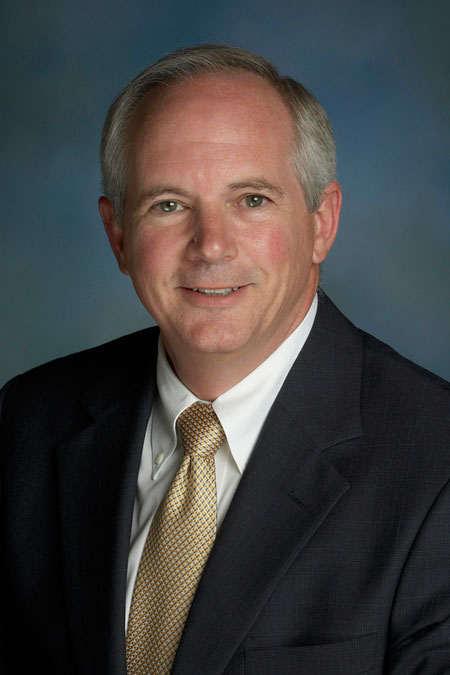 UNLV President David Ashley's contract probably will not be renewed by the state higher education system's Board of Regents, according to a source in the system. The source also said that pressure on Ashley to resign is mounting.
Ashley returned to campus Wednesday after he cut short a trip out of the country.
"I'm really surprised, was caught by surprise with what has surfaced and the way it has been dealt with," he said of comments surrounding his job performance.
The controversy has been brewing for months.
University employees and some regents have complained that Ashley's management style is too lax, that he is disengaged from campus life, that he often does not respond to complaints and that his wife, Bonnie, has treated employees harshly.
Ashley, 58, has a meeting scheduled for Monday morning with system Chancellor Jim Rogers.
"I didn't call him and ask him to come back early," Rogers said Wednesday.
But Rogers said he "let it be known" that he believed Ashley should not have gone on the trip to Singapore given recent events.
Ashley traveled to Singapore last week for the inaugural graduation ceremony for UNLV's campus there.
He was scheduled to return to town this weekend, and to campus on Monday. But a school spokesman said he arrived back in town Tuesday night and back to campus on Wednesday.
Ashley said he returned early because of the controversy and to attend to other school business.
"I truly enjoy serving as president of UNLV, even with the difficult budget situation we find ourselves in, and I hope to continue," he said.
Ashley noted his formal evaluation is coming at the regents' August meeting.
"The evaluation needs to run its course," he said.
Ashley has been UNLV's president for three years, having singed a four-year contract in 2006. Typically, university presidents' contracts are renewed one year before they expire for another three years.
His contract contains a provision that declared him a tenured member of the faculty upon his hiring. So if he were to resign, he could remain a UNLV faculty member for the remainder of his contract and receive his presidential salary.
Beyond that, he could remain a faculty member at a typical faculty member's salary.
An engineer by trade, Ashley is paid $416,424 annually, $170,000 of which is privately funded by the UNLV Foundation and a salary of $246,424.
He also is allotted an $18,000 annual housing allowance, an $8,000 car allowance and a $5,000 hosting account for a total of $447,424 in annual compensation.
Ashley's contract had been scheduled for review at next week's Board of Regents meeting, but board chairman Michael Wixom delayed discussion until the August meeting.
Wixom said he did so because the June meeting was already packed with items such as a possible tuition and fee increase and a plan to deal with system budget cuts.
An evaluation of Ashley done recently at the behest of the system was largely positive.
But Rogers and others have criticized the evaluation, done by John Welty, the president of California State University, Fresno. They said it seems incomplete.
Rogers could fire Ashley, but that decision could then be appealed to the Board of Regents. Because the board is the entity charged with deciding whether to renew Ashley's contract anyway, the firing would be a technicality.
It is not uncommon in higher education for a president to resign to preserve his reputation if he knows his contract will not be renewed.
Bonnie Ashley responded to the controversy by sending an e-mail on Friday to board members, the chancellor and other system employees.
The e-mail's subject line read, "In response to current concerns. …"
In it, she told a story about living in Hawaii. She said she was seen as an outsider and a newcomer and did not fit in at first, so her intentions were misinterpreted.
"It was a lesson learned the hard way," she wrote.
She wrote that it seemed the same thing has happened at UNLV.
Bonnie Ashley said she was asked to take on "key hostessing responsibilities" at UNLV, and so brought her "zest and zeal" to the task.
"I did not realize how my perceived improvements or my striving for excellence in UNLV's face that was put forward to the community would affect the people associated with those tasks. I truly did not believe it was causing them so much distress."
She apologized for causing the stress and for not being as "gracious" as she could have been.
She went on to clarify that she was not apologizing for "being a strong minded woman."
Asked whether he was aware before last week about the issue of his wife's treatment of employees, Ashley said he was.
"I want to keep that private," he said.
Ashley has not contacted Rogers, Wixom or several other regents since returning to town early, they said Wednesday afternoon.
Regent Ron Knecht said he had not spoken to Ashley since UNLV's graduation ceremony last month.
"I like and respect David and Bonnie a lot," Knecht said. "Simply put, if I had to come to a conclusion on this at the end of the evaluation committee, it would have been easy to say, 'Let's renew that contract for another three years,' " Knecht said.
But it is not so easy now, he said, given his and others' concerns over what has come out despite of the evaluation.
"Right now," Knect said, "I guess the jury's out."
Contact reporter Richard Lake at rlake@reviewjournal.com or 702-383-0307.