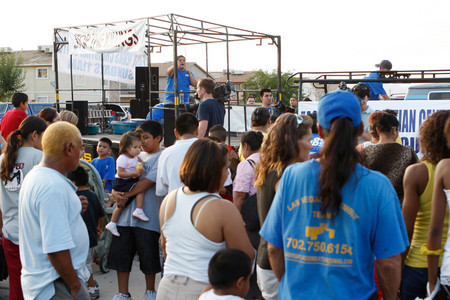 Wary mothers are keeping their children closer than ever in a blighted northeast Las Vegas neighborhood where an 8-year-old boy was shot Saturday.
"What happened was so ugly," Gladys Mencilla said Monday evening. She is a 35-year-old mother of two children. "The kids aren't allowed to play outside now unless I'm with them."
The boy was hospitalized in critical condition after he was struck in the shoulder by gunfire Saturday afternoon. He was caught in the crossfire when people in two vehicles began shooting at each other at the intersection of Kell Lane and Marion Drive, near Lake Mead and Lamb boulevards.
It was the latest in a string of gun-related child injuries and deaths.
A 2-year-old girl who was accidentally shot by her 4-year-old brother last week died late Sunday, Las Vegas police confirmed Monday.
Police spokesman Bill Cassell said Monday afternoon that the investigation into the shooting death of the 2-year-old girl continues. He said her parents have not been charged with a crime, but that could change. The girl's name has not been released.
On July 20, 5-year-old Giovanni Kopystenski of Las Vegas accidentally shot himself in the head and later died. His father has been charged with felony child endangerment.
Whether the incidents were tragic coincidences or an indication of a disturbing trend, some Las Vegas residents want it to end now.
"We can't passively sit by and allow this to continue," said Troy Martinez, a pastor at East Vegas Christian Center and coordinator of Safe Valley United, a partnership between community leaders and Las Vegas police to help prevent violence.
Martinez helped organize a Monday evening rally at the Kell and Marion intersection to protest violence against children. Volunteers handed out hot dogs and bags of food to dozens of neighborhood children as police mingled with their parents at the event.
One of those parents was 31-year-old Veronica Menchaca, the mother of three children.
"I'm scared, and I wish we could move," she said in Spanish as her children played nearby.
But Menchaca and many of her neighbors said they can't afford to move. Rent is cheap at the graffiti-covered apartments in the area, and deposits aren't required.
"Our apartment has been robbed, our car broken into," Menchaca said. "I have three kids to protect."
She and other parents especially worry about the recent spate of incidents involving children and guns.
Doug Pennington, a spokesman for the Brady Campaign to Prevent Gun Violence, said Nevada is below average in its gun control laws.
Nevada "doesn't require any child safety lock to be installed or sold with a weapon. There's not even any attempt to institute some kind of child-proofing of handguns," Pennington said.
One of the biggest arguments encountered by the Brady Campaign is that a law wouldn't have prevented a specific act.
"Laws aren't designed for just a single act," Pennington said. "They're designed to lower statistics on the whole."
Robert Smith, president of the Nevada State Rifle & Pistol Association, said gun safety and education is vital for owners and children.
"Lock your guns up and put them away," he said. "Building a lock into a gun is bad because when you need a gun, you need it now. If parents put their guns away, we could prevent almost all accidents with kids."
Smith acknowledged that the shooting of the 8-year-old caught in crossfire could not be solved by gun education, but said it's an example of why he supports gun rights.
"There's bad people in this world," he said. "I'd rather have a gun instead of becoming a victim."
Contact reporter Mike Blasky at mblasky@reviewjournal.com or 702-383-0283. Review-Journal writer Antonio Planas contributed to this report.